NEWS
11th APRIL AD2021


Two new releases! New CDs in digipaks from REGLER and INFEKTIONSABTEILUNG. It's cool getting into doing two more noisy and obtuse releases again after a few more "musical" (ha!) releases of late. I've got more ready to go right now too which will be coming out in the next couple of weeks.

It's the usual deal: if shit keeps selling, I can get more shit out. Simple economics innit! Buy or die!
28th MARCH AD2021


New release! PREMATURE BURIAL tape avialable now. This took me longer than it should be is well worth the wait. Proper OLD SCHOOL metal.

I've got a couple more new releases here waiting to go but delays in getting them to the bands (EU tax hell!) are delaying their release a wee bit. It does seem that labels these days just do whatever the fuck they want but that's not how At War rolls!

Next up:
REGLER - No Wave CD (with me now!);
INFEKTIOSABTEILUNG CD (with me now!);
TONY TEARS CD (with me now!);
VOMIR & LEGION OF ANDROMEDA 3xCD (at press);
COFFIN MULCH 12" repress (at press);
CULVER AND SCHALKEN collab tape (going to press soon);
NAZI KILLER new 7" (going to press soon);
SMELL & QUIM 7" Collection 3xCD box (coming soon)
ATOMIC Satan Metal LP (coming soon)
PARANOID 2xCD (coming soon)

Phew! Buy some stuff so I can afford to press all that!
28th FEBRUARY AD2021


Well that was wild, Coffin Mulch SOLD OUT. Coloured vinyl went in the time it took me to teach an S2 class about the area of a circle. Absolute blown away. Wish everything would be as popular as that! Of course repress on its way.
26th FEBRUARY AD2021


COFFIN MULCH 12-er available now! 100 on coloured vinyl and 200 on black. Think it'll sell pretty well so fire in! Very chuffed with how this came out, thik it looks and sounds bang-on as it should, like a proper DEATH METAL release. Also this is the first band I've done since Seppuku so it's cool to get my stupid voice on a recorded medium again.
19th FEBRUARY AD2021


VOMIR AND LEGION OF ANDROMEDA TRIPLE (!!!) CDs off to press right now. I'm still waiting on those three new releases. Tracking just says "in transit, due 15th February". Handy. Assume I'm about to get royally rogered for tax, cheers Brexit!

Have had to remove the free shipping offer. To be honest it was killing me. And bizarelly in my three years of doing it, two people have taken me up on "free postage over 100 quid worldwide", which is hilarious given the potential massive savings you'd make there, and that £100 is what like, 2 Beherit reissues from Nuclear War Now would probably cost you.

My thinking is: for 30 quid you'll usually get about 3 lps and a couple of 7s or like 6-7 CDs from this list. If you're too tight to then pay an extra few quid on postage on that, go somewhere cheaper. Oh wait, such a place doesn't exist? Well just fuck off then! Sorry that came off a tad aggressive. Keeping it in but cos I think it was quite funny.

COFFIN MULCH's debut 12" will be up for exclusive streaming on www.decibelmagazine.com on the 22nd of Feb and can buy from me along with stupid amount of COFFIN MERCH on the 26th. Or from the band, which is also me. Given levels of interest in this I expect them to go quick, so lemme know if ya want anything! Got two tshirts, flags, patches. Zing!
14th FEBRUARY AD2021


COFFIN MULCH LPs came in the other day and they fuckin rule! No pre-orders, they'll go on sale 26th February here and on Bandcamp. 200 black vinyl and 100 coloured (red with yellow and green "twist"), that comes with a big poster, patch and two stickers.

Anyone who's a regular customer will get one, just let me know. I support the supportive!

Got three new releases due in tomorrow too and they'll go on sale around the same time: TONY TEARS, INFEKTIONSABTEILUNG, REGLER. All CDs in digipaks. Also going to press this week is a new CHAINS CD (dark sound-worshipping doom) and a TRIPLE disc collab between LEGION OF ANDROMEDA and VOMIR. This will be the ultimate heavy statement of unrelenting brutality!
22nd NOVERMBER AD2020


Distro update! Cool stuff in from STONED TO DEATH. As usual, between summer holidays and Christmas is pretty brutal for me work-wise, and Covid isn't helping stuff, so haven't been getting the time to do mny trades. I'm 97% maths right now, 1% sleeping, 1% eating, and the other 1% is split between mailing shit off, doing label stuff, band practice, and listening to 80s-era Hawkwind live records.

COFFIN MULCH test presses came in and sound absolutely spectacular. I'm really chuffed with them, they sound loud and clear and ultra heavy. First press will be 300 with 100 on coloured vinyl with a poster. They'll be ready to come out by January.

I have loads of old AWWFN stuff returned from a distributor; some rare stuff! All will be available at ORIGINAL retail to anyone who buys through me.

As ever, I appreciate the continued support. Times are tough right now, maybe rather than support your usual middle-class wannabe punk soy latte label you could find it within your heart to shove a tenner Killie way to help out some poor cunt who's stressed oot his nut wih work and loses dosh on every release he puts out, and mainly just does it so he can moan about how lame everyone else is. Cos let's face it, THAT'S what punk really is. Tak!
31st OCTOBER AD2020


Two new releases out today! Both come from long-held standard bearers of the AWWFN flag. As VOMIR, Romain Perrot contributed several of At War's formative releases, and some of the most key parts of the back catalogue are thanks to him. Andy Lippoldt's Persistence In Mourning was one of the first At War LPs, and we've been firm fiends since. The guy even flew over from the states for my wedding! Was one of the few positive things that came of that day actually.

Anyway a decade on since I released anything by either of em we've got two new ones and they're both belters!

Sent the COFFIN MULCH LP to press last week. This will be a belter! First 100 will come on coloured vinyl, and there might be a box set version. Was originally planned to come out on Transcending Obscurity but....well the Y in DIY stands for "yourself" as I'm fond of pointing out to everyone who'll listen. The CD and tape versions might come out on other labels if they can prove themselves to be not bullshit artists, reply to emails, or be generally sound.

Two further new CDs off to press soon: new REGLER (their deconstruction of No Wave) and a reissue of the first demo by the master of Italian Dark Sound, TONY TEARS.
10th AUGUST AD2020


Box sold out in about an hour! Got back home, checked my emails and were all pretty much accounted for. Thanks!

There are still loads of the regular available but going fast. Got another two magnificent releases through the door today but they won't be ready to go on sale til the bands have theirs.

Votive Offerings is also available to download at Bandcamp. I don't usually do downloads but since the bands won't have the whole thing up on their own sites happy to do it on this one. ALL PROCEEDS GO TO THE BANDS. Downloads are an incredibly easy way for many labels to be shady as fuck and steal bands' money. YOU KNOW WHO YOU ARE.
9th AUGUST AD2020


ATWAR100 drops today! I've never been more chuffed with how a record has come out ever. Take a punt on this one, tell yr pals! The limited edition I'm sure will go quick, and it's being sold at the cost of what we made it for. It should be obvious but an awful lot of effort has went into it.

I'm really, really chuffed with this one. It's everything that I'm all about, it's everything that the label's all about. That's it.
5th AUGUST AD2020


Quick one before a big new release shortly: ATWAR100!!!

Have been through pretty much everything I have in distro and found tons of old stuff. Some REALLY old stuff from when I did distro years back. Before At War With False Noise I did a distro called "Born Too Late" which I may even have put on a few gigs under. It was basically just a list of a bunch of stuff I could buy up....I pretty much made a loss on it and just did it cos I was a wee guy who wanted to be "involved" in the scene. As years go on and house moves happen (I reckon my distro's been shipped around six different houses since it started), I've managed to lose track of so much stuff, was very surprising to find multiples of like the Wolfpack tape which has sat there unnoticed for easily over ten years! Anyway, put up everything I thought had sold out but hasn't. I've also got loads of extras of At War stuff which I'll put up shortly too.

I've started an Instagram for At War With False Noise, which can be found under the username atwarwithfalsenoise. I hate social media, and over the summer it's become even more apparent to me it's populated mainly by daft entitled children, but the fact is barely anyone comes on this site, and I need to engage more or there's no fuckin point doing this. It hit me when I managed a pathetic total of 42 quid for the Bail Project below (though I do appreciate the two people who made orders....thanks!) that something needs to change. Anyway, I've only been on Instagram for 5 days and I've already called Will Palmer a nob so it's business as usual really.

Eyes peeled, new LP, an incredibly fancy dan box set and two new CDs are on their way VERY SOON!
15th June AD2020


Hope everyone remains safe and well in these increasingly bizarre times.

Got the Votive Offerings test presses in and they sound GREAT, so that'll be out soon. Was hoping to do a launch gig but I really have no idea when gigs will ever be happening again. TROU AUX RATS and PERSISTENCE IN MOURNING CDs are both off to the plant as well. Nearly out of Necro Schizmas so grab one NOW or forever hold thy peace!

I've been tidying stuff out and have found loads of extra copies of long sold-out At War stuff which I'll put together and sell on here, all at the original prices. I was a little cheeky and sold some Black Magik SS 7ers for an absolute fortune on Discogs, but I spent a year struggling to sell them so if you didn't get on it at the time and you've never supported my label before....well fuck you, Johnny. For those of you who actually support the underground, 4 pounds. I'll put everything up in the next update.

Don't know if it comes from forcing myself to listen to hunners of records over the space of a few days and getting frustrated and annoyed, or if the current climate has just pushed me over the edge of how utterly intolerant I am of stupid fucking goons givin it the big un, making snidey wee vague allusions at being nazis. Fuck off. But apologies if my reviews this update seem more irritable than usual. I'm actually having a great time in lockdown and thoroughly enjoying listenign to records all day, but maybe not "distance learning", euch.

Anyway, given the situation at the moment I've decided to donate all proceeds (not profits...ha, there's none of them!) to The Bail Project. Given the utterly fucked state of the American justice system, two-thirds of all incarcerated Americans are in jail pre-trial, presumed innocent by the law but not free simply because they can't afford bail. This two-tier system has a devastating effect on poor and ethnic minorities most particularly. People are being arrested for simply expressing their anger at a fucked system, and they then sit in jail for indefinite periods of time cos they're not rich enough to just get sent home. It might not be much, but if some dosh from a few daft records helps someone it'll be a worthwhile thing to do.

I'd also suggest rather than just tokenistically changing your profile picture on Facebook or making a tweet about how Donald Trump is a cunt you actually do something to help. Doesn't need to be much, but do something. And if you HAVE to leave the house right now, giving a jab to one of these "statue defenders" would also be an excellent use of anybody's time, just sayin.


10th May AD2020


Greetings from lockdown! Hope everyone is safe, well and not too stressed out by the current situation. Have to be honest, I'm finding it cracking. Plenty of time to get stuff done I've not previously had time to do, and I've been doing TONS of stuff for the label. In fact it's really shown me how much of a back-seat the label's taken in the past four years since I became a teacher. Have so little spare time these days. It's been really great fun doing layouts, communicating with people again, and sorting out new releases.

The first new releases we have here are a pair which have been gestating for a wee while....the first demo and a live recoding by NECRO SCHIZMA. Massively chuffed to be doing this one as I consider this tape to be one of THE true underground cult classic demo tapes. I've gone to great pains to make this exactly the same as my own original copy. I know this one will go down well!

Below is a selection of gear I'm currently working on. The VOTIVE OFFERINGS LP has gone to press and everything else will follow soon. How soon? Well as soon as I get money in for them, so please, buy soem stuff from the distro, get the Necro Schizma tapes, tell your pals! I'm still able to get mail out even more regularly as I did before cos I just do it online and drop off at the post box, so mailorder is safer than going to the shops! Support!




CLOCKWISE FROM LEFT: PERSISTENCE IN MOURNING - "Tongue Of Bone" CD, TONY TEARS "Strane Sensazione 1988" CD, TROU AUX RATS 2xCD, LEGION OF ANDROMEDA & VOMIR 3xCD boxset, PREMATURE BURIAL tape, VARIOUS - "Votive Offerings" LP (Hausfrau, Vom, Schalken, Cursed Image, Charity Murder).
11th February AD2020


....and so we enter a THIRD decade of At War! In fact, I think it may technically be a fourth decade cos I may have started my distro in the late 90s! Bit of a stretch that one mind.

Anyway, distro update and new release, Culver and Schalken! I keep saying I have loads more stuff ready to go and I do, it's just really tough getting cash together when I'm doing less and less business. I do worry sometimes that the label will kinda fizzle out, which is a shame, but if Discogs didn't exist I think I'd make about 2 sales a month. If you're reading this and yer not Kerr Robin, give me a shout from the inter-void please, hi! And if you are Kerr Robin, hi Kerr!

Good distro gear, lots of ace doom. Will get round to doing more trades soon. If I'm being perfectly honest I just lack the motivation to do so much trading, listing shit up, listening to it all. Got a demanding job I work hard at, little free time at weekends....just boil down to I cannae be hooped sometimes! Again, if anyone wants to send me a motivational speech, my email address is to yer left <----

On the new tape price: apologies for the price hike on this one, because I did fewer than usual but still had the same pro packaging the unit price is really high and if I sell every one I think I stand to still lose around 30p on each copy. Here's the true impact of bullshit like Cassette Store Day. Which, by the way, labels like myself who have been putting out tapes for decades now have never had a fuckin sniff of! Rob a bank, kill yr boss, blah blah blah.
29th September AD2019


NORMAL MAN available now! Sorry it's taken so long, I broke my laptop and it's the only way I can upload stuff onto my website. Also beyond skint at the mo and getting trades and new releases together is tough. I have a bunch of tapes due to come out which are on their way, the VOTIVE OFFERINGS comp is highest on the list of priorities at the moment and hoping it'll be off very very soon.
12th August AD2019


Quick update as I have a wee distro batch to go up and it's one of the best in ages, with 100% killer and zero filler! Seriously, this stuff is fuckin dynamite!

NORMAL MAN LPs should be with me very soon; they'll go up when they come in. Nothing further to report; money-dependent many interesting things are in the offing before the year is out!
30th July AD2019


It's been really long, but I've not been getting many trades lately. The world I started this label off in is really in the depths of a slow death. Please, if you know any decent independent DIY labels, send them my way and let's get trading.

Also want to make one thing very clear, cos I don't hear it enough. I speak to a lot of folk who proclaim themselves to be DIY. But their version of DIY involves government-backed money injections, corporate-sponsored gigs, and selling CDs at a tenner. That's just the same as the big labels, you're just shit at it and so aren't big. There's no difference. Ditto if you're putting out records and don't trade with other labels, fuck you. Absolute fuck you ya fuckin fraud. Don't tell me what punk is then try and hawk me your goods. Don't whinge on and on about the "system" when all you're in music for is to meet other people with fuckin haircuts and look around at gigs to see if anyone else important has turned up. You're not only buying into the system, you're part of the system, so once again, fuck you! You probably don't even like Status Quo ya fuckin turnip.

New At War releases ARE in the pipeline; the NORMAL MAN LP will be with me soon and the new HEADLESS KROSS LP is also in production. Sleeves are done for the VOTIVE OFFERINGS comp, which may be my best release yet, and the NECRO SCHIZMA tape is ready to go too.

Hope you find summat good in the new update!
11th April AD2019


NEW RELEASES: K2 CD, Regen Graves and Dolore tapes available now! Great trio of releases, get me while they're hot. I have tons of stuff waiting to go but any new releases are pending getting some cash together so I really need to get some of this shit SOLD. Much as I appreciate the "I love your label" comments, if everyone who said that spent 4 quid on a tape once in a while I'd be in a much better position to release more tunes and not lose a large perentage of my wage on the black hole that is the "DIY label".

Thanks to everyone who came to the Sleazy's gig, was great! Next up my own band have our first gig at the Hairdressers. Fifth on a five-band bill, it's good to be back! :-)

I've had to increase postage a wee bit. I've been losing money on postage for quite some time (and still will be), but need to mitigate it a wee bit more. The price I'm charging to post out an LP has increased by 50p, and that's the first increase in price for I think around 8 years, so not too bad. Also most people take advantage of the "free postage on purchases over..." thingy anyway so it probably makes fuck all of a difference to you.

I would say that except in cases where I've co-released something and out of respect to the other label's pricing, I've staunchly upheld the "a 7", tape and CD should be 4 quid or thereabouts" rule despite prices increasing in some cases ridiculously in the past few years. Seems to me that people are selling lower-quality crap elsewhere for considerably more money. Fuck that noise! If you're charging more than a fiver for a CD then you're at it, simple as!

I don't take any handouts to run this label and things are as cheap as possible cos art should be for as many people as possible, and it's not my right to take from anyone else to make that happen.


26th Feb AD2019


NEW RELEASE: BLOODY HEAD 7" out now! I got in test tapes for Dolore and Regen Graves: when they're in and the bands get them they'll go on sale.

Check this out: found a box of Satan's Satyrs CDs! So get em while they're here. This is the original CD version, not the reissue which Bad Omen did while I STILL HAD THIS IN PRINT. To this day that is the snidest thing anyone has ever done to me in all the years I've ran this label. I'm still waiting on Will Palmer to make good on his promise to recompense me with copies of that. Sneaky wee gimp.

I feel like I'm going back in time about ten years for a couple of reasons:

1) I have a new band on the go for the first time in ages! Will be releasin a demo soon and playing gigs. Check out Bandcamp in the meantime: coffinmulch.bandcamp.com

2) I'm putting on a gig! Culver/BRB/FRU are on tour throughout the UK and the Edinburgh gig fell through so I'm helping them out in Glasgow. It's an afternoon show and entry by donation. No chat about far-right nonsense welcome, thanks.


29th Dec AD2018


Just gettin in there before 2019 begins with a bumper distro update! This year has been the quietest ever for At War; I've been really busy and money has been tight and honestly, despite being cheap as fuck I'm not making as many sales as I used to. Maybe it's cos I've not had time to hav as mch presence and advertise as I did before, but when I don't sell fuck all I don't release fuck all, and my time for putting myself into debt to support the label has now very much passed! I did it massively for a few releases and bands and got frankly bugger all thanks for it. So you want new gear? Spend a tenner on a couple of CDs :-)

Moans aside, I hav plenty of good stuff ready to go and the few releases I did get out in 2018 I'm really proud of! Onward and upward in what will be my 15th year of doing this daft fuckin label!
5th Nov AD2018


New LEGION OF ANDROMEDA OUT NOW! It's amazing, it's co-released between a few labels, so get it while you can. I you want to buy it along with the first LOA LP (which I have only like 5 copies of left), I'll do ya a deal!

Things have been quiet here of late; it's not because I've not got anything going on, just work takes up a lot of my time these days and I dn't have the money right now to be putting into as much stuff. Don't worry, despite being the quietest year for At War probably ever, I have some of the best stuff I'll ever put out in the works at the moment, so never fear!

Got tons of distro that I haven't been able to listen to yet but I've stuck it up on the site should anyone want to take a punt without my searing insight/shite opinions.
29th July AD2018


Bunch of distro added. I did a bit of an audit recently and the result was a ton of stuff that's been either deleted from the site or that I completely forgot I had. Mostly cos some nob has said they want to buy something then dicked around sending payment. Anyhoo, I've stuck em up at massively reduced priced so wire in!

Also got a bunch of new gear in that's been added alongside. Good reissues, some ace new DIY stuff, and a first trade with Looney Tunes, a label who were (and continue to be) a massiv inspiration to me, and a gigantic influence when I was first starting to do distro nearly 20 years ago now! Every time some wanker tells me I'm selling stuff "too cheap" or asks why I don't use distributors, I'd really like to have some Active Minds lyrics to quote verbatim at them and put em in their places!

Just got test presses of the new LEGION OF ANDROMEDA LP and it sounds horrible. Alright!
11th June AD2018


Legion Of Andromeda/ Bismuth split tape out now! Very popular already so get yours quick!
21st May AD2018


Buncha new distro out today! New Legion Of Andromeda/Bismuth tape is IN, but won't be released until both bands get their copies. Probably in a week or so.
1st May AD2018


New Ommadon record out today! I have a ton of new distro to go up, soon as I get the write-ups written they'll go up. Please add At War on Facebook too, I'll be updating it regularly in the future: facebook.com/awwfn
11th April AD2018


Wee distro update. All new releases are selling well, thanks to everyone who ordered, particularly those who took advantage of the "buy them all" deal! Very much appreciate everyone who continues to support!

Check out the Facebook pages for pics of distro. If yer social media-minded please give us an add, I believe the more pals you have on Facebook is a direct indication of how big your penis is and I require some validation please, I was unloved as a child.
1st April AD2018


It's been a long time since the last update! It seems since having a real job again I basically live to get everything label-wise dne between holidays, so please forgive me the huge number of people who have unanswered emails. Now I'm on "holiday" I can get on with the business of sorting out record label stuff!

So, bunch of new releases all at the one time here. Read the Releases page for descriptions. Needless to say, I think they are great and demonstrate the breadth of music AWWFN releases....a breadth that I genuinely don't think many other labels have. Again, due to the nature of work at the moment, things tend to bunch up, so the old "wait on a bus for ages..." line is once again pertinent here. I'm offering a bulk deal on these which I think is amazing value for money. As I said about a year ago: take a chance, for a ridiculously small amount of money you can get a bunch of gear you might never otherwise give a go. You might even like it!

Some new distro in stock also, need to get trading again and boost up distro stocks.

I've decided to start a Facebook page. I was always against using social media, but honestly, I make well more sales over Bandcamp (which I think is a BRILLIANT site by the way) and it just seems like it's a tide that I either submit to, or I die. So few people check this website any more I'm honestly not entirely sure if it has much life left in it. That said.....there have been tons of occasions in the past 14 years when I've said "I don't think the label has much life left in it" and both have been going strong throughout, so I should stop whinging.

In the works: new Legion Of Andromeda LP (which has just been recorded!). This will be a split release with Bestial Burst; Blank Veins/No Balls split LP (this came out on tape last year and is long sold-out); Legion Of Andromenda split tape with Bismuth also (with vinyl to follow I hope!); comp of Glasgow bands which I've had in the plans for a while is closer than ever to fruition and may be the best thing I'll ever put out (!); K2 "Teknodrug" reissue on tape; Atrax Morgue classic "Sickness Report" on vinyl for the first time; new Ommadon LP; new Schalken and Acid Cannibals tapes. Phew!
25th November AD2017


Culver LP sold out just a couple of days after going on proper sale. Very much appreciate everyone grabbing it so quickly. I do feel a wee bit shitty about the fact that a couple of people got in touch who missed out, as I'm very much against the whole "ready-made rarity" thing that's too prevalent these days, and I don't want to be part of that.

To justify such a short run,

1) I've released several Culver tapes in editions of 50 copies over the past 10+ years now and never have I sold double figures in the first week, and it's taken months to sell/trade all of my copies in most instances.

2) The reason it took long to come out was simple: money. I know something like a Culver LP is never gonna sell well enough to do anything but lose me a ton of cash. There aren't 300 Culver fans who'll shell out for a record going about, simple as. A grand and a half up-front to make back a couple of hundred in the first month or so then the brutal years afterward trying to convince everyone who "really wants one!!!" to actually buy it. Making a small amount at a ridiculously high unit cost and selling just under cost price meant I got a Culver record out to most of the people who'd be into it and I didn't lose a shit load of cash and have my spare bedroom further filled with unsold records.

3) People are full of shit. Sorry to be confrontational on this point, but even a few weeks ago when I asked on Facebook if anyone wanted a copy, tons of people proclaimed to the internet "I'd love one!!!", and about half actually sent me cash and got one. If there are loads of something available, people just won't bother their arses. As my fellow DIY-martyr Rodney Shades pointed out, if everyone who SAID they were into supporting the underground actually supported it, we wouldn't all be so fuckin downbeat about the situation all the time.

So if you missed out on a Culver LP, I'm really sorry. I have done 180-odd other releases mind, that didn't sell out really quickly and most of which are amazing and available for an incredibly cheap price. So, to paraphrase the words of the immortal Pink Fairies: don't talk about it, DO IT!

PS - I thought it would be a nice wee thing since it was so limited to etch everyone's name into the dead wax. Keeps each copy personal, and also let's me track down anyone in the future who tries to be a snide prick and sell it on for twice the cost price. The vinyl police are always watching you. 8-0
17th November AD2017


CULVER LP IS HERE! Jeezo man. I think it's een nearly 10 years since I asked Lee to do an LP for me. Well, I guess the best things come to those who wait. Very limited and people have already reserved copies, so if you want one, get it NOW. Do not mess around cos this will never go up on Bandcamp or that!

Wee distro update too with some great new LPs. New Bratakus full-length particularly is a belter!
15th October AD2017


All-tape distro update! Got some absolutely superb, really interesting stuff in this time round. If yr into out-there sounds there will definitely be something here for ya!

I'm told the Culver LP is finally on its way to me. Hope to get some more stuff going on after the new year. It's been a tough past couple of months if I'm honest, and considering sacking off doing the shop every month. Not enough people coming in and I don't have enough spare time to be sat alone in a basement twiddling my thumbs on one of my days off every month. In good news, Saint Vitus were the absolute bollocks, best gig in ages!
1st October AD2017


Jesus, has it been that long? Sorry! Being back at work I get so easilly caught up in stuff and the distro pie has been piling up and up. Managed to get through all the LPs and CDs today, got a backlog of tapes to deal with but that'll have to wait for another day cs honestly I'm spent. I find spending a day off listening to honestly, quite a lot of music I would otherwise not choose to listen to when I've got a pile of absolutely fucking class stuff sitting there which I would rather be listening to....somewhat annoying. And this perhaps comes across in my "reviews". :-S

Two new tapes out today and they're both belters. One is a new band featuring Lee Stokoe of Culver fame, and the other from Matt Cooper, erstwhile drummer in Vom. His tape is honestly a release which I'm as chuffed with as I could be, because even though he's my pal and I'm gonna have a certain level of bias, I think he's an absolute enius when it comes to music, who's produced an absolute TON of amazin stuff which blows most everything else away and yet which is only ever heard by him and me, such is his dislike for putting out his own gear. So finally getting this out will hopefully encourage more. And it should, cos it's absolutely class, as you'll find if you buy it!

Going to see Saint Vitus with Scott Reagers singing this week, absolutely superb man!
21st July AD2017


Blessed Realm discography CD out now! Really chuffed with this release, it looks and sounds great. Gonna do a "pay what you want" download on this one at my Bandcamp site. So far everyone who's downloaded it has paid between 30 and 50 pence: THANKS GUYS!

Wee distro update, mostly restocks.
9th July AD2017


Hmmm, seems all the images I've had on the website for 13 years now have been blocked cos Photobucket won't let you host their images on websites. GOOD SHOW GUYS, way to make your already redundant photo hosting website even more fucking redundant. When I have a minute I'll move them all over to somewhere useful (Flickr).

Got a distro update going on, ordering some stuff from High Roller (if yr after anything let me know ASAP please!). New releases: Culver LP will apparently take ages, but it's in the works and paid for! If you want to reserve one (there will only be around 20 on general sale) please get in touch.

The BLESSED REALM discography CDs will be with me this week; once the band and Sealey (of Iron Void, who's helping out on it) have gotten their copies then they'll go up on sale. Next up will be tapes from Lee Stokoe's ace new drone/dirge band VAMPYRES, Matt Cooper of VOM fame's solo guitar/dark ambient work as SCHALKEN and the second LP by the most chaotic grind band I've heard in years, BRUTAL BLUES.

I'm doing my annual "audit", which basically involves me going through the whole site and Discogs, and cross-referencing everything with what's in my boxes in the spare room and garage. This is a mammoth task but necessary because quite often I sell something and miss removing it from one of these places, and people ge annoyed that it's not in stock, which is understandable! It's hard as fuck trying to keep on top of this 100% of the time give I have a full-time demanding job that I often bring home with me, that everything is squeezed into my own living space (don't have the middle-class luxuries that Nuclear War Now or Important do of owning my own warehouse or BARN), and also much of the gear I have is packaged in weird ways and difficult to store, or doesn't have obvious identifying marks. Honestly, I've got a few CDs and tapes here and I have no fucking clue who they are. I get being esoteric and all that but come on! Anyway, what was my point? Aye, everything will be in order shortly!
6th June AD2017


NEW RELEASES: two records that are a million miles away from each other stylistically, and I love them both! This is what the label is about after all. The story of Island Of Death is a long one: when I did the DVD store Strange Vice, I managed to get in touch with Nico Masterakis and we agreed to release the infamous soundtrack to his equally infamous video nasty. We bought the licence, but never got it together to release the record. Well, years went by, I opened up my shop and the other guys in Strange Vice kinda ghosted me out of the business, and the licence ran out. talking to Gianni and Anton of Giallo Disco, it came up that I was seemingly the only person on the planet to have been able to successfully contact Mr Masterakis, and we managed to get a new deal to get the rights to release the soundtrack on vinyl. So, about 5 years on....here it is, released for the first time: the weirdest and most catchy of the video nasty tunes!

The Regler LP is the absolute business and the heaviest thing you'll hear all year! I absolutely love both these guys and am so chuffed to be continuing to work with them both, and I hope my faith in their music is repaid by people buying and enjoying it. See the Releases page for my thoughts and check out Bandcamp to hear it!

Not much in the way of new gear this month cos I've spent all my dosh on new releases....though a new record by THE GEROGERIGEGEGE more than makes up for that! A few spares of stuff I thoght was sold out added; I alphabetised my record collection last weekend and came away with a boxes worth of doublers, and a fair whack of them shifted in the shop yesterday! So come to Cornucopia Records first Saturday of the month for some good gear!


30th April AD2017


Tons of new distro added....good range of stuff from FALL reissues to Nuclear War Now, Superfi, bunch of crust 7"s, a shite Hellbastard picture disc, and the ace new Endless Grinning Skulls. Fill yer boots!
22th April AD2017


HAPPY RECORD STORE DAY!

And for Record Store Day this year I am......doing absolutely nothing. Like every other year. I spent many years of my life working in record stores, and I ran my own one. And I've never had anything to do with this crapfest. I'm violently opposed to what I see as another instance of big buiness asserting its authority over everyone else, and a bunch of opportunistic others jumping on the bandwagon to get some trade out of it. I see the queues of people outside shops this one day a year and think "where the fuck are you every other day?". Statements from HMV like "#hmvlovesvinyl", when up until recently their stores didn't even have any fucking MUSIC for sale. All these coloured vinyl reissues, even labels I used to kinda respect (well that pool is getting even smaller by the day) putting out only-on-sale-for-one-day records, inflated prices (15 quid on a 7 inch?!). I mean I know, the distributors are selling these things at a massive price in the first place, but shops have the ability to take a stand and say "ENOUGH". I find the whole thing lame as fuck and while I'm sure not one person gives half a crap that someone like me takes no part in it, I feel my moaning and greeting about it in the past few years has been somewhat justified in the absolute corporate sell-out circle-jerk RSD currently is.

So, in summary: fuck Record Store Day, fuck you if you go to a record shop once a year, fuck you if you've just put up some RSD stuff on eBay, and fuck you if the pinnacle of your record collecting is owning a one-sided David Bowie with a tune on it that was a bonus track on a CD nobody listened to 10 years ago.

Support local record stores, support local labels, and try yr best not to be a dick if you can!
15th April AD2017


ABIGAIL flexi out now! Culver LP at press! BLESSED REALM CD's layout and art are all finished and it'll be going to press very shortly. The next REGLER album, "Blues" is at press too.

Sedem Minut Strachu LPs and Paranoid flexis have both sold really quickly, and not very many of either are left. Actually, I'm running low on an awful lot of stuffand down to single digits on a number of releases. Having stuff in stock for as long as possible is great, but a healthy turnover of stock is also great and allows me to get new stuff out. Somewhere in the middle is a nice balance where everyone who wants to get something gets it, and plenty of new gear can come out regularly too!
19th March AD2017


Heavy duty update today! No less than FIVE new releases out: 3 new tapes, an LP and a flexi! Unfortunately the printer fucked up the Abigail sleeves so it'll have to wait for release in a couple of weeks, but I wanted these out there so here we go!

This is one of my best release days ever, I'm really chuffed how this new tape place is working out, they look and sound the absolute business. And still only four quid. There's some amount of the shite out there that's getting peddled for a lot more money and with a lot less thought and effort put into it. These tapes see three long-time AWWFN stallwarts returning after a few years away: Mories of Gnaw Their Tongues with his new project OFFERBEEST; the best band in Glasgow bar none, VOM; and CULVER, my favourite fella in the world.

There's a new flexi disc (see description for my somewhat ropey reasoning on deciding to do a series of flexis) from PARANOID, who I caught live in Edinburgh in a mad dash to deliver said records before my car falling apart and having to miss them in Glasgow. Regardless, they are fucking brilliant, top fellas, and punk as fuck.

Finally a new LP by HEADLESS KROSS - the first in a trilogy! We went for it with the packaging for this one, hand-screened and assembled sleeves which look the absolute business. Very limited: only 100 copies! Will go fast.

Top distro update this month too, got a big batch of new COIL reissues in (Coil gear always goes insanely fast so get on it!), as well as some great post-punk/cold wave, beat/psych, and a bunch of grindcore and the usual lofi grotty crud. What other distro is there where you can buy a Skip Bifferty LP, a split 7" of Brazilian noisecore and a comp of 80s cold wave? Absolutely fuck all anywhere is the correct answer, cos everyone's boring fuckin' autists who need the world to be compartmentalised into neat wee genre boxes all the time. Fuck that! At War marching into 2017!
19th February AD2017


Big distro update, tons of cool stuff in. Particularly the stuff from Godeater Records impressed me loads. Good gear from FOAD too.

Bunch of new releases at press right now, some REALLY good stuff on the way. I'm doing a series of live flexi discs this year in tribute to the Japanese hardcore 7s from back in the day. First up (and ready in about two weeks) will be flexis from ABIGAIL and PARANOID! Got a few really great bands lined up for others in the series. Tapes due out very soon also from VOM, CULVER and OFFERBEEST (Gnaw Their Tongues noise project). Alright!
1st January AD2017


New releases from Sedem Minut Strachu and Abigail/Vuil are here and will be ready to ship next week probably once the bands have their copies. The new Headless Kross LP is here but Tommy's glueing the covers together, quite possibly as we speak, so they'll be shipping when I pick em up from him! Overdue distro update too, unfortunately a bunch of stuff I got in never even made it to the site cos it sold in the shop or on Discogs.

I'm going to be completely honest here: 2016 was an absolute shitter of a year for me on many levels. I guess if you know me personally then you have an idea of the reasons for this, and if you don't know me personally well, you probably couldn't care less.

Anyway, I guess running this label has been both a means to drive me up the fucking spout and cause a lot of financial and mental stress over the years, but it's also existed as a means of providing me with something of worth to continue on with year on year, something to be proud of which isn't some vanity project but helps people get their music out there. I just checked out my updates section from previous years and it seems I seem to spend a lot of time at the beginning of the new year trying to work out new releases, announce stuff (that mostly does end up happening), or just spouting off rubbish. Ten years ago today I wrote this, and I guess it's probably still pertinent and still will be in another ten years' time:

"Happy new year and thanks to all who continue to support At War in these times of redundant musical environment, cliquey bullshit, and lame attitudes. DIY OR DIE."

Maybe there's some redundancy in my words here but in the past ten years I've seen a lot of bands and labels come and go, I've seen a lot folk who were cool turn out not to be cool, seen characters absolutely sell out their granny and all their principles to get a couple of rungs up the ladder, told a lot of people to get to fuck, and been told by the odd person to get to fuck too. I still have the same shitty old website, probably 90% of people in the "scene" still have never heard of me, I've got a lot less money than I did before, but a lot more good pals and cracking releases. Also, it's 10 past modnight on January the first and I'm updating my website, ha!

AND YOU NOW WHAT? I'M STILL STANDING.
11th October AD2016


Repeated Viewing boxset is done! I've mailed everyone out who was on the reserve list. If any of these guys don't pay up in a timely fashion the next people to get in touch will get a shot. If you're my pal or whatever this will have no bearing on you getting a box! If you were a real pal you'd be purchasing my fine goods all the time and these were available for a whole two weeks Sparky, so tough shit! First come, first served.

Got three records at press at the moment: first full-length (!) from noisecore nutters SEDEM MINUT STRACHU, a new LP (the first of a trilogy) by Glasgow psych-doomers HEADLESS KROSS, and an absolute belter split 7" from VUIL and ABIGAIL. Brand new and exclusive tracks of heavy metal mayhem from both bands. These were sent off about a month ago now I think; plants taking forever these days to press vinyl so fuck knows when we'll actually see the things!

Distro update, have spent a day of my holiday listening to all this and getting it stuck up. Still in Offshore first Saturday of every month holding Heavy Metal Court, giving hipsters hassle for wearing music tshirts and walking past a bunch of records on the way to the bog, and occassionally selling some music.
13th August AD2016


Big release day today, bunch of new gear available. You may notice that prices are sometimes higher on Bandcamp: that's cos I appreciate people who actually use my website and get in touch, and Bandcamp charge for selling stuff. A couple of folks have asked for download codes, so these will now come as standard with vinyl and tape releases.

As has been mentioned before, and in much more detail on the "Releases" page, the REPEATED VIEWING tape box will be available at the end of the month. If you want one, email me please with your address and Paypal details and I will add you to the list. First 30 people to email me get a box, simple as that! I'm not taking any money right now and this is run on a trust basis: I assume you won't ask to reserve a box then be snide and not pay up when the time comes.
27th July AD2016


THREE new releases out today! Three! Tape version of the amazing LEGION OF ANDROMEDA LP, new tape from Funereal Moon siser project LETEO and a split CD from OMMADON and LEGION OF ANDROMEDA. Get them!

At press two new tapes. One is from Finnish noisecore monsters MUSTA OKSENNUS. Absolutely earbleed-inducing blur mania. Following shortly after is a tape by REPEATED VIEWING. This will be something really really special. Been wanting to get back to the "roots" f the label I guess for a wee while now and do more hand-made, interesting packaged stuff and this one will be it! There'll be 100 regular tapes - which are nifty in themselves - along with 30 special box sets, packaged in a tape box with a 5" vinyl record with two exclusive tracks, as well as a huge amount of other stuff. Details close to chest right now. Will be out by end of summer!

I feel like a broken record (!) but....the Process LP is NEARLY finished. Problems with art and all that but all sorted now and it'll be perfecto!

Did a distro update too, some good sludge and doom in this week as well as a few other bits and bobs.

Cornucopia will be open after a brief summer holiday on Saturday 6th of August. Once again I'll be missing the first Killie game of the season to do the shop so I'd like to hope that there'll be a few folks there buying records. Please!!
30th June AD2016


Wee update just to say.....NEW GEROGERIGEGEGE IS HERE! Only distro in the UK, maybe in Europe stocking this. It's expensive and I nearly didn't get it in but I thought fuck it, why not....so here it is! It's absolutely amazing, check my shite review for why I think this is so.

Got three new releases sitting here: tapes by Leteo and Legion Of Andromeda and a split CD by Ommadon and Legion Of Andromeda. Using a new plant for tapes, all parts pro done and they look the absolute business. Against my better judgement I am not increasing prices despite obvious increases in production costs, so you're still paying four quid for a proper pro tape; the same you'd pay for summat that most people print off their home printer and dub onto an all-fitting C60. These will go on sale once the guys are done with their UK and once Leteo get their copies and I'm assured they're happy with them.
16th June AD2016


Massive reductions on 7 inches. Also added tons that for one reason or another had slipped off the list. Many bargains to be had! In just the past day I've sold tons on Discogs and they're all more expensive than here so get on it quick! Will be doing the same with tapes this coming week.
14th June AD2016


Quick distro update. Doing reductions on 7"s next, expect some bargains there! Want to reduce my stock significantly over the summer.

The REPEATED VIEWING tape is in progress. This was originally going to be an LP but due to financial circumstances over the past couple of years and the disaster of that Bong album honestly coming close to completely sinking me I just couldn't manage it. Luckilly it's coming out on a US label and I'm taking over a tape release which will be fucking ace, with a special edition including a 5" vinyl along with a ridiculous amount of extra stuff. In an efort to hark back to the interesting packaging and smart wee extras of the early releases, this will be the most mad At War release ever and can't wait to reveal it! Been working on the artowork over the past couple of days and I have to say I'm chuffed with what I've come up with :-)
9th June AD2016


Righty, I've updated the distro section and removed everything that's not in stock any more. I had been keeping listings up with "OUT OF STOCK", but honestly, I'm unlikely to be restocking stuff any more, I just don't have the cash for it and I'm selling barely anything through here these days, it's not worth it. That said, I will cotinue to trade witht he few decent labels left up for doing so, and to contradict myself I have just done a big couple of orders to get in a bunch of restocks as I made a wee bit of cash at the shop last week. Maybe once the distro gets pared down a bit I'll look into opening a more user-friendly webstore too!

Talking of the shop, I'll be doing the Gibson Street Gala next Sunday (the 19th). Will bring a big selection of gear along.

Release-wise, got two tapes at the plant right now: Legion Of Andromeda - Iron Scorn and Leteo - Nothing But The Night. LOA you'll know, this is just the tape version which Black Bow pulled out of. Leteo was the noise/dark ambient band legendary Mexican weirdo black metallers Funereal Moon eveolved from and this is their first recordings in many years.

Info is sparse but I'm led to believe the PROCESS LP is nearly with us!

Ommadon and Legion of Andromeda will be touring the UK end of June/beginning of July. I'll be releasing a limited split CD for this featuring exclusive tracks by both bands. This will be available at the gigs and any surplus at the end (if there is any) will go on sale through me and them. Would be nice to see anyone at the shows!
29th May AD2016


I can't go to this gig as I'll be in Jerusalem at the time (!) but I did do the poster for it and it'll be a belter, not least for the return of At War's own VUIL. Death metal of death!


24th May AD2016


Two new releases out now! Great new tape from mysterious one-man band Undeserving Of Light and the amazing new record from Regler, this time giving us their abstract take on METAL. I'm off on holiday for a few weeks so will be sorting out a bunch of releases in the coming months now I have some time off uni!
16th April AD2016


Went to see Archgoat the other night and caught MONAD playing their second gig, first time in a long time I've been inspired by a live performance. Watch the skies!

Distro update with a few new items. The new RAMLEHs are my favourites I must say! I've got a few new releases ready to go in the summer once uni is over at last!
10th March AD2016


Bunch of new distro up. LEGION OF ANDROMEDA are coming over in June/July to play some gigs, if anyone in England particularly is up for putting on a show (with OMMADON) then please get in touch. I'm a bit out of the loop with gig booking and all that nonsense. In fact, I probably was never really in the loop in the first place. Would be nice after spending years of being the guy in Glasgow who every goon would come to to sort out a gig to have the favour reciprocated all the years later.

I'm doing a stall at North Of The Wall fest in a couple of weeks in Glasgow. Usual deal, if you want anything brought specifically, get in touch beforehand. Will be bringing a couple of boxes of LPs, selection of metal on CD and a box of second hand stuff. I look forward to you all assuming I'm not into metal, listening to the absolute mince wacky "metal" patter (JAGGY! SATAN! BUCKY!) and smelling yr BO.
3rd February AD2016


Kilslug/Drunk In Hell 7" sold out. You can still get copies from Lupus and the bands, or from plenty of distros as I'm not one of those tools who refuses to trade my "good" releases with other labels. Dunno about a repress, this one was such a fuckin headache I dunno if either of us could be hooped with it again. Maybe it'll become a "cult" item or something like that. It's nice for something to be popular I guess, but it's also a shame that plenty of other releases just as good as this one are available on the label for bugger all and they're sitting there going nowhere. Maybe you could be a wee bit adventurous and lay out and extra quid and pick up a Marzuraan CD at the same time? Nah, too much for ya pal? Don't want to go mad, eh? What does everyone think of downloads? I get tons of requests on Bandcamp about offering downloads, and honestly I've never bothered cos...well it's not something I ever do myself really and always thought a RECORD label should sell RECORDS, but most people buy stuff off me via Bandcamp now (even though my prices are higher on there!), so there must be something in it. Answers on a postcard! Got some stuff in from Cold Spring and a box on the way from Crucial Blast soon, will get more trades sorted once I have a bit more free time!
23rd January AD2016


Big release day today! Long-coming 7" from Kilslug/Drunk In Hell (this one will go quick!), new CD from Heavydeath and reissue of some classic Brazilian noisecore from Putrefacao Humana. Absolute ton of distro gear too, just not had the time lately to get everything updated! Still have 7"s and tapes to go up but thought I'd get this lot up now and do the rest when I've got a bit more time.
1st December AD2015


New release! Wadge/Captain Three Leg split CD. More detail on why it's a CD and not a 7" in the Releases section, short version: I can't be fucking doing with spending every penny I own on vinyl any more. If you have a major problem with that, then there's plenty of bent vinyl releases out there for you to splurge yer dosh on!

Following on from that, the PROCESS VINYL LP is at the plant right now. The massively long-delayed Kilslug/Drunk In Hell 7" will be with me very soon also. Following on from that will be a new Heavydeath CD which goes to the plant this week. I have some distro to go up on the site but never seem to have the time to get it up and I've sold a grand total of bugger all for the past few months so motiviation for bothering is at a critical low.
24th September AD2015


Big distro update. Sorry for the lack of updates since the summer, I've recently went back to uni and the workload is pretty heavy and I'm getting no time to do much at all. Distro continues to be discounted, as ever the best stuff goes quick. I'm still doing Offshore on the first Saturday of every month and have tons of cheaper stuff with me each month; also bringing along a lot of my own personal collection with some very rare stuff at incredibly cheap prices (recent stuff that's gone includes original Earache LPs, Maurizio Bianchi LPs and a ton of Come Org stuff) so come along and check it out!
13th July AD2015


New 7" out! VUIL, one of the best bands going around full stop right now, and nobody beyond the 10 folk who've seen them play here in Glasgow know about them. Sort that out and check em out! You can listen to it all here:

https://awwfn.bandcamp.com/track/metal-claw


Big distro update, plus I've slashed prices on boxsets across the board. Need to make some room and get some sales going at the moment. You will not find any of this stuff at these kinda prices anywhere.
1st July AD2015


Distro update. Vuil 7"s will go up on sale next week when I know Unhoyl Anarchy have their copies. Kilslug/Drunk In Hell 7" is going to be a bit delayed, having some problems with the audio. Please be patient in the meantime!
3rd June AD2015


First up, apologies for the big delay. Had three new releases here for ages and not had a chance to put them up. Was on holiday, then moved house, had no internet connection for a while, then my dad took quite badly ill. Life has gotten in the way in other words!

Anyway, three new ones this week, with more at the plant and on their way very soon. In the spirit of the label these are all entirely different and I'm quite proud relly that they're all coming out at the same time. It's hard running a label and trading these days as most of the other imprints stick very much to a strict genre and aren't interested in branching out beyond that. I think that's fair enough, but the label is an extention of myself, and I like hunners of different music, so fuck just releasing tunes made by dweebs posing in bullet belts in their living rooms! As a result, there's a special bundle price for those adventurous enough to have a go at all three at the same time!
VUIL test presses came in and sound great, so the press should be with me shortly. DRUNK IN HELL/KILSLUG TPs should be with me soon also I'm told. Next up after that will be a limited-to-100 LP from Sedem Minut Strachu, the best noisecore band going right now

Distro update done too, will have lots more stuff to come shortly, just a case of sorting through everything post-move!

PS-thanks everyone who came to the UNREST OVER GLASGOW gig the other week. Pretty shit turnout after hearing tons of folk were really excited about it, but that's why I stopped putting on gigs in the first place! Cheers to Deek, Matty and Krista for going in with me on it and for the bands for playing the best night of power electronics Glasgow has ever seen! Everyone who came seemed to be proper into it so that's all that matters!
3rd May AD2015


First thing's first: we're off on holiday on Tuesday for a week. Should have net access but obviously no parcels going out throughout that time. Given I had I think 2 orders last week this probbly won't be an issue to both the people who regularly read this site but I thought I should say so anyway!

Decent distro update, bunch of new CDs and some vinyl, as well as a few bits of old stock that I found when moving. Might have some more of this kinda thing when we're packing up!
9th March AD2015


Sloth finally got their copies of the LP so it's up for sale now! Very limited quantities, hard to tell if it'll sell quickly or not. I can tell you a tenner for an LP pressed in such a small quantity is a fucking great deal!

Wee distro update, not getting much in these days as I'm skinto, but the few items I got in this week are all great.

Next up will be the debut full length by Glasgow punks CLOCKED OUT. This will be a stonker and will have copies after the release show this weekend in Maryhill. Also just recieved copies of the new MOSS EP which At War is releasing on CD (the vinyl's available in distro now). Also on its way to me is the new album by REGLER, which is an ultra-harsh free-form collaboration between noiser Mattin and Anders of Brainbombs. Might do a vinyl version of this, money permitting in the future!

At press right now is KILSLUG/DRUNK IN HELL split 7" and the VUIL 7". Both are absolutely fucking great!!!!


17th March AD2015


SLOTH LPs in! Great stuff. Once the band safely have their copies these will go up for sale. I'd say they sound great but, well...it's a Sloth LP innit :-)

For anyone in Scotland, I'm doing a stall at this festival in a couple of weeks time. Got to say I don't know much of the lineup, but everybody seems to be getting all het up over Bolzer at the moment so looking forward to it!
10th March AD2015


Distro update! Will be reducing some prices on tapes and 7"s in the next wee while. Down to my last copies of an awful lot of stuff, so if there's something you've got your eye on grab it now. I'm not planning on restocking very much from now on.

Release-wise, next up is a new (well, i's actually about 5 years old!!!) SLOTH album on vinyl. It's fucking great. Also a 7" by Vuil, Scotland's best current band! Have plenty more in the pipeline including a couple of absolute crackers, more details to come soon.
16th February AD2015


Get Legion Of Andromeda now! These will go pretty quickly I reckon, been getting some good press. Crucial Blast will be doing a CD version that'll have a huge pressing a wee bit later on, but get in now if you want the LP!!

Distro update, some great stuff in this week and I found a couple of old titles that were taken off the site yonks ago (presumably when someone asked me to put them aside and never paid up), so back for sale again!
5th February AD2015


Wee distro update, new Urashimas in! Also got some cracking french prog reissues at a magic price, and original copies of The Gerogerigegege's "Senzuri Fight Back" single.

The LEGION OF ANDROMEDA LPs came in today and they look and sound GREAT. Lovely Stoughton sleeves, great art, deep, heavy sound. Bang on!
3rd February AD2015


Quick distro update to get up the HEAVY CHAINS and UNTERGESCHOSS gear in cos I know people are desperate for this stuff and won't be available for long!
1st February AD2015


Righty, quite happy with the response the sale got so I'm keeing the prices down for the meantime. Free postage offer is out thw window, though have modified it slightly. I couldn't afford to be covering postage indefinitely, but still offering a deal for those who buy a reasonable amount.

The long-awaited LEGION OF ANDROMEDA LPs are now up for pre-order. Don't worry, you won't be waiting for months on these, in fact they're all finished and with Ryan at Unholy Anarchy as we speak, just waiting on him shipping them to me. So as long as the plane they're in on the way here doesn't do a Singapore Airlines in the next week I should have them very soon. This is one of the best releases I've ever been involved with, the band are fuckin ace and have been a pleasure to deal with and Ryan/Unholy Anarchy is the best guy/label out there, simple as! I hope everyone enjoys the record as much as we do.
29th January AD2015


Still a couple of days of sale left. Might be tempted to keep some form of this going for a bit longer, but the free postage will be going so get in now if you want to take advantage of that. Suprisingly few people have went for this....find it incredible that I've had more than one person ask if free postage applied to say, two double LPs at 16 quid each and they've never got back. Two new doubles at thirty quid postage paid to Europe.....come the fuck on!

BONG LPs: I have went through every one of the band copies of the swirl vinyl and I've found about half of them have a deep scratch on both sides three and four at the same place causing it to sound utter shite. So, by extension, I assume about half of you who ordered swirl vinyl have shit-sounding records. I have raised this as an issue with the plant who initially said there was nothing wrong with them....I've since sent five copies of ones which sound beyond terrible and waiting to hear what their expert opinion on that is. We'll see how Pirates Press deal with this one; the guy I deal with has been cool so far but proof is in the pudding really and I'd expect for such a high-priced record broker they'd be fair with me here.

BOTTOM LINE: I can do nothing but play fair. If you're not happy with your record, I'm happy to send a replacement black vinyl copy at my own expense. (And hope to fuck Pirates Press give me some form of refund or something). I very much appreciate everyone who paid up-front and such faith should not go rewarded with a scratchy record.

After all this, think I'm done with coloured vinyl. I know people love all this gimmicky nonsense, but in honesty....people are fuckin' retards. George Bush was the president of the USA, Scotland voted "no" to independence, U2 continue to have no.1 albums: I have no faith in anyone any more. Coloured records sound like shit and I'm done kowtowing to "vinyls" collectors. Aye, that's right, if you all records "vinyls" I fucking hate you!

Small distro update now, got a ton of good gear coming: new FOAD, big batch of french prog/zheul reissues, power electronics from Finland, new MOSS 10" and some other gear!
14th January AD2015


Sale still ongoing. Not yet had ONE person from outside Europe make an order. Fuckin hell. I guess my idea that postage puts people off isn't correct, people from overseas just don't look on this site or want anything I have. Which I honestly find absolutely bonkers, but what you gonna do. I know Australian folk get a shitter of a time with it for postage, but you can't moan when yer getting FREE postage on orders over 60 quid so get the finger out!

ALL Bong LPs are now shipped. I've had quite a few complaints about the coloured vinyl version. I've been told by the plant that the swirl vinyl often has some gunk stuck in the grooves and playing over a few times should sort the pops. A few people have said it looks like a pressing fault though so I've requested a test on copies of the record and I'm waiting on them getting back to me to see what they can do. For anyone who's unhappy in the meantime, I am happy to replace with a black vinyl copy...these sound great!

Very sorry for any annoyance caused, and this is honestly an absolute gutter for me because we spent an awful lot of time making sure that this record sounded perfect. I am done with bullshit fancy coloured vinyl...it just simply sounds like shit and to an extent I am kinda baffled when people insist on coloured vinyl then get annoyed when it sounds crap. That said, I pride myself on putting out good quality records and a record that pops and clicks is not acceptable, and given this was pressed at Pirates Press for MUCH more money than I normaly pay for a press, I had gone in with the expectation of the quality being decent.
21st December AD2014


Sale pretty much up and running now. CDs are cheap as fook, some vinyl priced as low as 3 quid, most stuff is priced down apart from either brand new stuff in or titles I make zero profit on. ALL 7"s, TAPES and CDRs are BUY ONE GET ONE FREE. I'm pretty convinced this is the cheapest you'll ever get any of this stuff anywhere so take advantage! Honestly, it would be lovely if you took advantage of the sale and stocked up rather than buy one LP at a fiver, but any cash in at the moment is better than nothing quite frankly.

Stickers for Bong 2xLP are due in tomorrow as well as a wee extra to the first 100 people to pre-order as a wee surprise thankyou for being cool and waiting. These'll all be packaged up tomorrow (I'm off work for the holidays, woohoo!) and will be sent at the first opportunity. Usual score: going out in the order they were ordered in, unless you were rude to me at some point and demanded your COLOURED VINYLS RIGHT NOW, in which case it'll go out last! The price has also gone up to the regular price of 16 quid now.
18th December AD2014


Righty, first up: many apologies for the lengthy hiatus. As many of you will know, I gave up the pop-up shop in Glasgow. It just wasn't taking in enough customers and I was getting sick of hearing "ah I've been meaning to pop in....", and the thought of a winter sat in the basement earning nowt didn't appeal, I can do that at home!
So anyway, it's taken ages to get all that stuff moved back to our spare room, catalogued back into order, do a stock-take (still on-going!) and get it into the sort of shape where I can actually access things for orders. Add into the mix that my laptop gave up the ghost entirely a week before the shop shut and I couldn't afford to replace it (and thus update the website) and for the past couple of months I've been quite frankly utterly FUCKED. Sorry bout that.

I would like to say though thanks to everyone who came in and bought something, or just came in to show support or have a wee chat. I VERY MUCH appreciate it, had ace fun doing it and you guys all absolutely rule!

BONG albums are with me NOW! They didnt come with the stickers on the front however so had to wait on them getting sent on. I think that it's soon enough til Christmas to hold off until after the holiday. Know everyone wants their stuff (and some have been VERY vociferous in their appeals to me on that front) but this is the time of year where stuff DOES go missing in the mail and I'd rather everyone wait another extra week than anyone be disappointed. All coloured vinyl is spoken for so I couldn't offer replacements if they did go walkies. Regadless, rest assured you'll get em soon!

Also got two new releases here finally "released". I've had these for a wee while but again, with everything happening, inability to update website etc, I've been unable to get them up for sale. Hopefully now with everything near enough back to normal (though I still haven't got a permanent version of Photoshop which could make things difficult in the future!) I#ll be able to get on some other new releases soon as. A question of cash as ever.

Also for the rest of this year I'm having a massive sale. Pretty much EVERY CD has a decent reduction on it, with most stuff only three quid. Huge amount of vinyl heavily discounted too, some real bargains to be had. I realised I've got far far too much stuff here and need a clear out so it's time for it to go! Still got a wee bit to do but I felt I had to get an update out as soon as I was able to, so keep checking back. Will work out a deal for 7"s and tapes in the coming days also.

Also introducing again on a temporary basis free shipping. This is staggered....so free shipping on ANYTHING within the UK, on orders over £30 to Europe, and orders over £60 to the rest of the World. Given the cost of shipping these days I'm sure you'll agree that's a feckin spectacular deal. As ever with these things, I always get messages just after they're over saying "aaaaargh just missed out....can I get....". NO, you can't! The offer's there, it's a fucking good offer, take it when you can!

Right, rants over! Have a good Christmas and New Year!

PS-just to prove the mythical beast that is Bethmoora by Bong does exist, here's a wee pic!


23rd October AD2014


Yet another update, still got more (just got batch of tapes from All Dead Tapes in!) and due in a big haul from High Roller too, but figured I'd get this up before I got too bogged-down in new releases.

This is coming up to the last week of the shop too so will be moving back to mail-order only after next week. So here's your final opportunity to have the pleasure of my real-life company whilst picking up your tunes!
17th October AD2014


Another distro update!
5th October AD2014


Distro update! Loads of good gear in.
28th September AD2014


Wee mini-update of stuff I missed in the last one or just came in!
25th September AD2014


Huge distro update just done! This took me bloody forever, so for the two people who still read my distro updates I'm sorry!

Shop is still going, new stuff in all the time and quite frequently it sells out before it even makes it to the website. Got to be honest, been quite gutted that a lot of pretty regular customers who'd pick stuff up from me in Missing haven't ever come down...don't really understand why you'd stop getting stuff once it's been moved to a nice location rather than the smelly, child-molestor vibes of before, but such is life I guess. Anyway, is always nice to see old faces and new so please pop by if you can!
8th September AD2014


BONG pre-orders going very well, cheers to everyone who's put in an order! The coloured vinyl copies are now all GONE. Still plenty of black and at the same low pre-order price! As ever, a lot of Americans getting put off by postage: my rates to overseas are LESS than it actually costs to send, so I lose money on every record I send abroad. I do this because I see no other way to tempt you guys to buy records. I used to do loads of sales to the USA and it has totally dried up in the past few years. I know you still buy records from over here as there are tons of labels who sell stuff out easilly all the time without huge distribution. I'd love to send tons over to your local distro but as ever, nobody wants to know. It's a very frustrating situation, but all I can do is keep prices low. There's kinda got to be a bit of give and take so maybe don't whinge about it and accept that you're getting a record that's a good 50% cheaper than most other labels around charge!

Distro update again. Just got another few boxes of stuff in this morning but thought I'd put up what I've written up now!

Everything that I get in goes straight out to the shelves in the shop so if you come down you'll get first dibs on everything. Always appreciate anyone dropping by, even if it's just to say hello, so if you're one of the hundreds who's been "meaning to pop by", you might find it wouldn't kill you to help keep your local label alive and you might come away wi some cool gear!

Going to press this week will be new 7"s from VUIL and HORSE LATITUDES. Both will be limited to 300 copies and will do limited mail-order-only colours on them too.
27th August AD2014


Massive distro update again! Still more stuff to come that I've not got rond to yet...very, very busy right now!

New LP out from noise rock three piece MISSILES OF OCTOBER.

BONG preorder up now. Many apologies for the delay on this, so much to do and fundraising has been difficult under current circumstances so pre-order it has to be.
Trying something a bit different here in that the pre-order price is CHEAPER than the regular price. Also, you get more limited coloured vinyl on pre-order. If enough people go in for it might do a run of patches or something too.
The idea is I really appreciate people parting with their cash in advance, and on an expensive release like this I just can't afford to raise all the money in advance. I'm not one of those labels who sells out of every release as soon as it comes out - I press enough to meet demand and keep in print for a while - and so I don't have the instant cash-flow of labelslike Rise Above, Nuclear War Now! etc. Much as I understand their business models from a capitalistic perspective, it ain't what I'm all about. BOTTOM LINE: I appreciate the support and the label only continues with your input, simple as. Thanks.


17th August AD2014


New release out now: excellent doom metal from DAWNRIDER!

Tons of new distro, still much mre to come but just don't have the hours in the day to get it all up. Cornucopia Records is still hanging on in there so if you want to come in and browse then open Wed-Sun 11-6. This means SHUT on Monday and Tuesday and after 6! If I sold a record for every time I've heard "came by on Monday/Tuesday/at 8 o'clock but you weren't in!!" I'd be doing alright!

BONG pre-order will go up very soon, had intended to sort it out after the last update but I'm having a hard time getting everything I need done while living between towns etc so please bear with me.
30th July AD2014


Still loads to go up, working on getting write-ups done for everything blank and got tons of new stuff to put up that's gone straight out to the racks. Of course, if you're in the area, you could always just come in! Lots of people expressing interest, I have found "I'll come by tomorrow" to be code for "I'm never coming round ever at all". Glasgow could do with another record shop selling something a bit different so give us some support!

Two new releases out also, new Sete Star Sept collections. Very cheap price, particularly if you buy both.

A pre-order for the reissue of BONG's first full-length, "Bethmoora" will go up in the next couple of days. Trying something a bit different here. I realise pre-orders are a hassle and you're paying for something you won't get for a couple of months sometimes, so I'm making the price cheaper for pre-orders. So, if you have the trust and patience to give me your cash in advance, you will be rewarded with a better price than anyone else! Plus coloured vinyl too.
Once I figure it out I'll also stick them up on Bandcamp, which you can find here: awwfnbandcamp.com
18th June AD2014


An extensive distro update this week, no descriptions on most of this I'm afraid as I've been working all hours in the pop-up shop and new stuff has been turning over very quickly in some cases. Just over a week to go now! The number of people who expressed interest and excitement haven't been matched by the number of people through the doors so it is in your hands!
25th May AD2014


Three new 7"s in this week, Black Magick SS in particular has had a lot of interest, get on them! As ever, the more you buy the quicker I can get more out and I have A LOT in the pipeline.

Distro update, EXCELLENT vinyl reissues this week!
14th May AD2014


Good distro update this week, lots of cool stuff and finished updating the B13 label stuff. Plenty of really good archival live stuff in there at a price cheaper than usual I hope. If you've got some pocket money to spare I'd highly recommend the Sabbat box, definitely a "splurge" purchase but one you could not fail to be chuffed with!


7th May AD2014


Distro update, nice varied selection this week including some cool live recordings on B13, with more to come soon!

Bit of an announcement to make: I'll be opening a pop-up shop for the month of June in the basement of Offshore cafe in the west end of Glasgow. Very excited for this, it's a good way to find out how well it'd go down and if all goes well I'd consider going full-time. Will be open Wednesday to Sunday so please come down in June and say hello, and even better buy a couple of records!
1st May AD2014


Black Magick SS 7" looks like it's stuck at customs, so all going well I should have tow new 7"s ready for you next week. Also waiting on my copies of two semi-discography CDs from Sete Star Sept, not really sure where they are but I'm hoping South East Asia isn't going to let me down where it has so many times before.

Good distro update this week, an incredibly varied bunch we've got here. Some mad box sets, great new CDs in from Brazil and a few new 7s.
25th April AD2014


Cool distro update this week, a really varied one with tons of weird obscure psych/folk/prog stuff and a wee bit of grindcore thrown in for good measure. Peel always taught me that variety is the spice of life and all that! SECOND test presses for Black Magick SS arrived now and approved so hopefully now the annual bullshit fest of Record Store Day is over us wee labels can actually get some work done now the majors are done with pressing REM demo boxsets for another year.
20th April AD2014


Bunch of restocks of Peaceville with some new uns (My Dying Bride on vinyl!) as well as a few SST CDs. If you don't have the first few Vitus and Flags you really need to remedy that!
10th April AD2014


Hardcore holocaust this week! Tons of new stuff in from FOAD, plus my favourite album of this year so far: BLOOD FARMERS' new record. CRUMBSUCKERS reissue get my vote for best reissue too!
3rd April AD2014


New stuff in, a couple of good vinyl boxsets, Ripcord demos on vinyl, great bunch of 80s punk/thrash CDs in too plus tons more!
25th March AD2014


Some excellent new stuff in the distro, bunch of Flipper reissues, restocks and new releases from Ritual (new BONG and 11PARANOIAS!) as well as a fantastic new noisecore 10" from SSMFS and a ton of gear in from War On Music from Canada: some essential reissues of early thrash in there. One note on that: the Canadian postal service is THE slowest service I've ever dealt with. Not too shy of two months for it to arrive, you think that the price they charge for shipping they'd be able to justify it a bit better! Add that this was meant to be sent out in December last year this might be the longest I've ever waited on an order, so hope you all enjoy this stuff, it's been a fecking epic struggle getting it!
11th March AD2014


Massive vinyl update. Tons of great stuff in this one, something for everyone I reckon!
4th March AD2014


CD distro update. Still plenty of vinyl to come!
3rd March AD2014


Two new releases out today! Crust/grind punks FILTHPACT deliver a great semi-discog at a nice price and RAGGED BARRACUDAS hit us with one of the best 7"s I'll ever release. Working through yet another pile of distro gear ready to be delivered to your door soon as you SHOW ME THE MONEY!
26th February AD2014


Distro update! Those Krautrock boxes are absolutely outstanding by the way! New stuff coming: Filthpact discog CD (in hand, ready to go up soon) and Ragged Barracudas 7" (amazing swamp blues, also in hand and ready for release 1st March). Got covers in for a four-way split 7" between Diseksa, Sete Star Sept, Archagathus and Teralang. Black Magick SS 7"s shouldn't be far off either!
19th February AD2014


Wee distro update, tons more to come!
10th February AD2014


Two new releases out today from completely opposite ends of the heavy spectrum: Bismuth/Undersmile split LP and Pissdeads/Deathwank split 7". Not sure if you want something fast or something slow? Get a bit of both! Be quick on the coloured vinyl for the LP as I don't have many to go round.
6th February AD2014


Big distro update. Loads of good gear from Relapse in this time!
28th January AD2014


Quick wee restock update. Got a huge load of stuff ready to go up, just need to work through it!
23rd January AD2014


I know I said I'd do smaller updates, but I had so much stuff in I've spent 2-3 days just getting it all ready to go up, so here we go! If you're into death metal then this is your lucky day, also got some class stuff in from Buried By Time And Dust (still the only UK supplier of their stuff), ad great debut releases from two utterly brilliant new bands: DRACULA and LEGION OF ANDROMEDA.
16th January AD2014


Quick wee update of some really nice vinyl! Not got a huge amount of this stuff as it's so bloody expensive to buy in! Got two boxes of vinyl and CDs yet to go up, but thought I'd try smaller, more regular updates from now on rather than keep doing these massive ones every few weeks.
12th January AD2014


First update of the year here! I had intended to do a big distro update toward the end of the year, but I kept getting new stuff in, had to workflat out all month, blah blah blah. Anyway, two new tapes for you including a good deal on both, as well as a new 7" from Filthpact and Chulo. Absolutely HUGE distro update - quite possibly the biggest one ever - so go for it, get rid of yer Christmas money! There's still even more where that came from, just need some time to sit down and get through it all!

Got a Black Magick SS 7" at press right now, this is a vinyl reissue of their quickly sold out tape, Panzerwitch. One of my favourite bands going about right now, these guys are fucking great. Also the long-planned double CD by Maurizio Bianchi, Mectpyo/Blut, will be out soon! Next vinyl will be the double LP version of Nightstick's magnum opus, Rock And Roll Weymouth, as well as a double LP reissue of BONG's first album, Bethmoora (yes, the one with the epic cover of Floyd's "Set Controls For The Heart Of The Sun"). These will be out soon as I get the cash together for them. Want one? Don't buy that over-priced hipster bullshit new try hard edition on Rise Above, grab a couple of LPs off this distro!
13th December AD2013


Tons of new distro in. Cheers everyone who ordered the CSMD 12". Quickest sold-out item ever, though only having 14 of them for sale made that not too difficult! Hope to have one more update before Christmas, got a few nice items coming in.

By the way, SLEAFORD MODS are playing tonight (Friday) at the Old Hairdressers, highly recommend them! Very much looking forward to checking em out live. If I hear one more person say "punk poetry" though I think I'll chunder.
3rd December AD2013


New releases out now! The CSMD 12" is very very limited indeed, in fact only a handful will even go on sale so this is a first come, first served basis. These are REAL vinyl records - not lathes - and every one is entirely unique and a different colour! Be quick if you want a Bonesaw shirt too, already running quite low on a couple of sizes. The perfect Christmas gift, surely?

Big distro update to come end of this week and I hope to squeeze out a couple of tapes by Culver and Haikai No Ku before the anniversary of the birth of our lord jeebus.
21st November AD2013


MAMMOTH distro update! Absolutely tons of great new gear up right now, a lot of this will go very quickly so get on it whilst you can. Still not got the Bonesaw shirts in but they'll go out soon as I receive them.
18th November AD2013


Distro update: ton of new 7"s up now!!!
15th November AD2013


BONESAW CD and DESECRATOR LP both out today! Bonesaw tshirts will be in with me on Tuesday I believe, put in an order now to guarantee your size. PLEASE PLEASE PLEASE remember to write your size when you order!!

I've got tons of new distro still waiting to go up but I've got a million things to do before that so will most likely get another mammoth update done next week some time!!
8th November AD2013


MASSIVE distro update! Believe it or not I have tons more to go up - a shoebox full of 7"s mainly - but a couple of big boxes of mad prog landed at my door today but need a chance to listen to it all before going up.

Some great stuff in this update, including a huge batch of recently-released demos on vinyl by one of my favourite black metal bands, VLAD TEPES. Anyone into weird black metal or an interest in Les Legiones Noires at all would do well to pick these all up while I have them!

New releases (BONESAW CD, CSMD 12" and DESECRATOR LP) will all go up on Monday!!


A NOTE ON BLACK VOMIT RECORDS: I bought a bunch of stuff wholesale from this guy quite a few months ago now, and it came to quite a total. Got them in and they were so poorly packaged that everything was rattling around in the box and just about every sleeve was wrecked, and the CDs were scratched into oblivion. Honestly, the packaging job on this was utterly retarded. Anyway, I got in touch and rather than apologise and offer replacements the guy asked me to send back the wrecked sleeves; upon receipt of which he'd send me new ones. Now, given that it's not my fault he runs a record label yet DOES NOT KNOW HOW TO PUT RECORDS IN A FUCKING BOX, I had no choice but to pay for sending a bunch of tanned sleeves to him to get sell-able ones in return. Anyway, a couple of weeks go by and I get new ones in. Once again, packaged in an utterly moronic way, all squeezed together, but they managed to get through ok. Unfortunately they were short by a sleeve. When asked if I could have the other sleeve sent to me as I'd been shorted on it he refused, saying because I sent him a list of damaged sleeves and that one wasn't included in the email - despite the fact that the damaged sleeve was RETURNED TO HIM AS REQUESTED - he's holding me to ransom on getting a replacement sleeve and demanding I send even more cash to get it sent off. This whole debacle has utterly pissed me off because it's indicative of the greed and utter lack of support there exists in so much of the underground these days. So many labels don't give a shit about dealing well with other people, it's all about MONEY. No trades, no apologies when you fuck things up, just licensing old reissues and trying to make a quick buck on them. So fuck you Black Vomit. No wonder Greece is going down the fuckin pan if all your countrymen act like you. If you want your records packaged as if by a brain-damaged chimp with no thumbs, buy your records from this scumbag.
4th October AD2013

Agathocles/Hogra split 7" out now! You may have noticed it's been up for sale for weeks via Marty Dwyer aka Jerkoff Records as "Ratgirl" on eBay and Discogs. That's cos he organised the whole thing, took months with our cash, go them in and sold them all before we'd even seen them, then shorted us on our copies. What a nob, eh?

Big distro update too, lots of good stuff in. Also got the DESECRATOR LPs in yesterday and they look and sound fantastic! They'll be going up for sale second week of October when Aston of Boss Tuneage (who co-released this with me) comes back from his holidays!

Rita boxsets are going fast and got few left. I'm pretty amazed that after all the complaining from people overseas that postage rates are too high, fewer people from overseas have actually bought the bloody thing: ACTUAL cost shipping to USA for example is around £20 and I'm only asking for £7! Sometimes I think if I actually offered to give away stuff for free people still wouldn't take it.
19th September AD2013

THE RITA - Escorting triple LP boxset out now! Demand has been phenomenal for this one and Urashima sold out his copies on pre-order so get in quick if you want one. I'm told the Agathocles/Hogra splits are on their way to me as we speak. Still got a ton of distro to add to the site, please bear with me.
12th September AD2013

Big distro update! Believe it or not still tons more to go up! Get em while they're here!!

Agathocles/Hogra split 7" will be with me soon, THE RITA boxes have arrived and should be on sale next week, Descrator test presses came in great so that should be ready to go early October! Phew.
4th September AD2013

Quick wee distro update, some great stuff in there this week with loads more to come when I get a minute! Got a test of the Rita box (would've been a fuckin help for everyone if they'd sent that in the first place, eh?) in and it fits perfectly so all go on that!
HOGRA/AGATHOCLES split 7" should be with me really soon, I see someone's already got em up for sale before we've even seen em so thanks for that, underground label respect still going strong.
30th August AD2013

Another cracking distro update, be quick on these cos I've got limited numbers and they won't stick around long. Sure these are the cheapest prices on the net for most of this stuff too!
Still bugger all anybody in the States has picked up the SS/Ohmwar 7". While I find this incredible please don't complain it's not getting decent distribution; NOBODY has got in touch about it. I've sent Andy at Witch Sermon some, so a few USA folks will be able to get them off him, give him some of your business, best guy and great label!
20th August AD2013

Got the RITA triple LPs in....unfortunately the plant have fucked up the boxes and cut them too short. I've spent the day being a combination of either suicidal or uncontrollably raging at these utter fucking clowns, so will find out where we stand tomorrow and if we can get replacements. So, in short we'd hoped to have these for sale THIS WEEK but that will not happen now. Let me tell you though the LPs sound amazing and this one will be a true classic of harsh noise as soon as it comes out!

Along with Boss Tuneage I'll be reissuing the UK death metal classic LP by DESECRATOR. This will be out next month and is at the plant right now!

The Satan's Satyrs/Ohmwar single is selling very quickly so please get in touch if you want one. I've heard a lot of people ask about US distribution. So far only Unholy Anarchy have asked for copies so if you want this, get on to your local distributor and ask them to get some! I find a lot of USA labels/distros to be getting really fuckin sniffy these days, nobody will trade but everyone wants to wholesale their gear. Well, that's all well and good but DIY is a two-way street lads!

MASSIVE distro update, some really choice titles up this week. I still have a lot to go up and will try my best to get them up later this week.
8th August AD2013

Distro update! Got tons of new items in right now, not had enough time to put them all up but working through them as I type!
2nd August AD2013

Satan's Satyrs/Ohmwar 7" out now! I expect these to go reasonably fast so have done a bit of a bigger run but still would encourage getting em sooner rather than later!
19th July AD2013

Wee distro update. A couple of great Witchfynde CDs in particular I can highly recommend! Getting a bunch of new vinyl in from THE CRYPT next week and will be getting the new Rise Above Records LPs in soon too. Also the Satan's Satyrs/Ohm War split will be shipped to me next week also, will get it up on Bandcamp for you to hear!
9th July AD2013

Distro update and new release (THROAT LP!). You may have noticed if you're a Throat fan that the other labels involved already released theirs; that's cos mine all came in with tanned covers. Got new ones so ready to go now!

The Satan's Satyrs/Ohmwar split is still at press, had a nightmare with the plant being backed up but should be here soon.

Long-anticipated THE RITA 3xLP boxset which has been secretly brewing (in co-operation with the excellent Urashima label of Italy) will be ready for August. This will be a really top-class release and very much looking forward to unleashing THE last word in harsh noise.

Got a new tape ready to go by WITH PREJUDICE which will come out next week. You can check out their last tape here: http://depravitylabel.bandcamp.com/album/drunk-on-fuck

Finally a new Maurizio Bianchi double CD will see the light of day next month all thing going well, PLUS a 12" by the best sci-fi ginders going, CSMD which will compile both their recent lathe releases. This has been at press for approximately three fecking months now and I'm beginning to completely lose the plot with the guys who're pressing it but I'm told it's just about done so fingers crossed it'll be with me soon!
24th June AD2013

Big distro update!

ALSO: BANDCAMP UP! You can now listen to AWWFN releases via Bandcamp! I'm in the process of adding them all now, you can stream and listen before you (hopefully!) buy. Still working at it now (it takes bloomin ages!) and my hope is - pending all the bands' agreement - I can maybe get all sold out At War releases up there for free download or stream. I know there's a lot of stuff that isn't available any more and would be nice for it to not just dissappear into obscurity. Anyway, for the meantime check it out please!!

awwfn.bandcamp.com
20th June AD2013


Three new releases out now! Special bundle price if you buy them all. A lot of people don't buy from the USA particularly because overseas shipping is very high...well, for just over 20 quid you're getting an LP, 12" and 7", even in the 90s that wouldn't have been a bad price! So stop whinging and buy some records please!

Been speaking with a few folk recently about pricing and perception/value. I guess even on a subconscious level some people kinda think that if something is cheap then it's not very good. Well that's just not true! I price records directly by what they cost to produce, so for example the Lost Breed record was a lot because putting it together took a lot of cash, whilst say a regular CD with no fancy packaging isn't that expensive to produce. This label is run (I hope) as part of the music underground and it's a two-way street. If everyone is cool with everyone else things go fine, so I don't feel the need to price every LP at 17 quid just because everyone else is. Maybe those people spend a lot on studio or packaging costs, or maybe they're just greedy. I don't care, nothing to do with me. If I can make enough to get by and put more records out I'm happy, and you should be too!

On another note, I'm aiming to a) get a Bandcamp page sorted so you can listen to every release and b) get a completely new website. Much as my gay wit and reparte brings in thousands of customers worldwide every update (ha!), I can see the advantages to just being able to hear the bloody thing yourself without having to have it described by a witless illiterate mong like myself, typos included. I also know the website is a bit clunky and text-heavy (it was actually done by a currently-pro web designer, honest!), and not having a cart option is a pain in the arse. Personally I like it this way - it's like the big distro lists I loved to trawl through as a teenager - but I cannae live in the past and with a million labels and records out there all the kids want is convenience. So after 6 years of this thing it might be time to get a new one. Quite where I'm going to get the money and time to do it is absolutely beyond me right now but I HAVE resolved to sort it out.
30th May AD2013


OHMWAR tape out now! Only 50 available so get on em whilst you can!

Tons of good additions to distro also.
Vom and Resonaut records are with me now, look and sound great. Just waiting for the bands to recieve their copies and make sure they're all happy with them before they go up for sale. Throat LPs came in but all the covers are fucked so hopefully will get some replacements in for them. Aim is to get all these up in a oner and maybe do a wee bundle package to save some postage on those who contiinue to support the cause!
17th May AD2013


New THROAT LP should be with me next week, expect RESONAUT 12" and VOM LP in the next week or two also. OHMWAR "Live" tapes are ready to go and will go up for sale as soon as I get word that the band have recieved their copies and are happy with em!

Ace distro update this week, managed to snag a bunch of rare NEAT RECORDS stuff. Before you shit yourself there's no Venom or Fist in there, but a few decent curios which are worth a listen, in addition to an absolute cracker in the DARK HAZE 12"! Restock of the ver popular Black Magick SS single, everyone was after this before and a few folks missed out so got a big wad of them back in to sate demand. Bunch of new stuff in from excellent Finnish black metal label Ahdistuksen Aihio (always goes fast!), RSR and Vendetta (the new Fell Voices I highly recommend!).

Still got a big pile of rare psych reissues to go up on the site but need some time to listen through em first so will stick them up next week. Due in a bunch of new Rise Above also, and will be getting everything in from them as they come out, so if yer after a reliable supplier of their releases please get in touch and would be happy to sort it out!
3rd May AD2013

Test presses in for Throat LP, I'm told by the band they sound great so press should be going ahead immediately!
Just sent off to press the new Satan's Satyrs single, which will be a split with the great OHMWAR. Talking of Ohmwar, I have a new live tape by them ready to go very soon, absolutely cracking band, please check em out!
Going to press also at the moment is a new split by the great Hogra, who will be sharing vinyl with AGATHOCLES. To be honest, you're not a proper label until you've done an Agathocles record and I don't know why it's taken me so long honestly. A great band who I've been listening to solidly since I was a teenager so ver chuffed to be doing something with them!

Big distro update, I'm now able to get in stuff from Rise Above! Like Peaceville, the wholesale rates are pretty brutal on them but I'm confident my prices are as cheap as you'll find and I don't rip the shipping or send out in envelopes like some jokers out there!

Talking of which, if you want to recieve a pure tanned record in the post with the vinyl flapping about the box unprotected, sandwiched between a couple of bits of paper, then order something from HOLY ROAR RECORDS! If you dare to complain you'll be fobbed off with some bullshit excuses about how it's too expensive and difficult to properly package a record, then the lovely chap from Holy Mong will start crying like a wean about how it's offensive you're calling him a twat. To conclude: YOU'RE A MASSIVE TWAT.
28th April AD2013

Gigantic distro update with loads of grind 7"s and a whole plethora of stuff from the excellent reissue label, High Roller. The first bunch of MANILLA ROAD albums? Yes please!
Test presses in for Resonaut and Vom, both sounding good! Watch the skies!
18th April AD2013

Satan's Satyrs repress available now! These went very fast last time so pile in!

Another huge distro update done now, a really diverse update this week with tons of cracking gear, from classic punk and hardcore to limited prog reissues! Where else can you pick up a french prog record from 1981 along with a DVD documentary about a German hardcore band? Nowhere, that's where! Nuclear Death boxes are nearly gone so if you're after one GET IT NOW as you'll not get a chance to get them so cheap later on. Got one of each colour left available.

Tons more distro coming in next week (and still have loads of 7"s I've not been able to listen to/list yet), absolutely huge order coming in from High Roller Records. Also just sorted out getting in stuff from Rise Above so will be getting all their vinyl in from now on too, at hopefully affordable rates!
12th April AD2013

Tons of new distro stuff, still got loads to do but I'm done for the night! The Crypt releases look ace and will go quick so get on em! All the Buried By Time And Dust stuff I got in might have been expensive but it went lightning fast so get on it while you can. I have one copy of the Saint Vitus live LP left and a couple of the Pagan Altar LPs too.
Satan's Satyrs repress will be with me in the next week or so I'm told. If anyone wants to make sure they get one you can just send me £9 plus postage (it's on the site) to Paypal address alastairmabon@aol.com now.
30 March AD2013

THREE new titles up now! I reckon the Bong/Pyramidion LP will go reasonably fast so get on em whilst you can. Three very different releases on three different formats. I'm determined to keep the label as diverse as I can and always do CDs and wee runs of cassettes as well as more fancy vinyl releases, I think it's a bit bullshit when labels become there just to release what are essentially art objects that cost so much to make that nobody can afford em. Fuck that!
Bunch of good distro in right now too, the new Pagan Altar is really really nice! As with all BBTAD gear it will sell out even though I have a good whack of them in, so get them while they're hot!!
Vom LP is at press, the UYB/Screamig Brain 7" should be with me very soon too.
I've just done a stonking big order with The Crypt for the new NUCLEAR DEATH boxset; this features both their albums and demos in a 4xLP set with book and posters. As with all their releases it looks the absolute business but will be gone almost immediately and cost a bloody fortune (see above!). That said, Nuclear Death are one of my all-time favourite bands (if you didn't already know check out their logo and see where I got my "inspiration" from for At War!) so I had to get em in. I expect these to retail at around 55-60 quid (need to see how much I get taxed when they come in before I can confirm price) so if anyone's after one please send me a wee email to reserve. Cheers!
2nd March AD2013

Big distro update! Got a ton of excellent gear in right now, particularly a big box of stuff from Buried by Time And Dust. This gear isn't cheap but I know not only is nobody else in the UK stocking this, but you'd be hard pushed to get this stuff anywhere in Europe close to what I'm selling them for. I'd like to get regular stock from BBTAD but it needs to turn over reasonably quickly for me to do this, which means if you want it, buy it!! I have to stump up the cash in advance so it skins me an awful lot to get big wholesale orders across the pond in like this!
Bong/Pyramidion split LP test presses came in and sound great to me, just waiting on confirmation from the bands and then we'll be on our way! Ready to order soon. Also close to completion is the Up Your Bucket/Screaming Brain split 7". Top class dirge punk! A repress of the Satan's Satyrs LP will be coming too if I can get the cash together for it, seems popular enough to warrant the first time I've ever needed to put out another press of an album! If you're after one drop me a mail, might end up doing a wee preorder again to get the ca$$$h together, and since it's a repress it shouldn't take very long to get done.
27th February AD2013

Distro update!
11th February AD2013

Distro update!
1st February AD2013


So....huge distro update with a lot of great stuff. Tons of great new vinyl in, a lot of old black metal etc. This stuff couldn't be traded for and I had to buy direct hence the reasonably high price; however there's no other UK distro stocking this stuff so get on it while you can! As usual, most of the best stuff goes very quickly so get on it while you can!

One new release out right now....At War's first 10"! The grim power violence stylings of Sufferinfuck meet the grind/crust assauly of Filthpact. Two great home-grown bands for just FIVE POUNDS. You can't beat that!

Sent to press and therefore coming soon right now....Grimpen Mire's "A Plague Upon Your Houses" CD, the Bong/Pyramidion split LP and a split 7" between Screaming Brain and Up Your Bucket (ex-Kilslug). I'll get some sound samples up of all of these in the near future.

As ever, I can get more new releases out and more stock in the shop only if I SELL more. Capitalism sucks but the more you put i, the more you get out! With the ridiculous mail hikes in the USA it's makig it nearly impossile to affordably buy records from there any more, so my aim is to try and get some trade and wholesale deals going to get a lot of that gear over here. I can ONLY afford to do this though if my own gear sells through well so please support the supportive!
13th January AD2013

LOST BREED finally going off now! I'm so sorry for all the delays but sleeves finally came in during the Christmas break. If you want to save on postage please let your local distributor know and put them in touch with me, I'm more than happy to get these out wholesale to anywhere. The shipping on them is an absolute bugger and I'm taking a hit on them as it is (actual cost shipping to USA is around £10-11 on these such is their bulk) so please bear that in mind before complaining about the price!

This is going to be a busy year, in the immediate pipeline will be a repress of the SATAN'S SATYRS LP, a split LP between BONG and PYRAMIDION,a 12" by RESONAUT, second LP from VOM and a split 7" from FELLWOODS/ICE DRAGON.

CDs immediately forthcoming from GRIMPEN MIRE and another (long-awaited) MAURIZIO BIANCHI reissue.
13th December AD2012

Thanks to everyone who took the great free shipping option last week, you both got a bargain! Everyone who moans about shipping being too expensive, bite me!

LOST BREED sleeves are due with me on MONDAY! Again my apologies for the inevitable delays, the sleeves are hand-made and have taken bloomin' ages but I promise they will be worth the wait. I'm a little afraid that now we've entered the Christmas mail black hole where you run a bit of a gauntlet sending stuff out. We still should have enough time to get stuff out to you before Christmas (I had a parcel arrive in the USA in two days last week!) so if you've preordered and want your LP sent out immediately please get in touch, otherwise I've taken the executive decision to keep them back for after new year.

Did a distro update today, likely the last one of the year. What with wedding planning and putting every spare cent I have into new releases I've not been getting as much stock in as usual these past couple of months; come January I'll be making a big effort to get loads of new stuff in so everyone's got something to spend their Christmas money on and I can make a dent in the old credit card bill!
1st December AD2012

FREE SHIPPING ON CDs FOR THE NEXT WEEK!
That's right, free shipping on CDs for one week. Anywhere in the world, any quantity. Free! Stock up on some Christmas presents!
30th November AD2012

Got the Wino Daze LPs in, awaiting the sleeves right now. Most likely stuck in tax hell somewhere. I'll send a mailout to preorder people soon as I get them in, in case anyone eants me to keep them over Christmas to avoid the potential loss in the mail over the busy December period. I reckon it's still early enough that we'll be ok though.
PLEASE bear with me on these. As with other preorders, it takes time and there are always delays, particularly with such involved packaging. I'm doing my best to make sure these look and sound great and that has involved a bit of to-ing and fro-ing with the plant. With me, you might wait a little bit but you'll get your stuff and it will be good. There are plenty of labels who sell a ton more stuff than I do and get away with having you wait ages and then sending you a shit sandwich in the mail. Please, demanding updates every week via email doesn't make the pressing plant press the records any quicker, but it DOES slow me down from doing every other job I'm currently juggling so have patience!

BONG/PYRAMIDION split LP will be going to press shortly, due out after new year. Very much looking forward to this one, I guess everyone knows Bong by now but Pyramidion are absolutely belting and hopefully this one will get them a bit of recognition beyond Glasgow. I'll get excerpts of each side up on Bandcamp or summat soon.
1st December AD2012

FREE SHIPPING ON CDs FOR THE NEXT WEEK!
That's right, free shipping on CDs for one week. Anywhere in the world, any quantity. Free! Stock up on some Christmas presents!
30th November AD2012

Got the Wino Daze LPs in, awaiting the sleeves right now. Most likely stuck in tax hell somewhere. I'll send a mailout to preorder people soon as I get them in, in case anyone eants me to keep them over Christmas to avoid the potential loss in the mail over the busy December period. I reckon it's still early enough that we'll be ok though.
PLEASE bear with me on these. As with other preorders, it takes time and there are always delays, particularly with such involved packaging. I'm doing my best to make sure these look and sound great and that has involved a bit of to-ing and fro-ing with the plant. With me, you might wait a little bit but you'll get your stuff and it will be good. There are plenty of labels who sell a ton more stuff than I do and get away with having you wait ages and then sending you a shit sandwich in the mail. Please, demanding updates every week via email doesn't make the pressing plant press the records any quicker, but it DOES slow me down from doing every other job I'm currently juggling so have patience!

BONG/PYRAMIDION split LP will be going to press shortly, due out after new year. Very much looking forward to this one, I guess everyone knows Bong by now but Pyramidion are absolutely belting and hopefully this one will get them a bit of recognition beyond Glasgow. I'll get excerpts of each side up on Bandcamp or summat soon.
29th October AD2012

Two new tapes up now! Doing a wee deal on the pair; they're both pretty different so maybe an opportunity to try out something a bit new for not too much cash!

Got the Lost Breed sleeves in. Only doing 50 die hards now so get in while you can. As you can see the sleeves are the absolute business. Check out the track "Nation Song" below!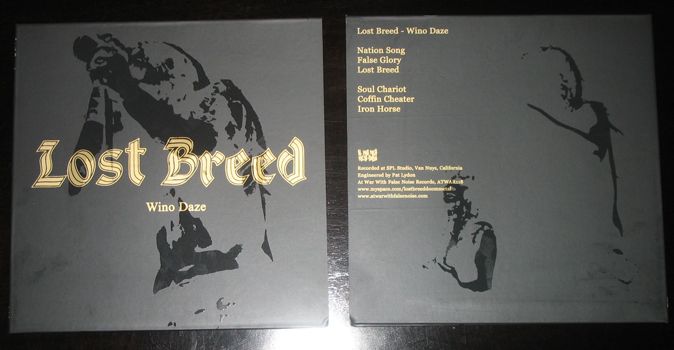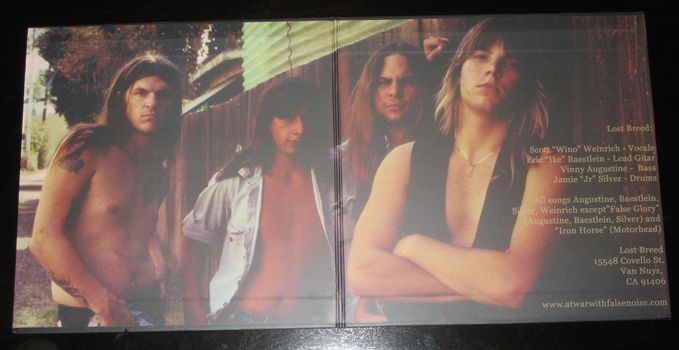 22nd October AD2012

Lost Breed - Wino Daze prototype covers came in and they are ace. Definitely the nicest sleeve I've ever done by a long way! Will put pics up today. I've cut the diehard edition to only FIFTY copies, fuck it. A couple remaining so get em while you can.
24th September AD2012

Here we go, heavy duty now! Preorders for the LOST BREED - Wino Daze LP are up now. I'm expecting this to be really popular so be quick. I know this LP is expensive but I've realy gone all-out on packaging and this one will be an absolute belter! For anyone ordering, my Paypal address is alastairmabonATaolDOTcom and postage rates are at the top of the page. PLEASE don't send payment in dollars or euros, and please don't send me an email asking what the shipping price is, because 99% of the time such emails don't even state where you are, and result in a three email exchange that would not need to happen with 10 seconds of using both eyes and brain simultaneously!
New release also out now from Pyramido/Amarok. Great sludge from both. This is a split release with Boue and Vendetta so we all have a limited number of the coloured vinyl. If you want one of these please state so when ordering!
23rd September AD2012

Back from holiday. Had a lovely time thanks. Updated the distro, lots of good fast stuff added, lots of good Euro noise added.

Preorders for the LOST BREED LP going up tomorrow evening (Monday) as well as a new release (Pyramido/Amarok split LP). The NIGHTSTICK CD is on its way to me, and they're playing a comeback show too in a couple of weeks time. Bloody hell! Also on its way to me is the CD edition of the Satan's Satyrs LP. Don't worry there will be plenty to go round. Folks in the USA should get them from Black Shit Noise or the band; saves you postage and helps these guys out too.
7th September AD2012

Right, I'm off on holiday! Email if you want but you won't get a response :-)

Will be back in a couple of weeks with a couple of new releases all things going well!
28th August AD2012

Distro update with some gear from Hell's Headbangers.

I'm away on holiday from the second week of September for two weeks. Having not been on holiday and doing this amongst other things pretty much straight for seven days a week for the past four years now I feel I've earned it and as a result will not be doing email or takig orders for that time. I'll no doubt check my emails on occassion but unless you're telling me the government has declared a state of emergency, my family have all spontaneously combusted, or aliens have landed in the burning wreck that used to be my living room, you shan't get a response. So any orders you want to make, get em in soon!

Immediately upon my return I'll be putting up a pre-order for the LOST BREED - Wino Daze LP. This has been a long time in the making and I'm hopeful it'll be the best At War release ever. Please do not email reserving one now, I don't have capacity or time to sort that. Hoping to do a special edition also. The packaging for this one will be really nice but unfortunately with all these things that means it'll be reasonably pricey. I'm hoping a decent amount of distros will get copies but bear in mind if you want to guarantee a copy pre-orders are there. The record has been sent off to the pressing plant already, but as with the Satan's Satyrs LP, please bear in mind that pressing plants have you over a barrel these days and can and have taken ages to get things sorted!

Also due out (and hopefully ready before I go away!) will be the long-awaited - thought lost! - fourth album by NIGHTSTICK. If you don't know the name, they're possibly the heaviest band ever to exist and broke up over a decade ago. Check out ULTIMATUM until this one comes out. It'll be a CD in a six-panel digipak for the moment, and hopefully if I can afford it a double LP soon after. But then that's down to you innit, so buy some records! Thanks.
13th August AD2012

Righty, if you ordered a Satan's Satyrs LP it's on its way to you now! Took me a couple of weeks but finally got them all out at last. I've actually got a few left over as the plant went slightly over on the run. No patches with em but let me know if you want one. I shouldn't imagine they'll stick around for too long.

THREE great new releases out now including a split from Sufferinfuck and Mangle (you will not hear a better 7" this year!), new LP from Italian grinders HUMUS and a 12" by the amazing UZALA. The quicker this gear sells through the quicker I get more releases out; that how capitalism works and I'm afraid that's the world we live in so order some stuff please dingus!

Big distro update with a bunch of restocks from Peaceville, some new tapes and a couple of great new Urashima reissues.

I'm away on holiday for a fortnight at the beginning of September (first bloody holiday in four years!) so all activities will halt over that period. If there's anything you're after just giving a wee heads up for you to get an order in now!
2nd August AD2012

Another hard drive crash put me back several weeks unfortunately, but website has been updated so everything should be fine now. Got a few new releases ready to go, just waiting for the covers for the Mangle/Sufferinfuck to come in and I can get em all up! In the meantime, check out the distro, tons up including a bunch of great gear from HARBINGER SOUND!
18th June AD2012

New Peaceville vinyl and CD reissues in! Got quite limited stocks of these (and they ALWAYS go really quick!) so do yourself a favour and get em while they're hot! I can't afford to do many big orders of these as the wholesale price is bloody brutal so get on it while they're in.
15th June AD2012

Another distro update done! Lots of good new stuff including the ESSENTIAL "Awake!" boxset from RAMLEH. Think I'm just about caught up now. Expecting a big pile of stuff including quite a lot of restocks from Peaceville next week too.
13th June AD2012

Bunch of new distro in, still tons to come. Satan's Satyrs LP should be soon, test presses are on their way to the band for approval. The sleeves and patches are all doen so hopefully shouldn't be too long before they're shipping.
29th May AD2012

Stuck a bunch of LPs up on distro, still got tons of CDs and 7"s to go. Had a major computer crash a couple of weeks ago and still recovering!
8th May AD2012

SS LPs are now all spoken for! Thanks for the pre-orders! Trash King in the USA should still have copies.
4th May AD2012

Some new distro, amazing very limited LPs from Legion Blotan/All Dead Tapes, get me while you can!

Satan's Satyrs LPs are going really quickly and if they keep selling at this rate I reckon they'll be gone by next week so get your order in now if you want one!
30th April AD2012

New preorder for the debut by SATAN'S SATYRS up today! This has been at press for a couple of weeks so shouldn't be too long until it's ready! Only 250 copies and interest has been really high for this one so I don't reckon they'll stick around for very long. Get on it!

Bunch of new distro in, restocks of some stuff from Kult Of Nihilow and new (and very limited!) black metal from the excellent Legion Blotan and All Dead Tapes.
28th April AD2012

Wow, what a tour, two of my favourite bands going right now together! If you're within a few hundred miles of any of these shows, travel to them! New singles from both bands coming from At War very soon.
24th April AD2012

So nearly a year on from the big move I've finally managed to locate the blood wax seal so WRAITHS CDs are now available again. I've noticed a couple of chancers selling these at quite high prices whilst they've been "off the market", so here ya go, got quite a few still up for grabs!
13th April AD2012

FINALLY got stuff up on distro page! Absolutely tons of great new gear, one of the best updates ever if you ask me. A lot of these stocks are limited so act quick, as ever the best stuff always goes within the first couple of days of an update!
11th April AD2012

Two new 7"s out now! Can't quite believe the Seppuku single ever even happened haha.
I have a gazillion new things to put up on the distro list but listening to them all and having something constructive to say is a lengthy process and quite frankly a bit of a pain in the arse! So bear with me there. Stacks of good stuff anyway coming your way.
21st March AD2012

Tons more distro up! Believe it or not I still have more to go up too! Some really good stuff in this update, be quick as quite a few items on the last update are gone already.
19th March AD2012

New release out now: Amarok/Enth split LP! This is a co-release, so less copies than usual, ie won't stick around forever!

Done a distro update but still only about half way through it. Had to give up due to fatigue, falling apart!
4th March AD2012

Uzala LPs shipping now! They're going fast so get em while you can. A few distros should be getting them, though only ones so far to sort it out is Squirrel Grip in Australia, who'll also be carrying the Battlestorm and Alkerdeel LPs.
Seppuku/Necrocum spli 7" is in, will get the packaging done for that and it'll be released in the next couple of weeks. Also the Amarok/Enth Split LP is in, I#ll release that when all the other labels taking part confirm! This one is a BEAST, really heavy duty stuff.

24th February AD2012

BIG release day today! Debut CD of 70s-sounding blues rock from FELLWOODS, new Alkerdeel album ready to go and finally Battlestorm's Demonic Incursion LP is ready as well! This is a very limited run and they won't be traded, so get em here or forever hold your peace.
The Battlestorm LPs will ship next week. Uzala is meant to be due with me today, but after a million delays I bet they don't turn up. SHOULD start shipping those next week however too.
16th February AD2012

Distro update! Tons of vinyl from Peaceville in, loads of good Darkthrone reissues etc. Be quick with these ones, they tend to go quite quickly and all spare cash is tied up for the moment so won't be able to do any re-orders from them for a while.
20th January AD2012

Got the UZALA test presses and sleeves in. Look and sound fantastic! I'm really chuffed with the sleeve, definitely worth the extra cash. As soon as the band give approval they're going to press and I should be shipping a couple of weeks after! The preorder with tshirt will end on SUNDAY (22nd January) so if you want a shirt, get em NOW! Any time I give a deadline I ALWAYS have people asking for the stuff a day or so later but I'm sending the tshirt orders off so there's bugger all I can do about it after Sunday! You have been warned :-)
As a thankyou for everyone whos bought an Uzala preorder I'm gonna do a draw and one lucky person on the list will get a free test press! The only other TPs are going to the band, one to the engineer and one to me so they won't be available anywhere else. More exciting Uzala news coming soon!
I'm doing a CD with retro rockers FELL WOODS. I actually received the discs in today so these will be going up for order soon! You can listen to the album in its entirety here: http://themoss.bandcamp.com/ They're bloody GREAT!
Done a wee distro update with some good gear, check it out!
8th January AD2012
1st January AD2012

What's the first thing I do in 2012? The same as the last thing I did in 2011, listen to tunes and continued toil for At War of course!
Firgured the start of the year was as good a time as any to get a new CD out (debut album from Brutal Truth/TFD offshoot OLD HEAD) as well as a preorder for the new ALKERDEEL album, which is an absolute stormer and will see them take their place amongst the heavyweights this year I reckon.
Uzala sleeves will be on their way to me soon, the insane costs of shipping these to the UK mean 2012 will be a year of plain rice and water unless some of you fuckers get the finger out and stop downloading everything like a bunch of hip bobags and buy real records! Start the year as you mean to go on and all that.
27th December AD2011

Hope everyone had a nice Christmas! Just did a massive distro update with some top-drawer stuff. Limited copies of a lot of this; as with most distro updates, 50% of it tends to go in the first couple of weeks so get on it! Spend your Christmas money on something good eh!
As I type the BATTLESTORM test presses have just been dropped in my door so I'm off to give em a listen!
19th December AD2011

Ha, when you say "this will be my last update", it's just guaranteed you'll do another one eh! Anyway, got a couple of new cheap ones out that I thought people might want to add to the Uzala preorder. Freepost on them if so, just mail me the extra dosh to the usual PP address!
Got some really nice silkscreen patches in with the label logo on them. as well as a new reissue of the first Alkerdeel demo, Luizig! This was what got everyone talking about these guys in the first place and one of my first-ever "proper" CDs so it's quite a special one for me, and I've been quite chuffed to work with the band in most everything they've put out since. If you missed out before I highly recommend checking this one out; if you'd like to test the waters with an AWWFN release then go for this one! PREPARE FOR MORINDE!!!
27th December AD2011

Hope everyone had a nice Christmas! Just did a massive distro update with some top-drawer stuff. Limited copies of a lot of this; as with most distro updates, 50% of it tends to go in the first couple of weeks so get on it! Spend your Christmas money on something good eh!
As I type the BATTLESTORM test presses have just been dropped in my door so I'm off to give em a listen!
19th December AD2011

Ha, when you say "this will be my last update", it's just guaranteed you'll do another one eh! Anyway, got a couple of new cheap ones out that I thought people might want to add to the Uzala preorder. Freepost on them if so, just mail me the extra dosh to the usual PP address!
Got some really nice silkscreen patches in with the label logo on them. as well as a new reissue of the first Alkerdeel demo, Luizig! This was what got everyone talking about these guys in the first place and one of my first-ever "proper" CDs so it's quite a special one for me, and I've been quite chuffed to work with the band in most everything they've put out since. If you missed out before I highly recommend checking this one out; if you'd like to test the waters with an AWWFN release then go for this one! PREPARE FOR MORINDE!!!
16th December AD2011

Wee distro update. Got tons of new stuff coming in soon too!

The new ALKERDEEL album has gone to press and I'll be doing a preorder for it at the start of the new year. This will be a split release with Consouling in Belgium and I'll be doing the BLACK VINYL copies of this. There'll be 200 of these so be sure to get in quick. We've also got a repress of the original Alkerdeel demo "Luizig" which sold out very quickly and has been unavailable for a couple of years now and I'll be doing that dead cheap to anyone who missed out.

BATTLESTORM LP is coming together nicely. It'll come with a patch, double-sided full colour A3 poster and screen-printed sleeve with varnish finish. Tshirts will also be available, on the same basis as the Uzala LP (ie those who get the record will get the chance to get one cheaper). These will be limited to 100 copies only and will go up for sale in the near future.

I'm also doing a CD with a great thrash band called OLD HEAD who feature Brutal Truth/Total Fucking Destruction sticksman Richard Hoak on drums! I'm really chuffed with this record and it's a bit of a departure I guess for At War, one that I embrace with open arms! Fuck, there's a TULL cover on there! Anyway, these have been with me for a wee while and will be available from 1st January.

Seppuku/Necrocum split 7" - one of the most delayed records ever - has gone to press and should be ready in a couple of months. I'm really chuffed with how it came out and though both these bands are long dead and nobody will give much of a toss I'm still proud to finally release it, with the help of the great NO FUCKING LABELS of Holland!

This'll probably be my last update of the year so have a good time over Christmas everyone!

PS - if you're not already doing so, listen to Mercyful Fate.

12th December AD2011

As you may know, the 1 in 12 Club in Bradford is having a hard time of it right now and need desperately to get some cash together to do essential maintenance work and stop the fire brigade potentially shutting down the place. The 1 in 12 isn't just a music venue, it represents a way of life and is absolutely what underground music is ALL ABOUT. As one of the best UK bands of recent years I've reduced the Redrighthand CD to a fiver and all money from sales of that album for the rest of the year will go to the fund. PLEASE don't let me get to 2012 with a tenner for them. http://www.1in12.com/

You can also download a great comp for a quid here: http://stateicons.blogspot.com/2011/12/1-in-12-benefit-download-compilation.html
8th December AD2011

Big distro update. Uzala records will most likely ship out after new year cos the plants will be closed over the holidays and I'd expect shipping to be mad around then. Copies to distros will depend entirely on how many people preorder so can't guarentee where they'll go to at the moment. If you're after one, bag it now! You'll get a free patch innit.
Done a distro update with some good stuff in it, new (old) NOOTHGRUSH album on vinyl and CD which I'd highly recommend!
3rd December AD2011

Thanks for all orders for Uzala, it's going well! I've changed the prices to just post paid to simplify matters, I think 95% of American customers are generally confused by most things.
1st December AD2011

Just a reminder, it's written at the top of each ordering page but maybe not clear enough: payment in POUNDS (£s) please, you can very easily choose your currency in Paypal. NOT euros thanks! Also my Paypal address is alastairmabon@aol.com
Cheers!
1st December AD2011
UZALA IS UNLEASHED! Trying something a bit different with this one, doing a preorder with a choice of a shirt at a much lower price if you want one. I want to try and get away from this idea of having to buy a lot of stuff and get a "diehard" if you want the record at all;this way YOU choose if you want the extra shit or just the record on its own.
This is a bit more expensive than most stuff that I put out but we've gone really all-out here with everything to make it look and sound as good as possible. At the end of the day, you'd pay a lot more for a flat-sounding sparkly vinyl turd from Rise Above and wait a year for it to arrive so I guess you make yer choices.
I'm really happy with this album and it's going to be an absolute cracker. First press of just over 300 copies so get it there while they're hot!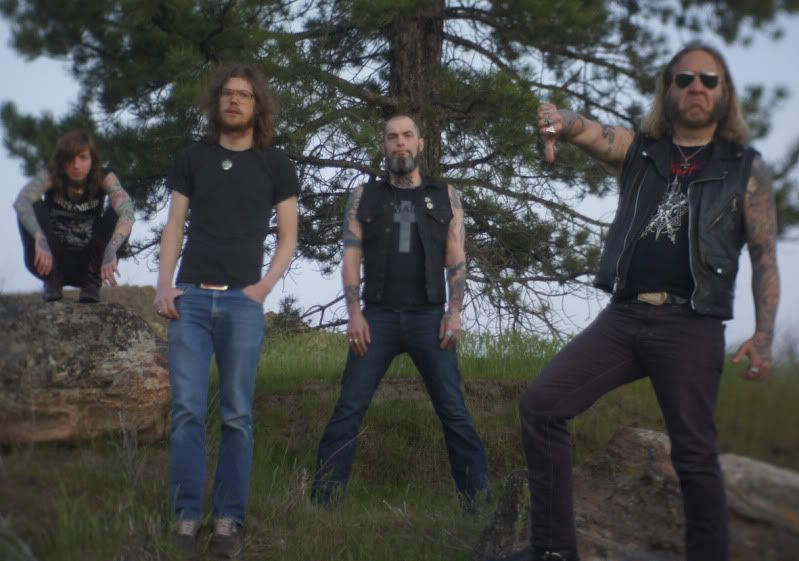 30th November AD2011
BATTLESTORM "Demonic Incursion" LP has gone to press! This will be limited to only 100 copies. The package will come with a patch and double-sided poster. I've got tshirts as well that anyone who buys the LP will be able to get for a cheaper price.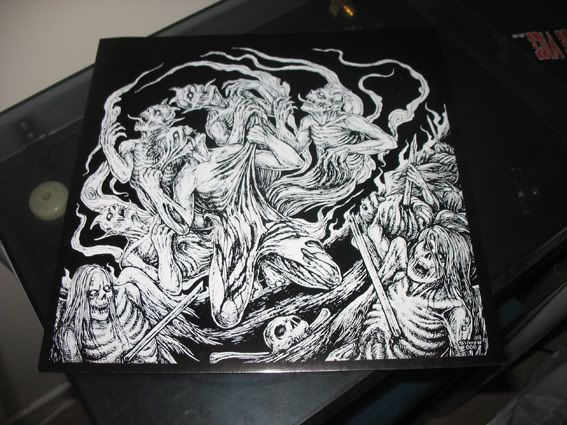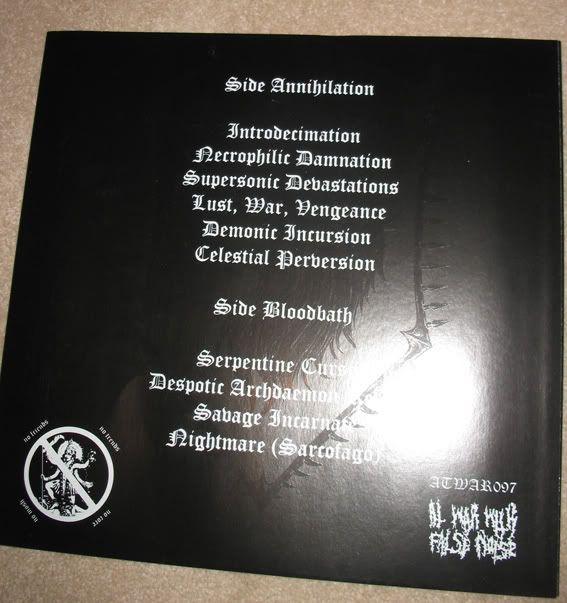 Spoke to Justin Broadrick today and the White Static Demon (his long-running but scarcely heard power electronics project) album will be out first quarter next year in time for his residency at the ROADBURN festival! He'll be doing a WSD set at that as well as sets by JK Flesh, Final (wow!!) and Jesu. There'll be a CD as well as possibly a very limited vinyl version if I can get my shit together in time for Holland!

22nd November AD2011
Wee distro update. Have a few announcements coming, will post up when I'm less knackered!
6th November AD2011
Two new releases out now! I'm really chuffed about the FRU disc and want to thank the lads for their patience and also to Nick Herd for essentially coming on board and making it happen. Yer some guy! :-)

Loads of new distro too, had tons of stuff sitting about the house this past few weeks and not been updating as regularly as I'd like, just not had the time at all, Will be making an effort to try and get stuff up quicker/more regularly in the future so please keep checking back!
2nd October AD2011
Bunch of new releases out now! A great new CD of Finnish sludge and a batch of tapes, available at a nice low price if you buy em all together. £19 for a CD and three tapes post-paid to the US? Do it!!
Added a bunch of stuff to the distro too, waiting on loads of parcels right now so should be updating quite a lot in the next week or so I reckon.
11th August AD2011
Wee distro update.
4th August AD2011
Some new stuff in, new tapes out next week or so. Sale is still on, grab a bargain or two!
1st August AD2011
*********SALE*********
For the month of August EVERY CD in the store (At War releases and distro) will be 3 for 2. So choose three items and get the cheapest one for FREE. Postage applies as usual. I've also decreased prices on At War releases again (!) so plenty of bargains to be had. I could really do with some room so please help to get some of this stuff oot my house! :-D
Added a bunch of new Cold Spring items to the store, including the new Skullflower and the excellent MZ.412 reissues which I heartily recommend.
30th July AD2011
Wee distro update, a few Darkthrone and Autopsy LPs in.
22nd July AD2011
I'm back! Hello! Been the longest ever time without an update since forever, my apologies. Moving house is a big deal when you have several thousand records and CDs and nowhere to store them. Buy some stuff off me so I can afford to rent an office please.
Anyway, got the Throat 12" finally ready to go, updated the distro and sorted it out a little as there were a few sold-out items still there. Loads of new stuff in, good vinyl from Peaceville of particular interest. Sorry for the high prices but they're obviously noticing how quickly they sell out and REALLY gouging the wholesale on them.
New tapes ready to go soon from Heathen Fury (George of Sump/Turgid Animal/Mutant Ape/Inseminoid/White Medal blah blah blah doing kinda lo-fi viking metal...good stuff as always from the lad Proctor!) and Master Slave (Mike from Bong and Pete from Domovoi/Brythen doing repetitive guitar psych). Both really good!!
10th May AD2011
Added a few new distro items (new stuff from Sloth and Agathocles, can yo go wrong?!). I'm in the middle of moving house at the moment and pulling long shifts in my new place getting it sorted out so please give me a wee bit extra time to send out orders, all my stuff is in boxes at the moment.
23rd April AD2011
Added TONS of new distro, all good gear as well. Lots of vinyl, all sorts. I've absolutely blitzed the prices on distro so please have a wee look over stuff. Still to reduce some prices on vinyl but CDs all done. I've put up a bunch of stuff on Discogs as well, a lot of which is from my personal collection, but the label's on - as they say in these parts - a SHOOGLY PEG at the moment and I've just bought a house (!) so it's now or never really eh. A few rare noise CDrs up there now, already sold a decent haul of vinyl and sure some more will be going up as time permits. I've got absolutely tons of doublers/upgrades that may interest the discerning record collector so they'll be getting fired up too. User name KOROVIEV.

Coming out very soon (they're on their way right now apparently!) will be what will probably be the last At War release for a good few months while I try and recover from financial ruin. This is a real stonker, a 12" by Finish noise rock monsters THROAT entitled "Licked Inch Fur". I tried to embed it on the page but I'm a moron with computers as any regular user of this site will know by now, so just copy and paste this link to watch the video:


31st March AD2011
Wee distro update, just got some more mail in today!
18th March AD2011
Distro update, lots of grind/death metal vinyl. Good gear from the always excellent Me Saco Un Ojo
18th March AD2011
Huge distro update. Loads of good new death metal, sludge, doom, black metal in. Some decent vinyl too from Aphelion.
14th March AD2011
Big new release day today! Loads of new releases up: Guilt Of... LP, Bonesaw/Lobotomized split 7" and Redrighthand CD! There won't be any new releases for a wee while from me so enjoy these while you can. Or, alternatively, BUY SOME STUFF and make it financially viable for me to keep releasing stuff eh!!

Bunch of good gear in the distro too!
11th February AD2011
Couple new items in distro. Got the Redrighthand CDs and Bonesaw/Lobotomized splits in, both look and sound great. Will be going on sale soon, the Guilt Of... LPs are due in with me on Monday.
7th February AD2011
Distro update, decent haul this week. Vinyl taking bloody ages at the plant, when did it become the norm for a record to take 8 weeks to get pressed?

Also, go this!!! I can't because I have a shitey job that requires me to work every Sunday, so please enjoy on my behalf!


21st January AD2011
Another good distro update, loads of classic reissues in from Displeased and a couple of belting vinyl releases from The Austrasian Goat and Ilsa. 2011 has started off great for new releases already!

At press from me right now too is the debut (and only) album by Redrighthand. If you've been following the UK underground in the past few years these guys came and went in a very short space of time: recorded a record, did a bunch of gigs, died, went on to other bands, and that was that. Until now! Finally, after over 5 years of the odd MP3 turning up on Soulseek, the album's getting a full release. One of the heaviest records to come out of the UK in the past ten years and a worthy successor to the corpse of Iron Monkey.
14th January AD2011
Another new year! This'll be the FIFTH year of At War (I can't quite believe it!) and hopefully (as I say every year) this'll be the best one yet.

Big new distro update, loads of new stuff in. Hopefully I'll be getting the new website up soon, it's just very hard juggling everything whilst transferring all onto a new server etc! The Bonesaw/Lobotomized split is at press now, hopefully will have that and the Guilt Of... LP in for the end of the month.
29th December AD2010
Merry Christmas to all! Hope you had a good one, I certainly did (got a belting copy of Black Sabbath, Vertigo swirl from my girlfriend = YES!!). Anyway, added the Battlestorm CD to distro which I'll be releasing on vinyl later next year. This band are absolutely brilliant and I'm really chuffed to be putting this one out; check this out in the meantime if you're impatient (or don't have a record player!).

Will no doubt have a big distro update when I next pick up my mail. Have a good new year!
17th December AD2010
Distro update, some good grind from Japan, some stuff from Finland I missed in the last update, and a slew of new titles from Second Layer in.

The Guilt Of LP (Mike Williams) has gone to press, should have that early next year. Spend yer christmas money on it! There'll be 500 copies, 250 of which will be on coloured vinyl.

Postal service SEEMS to be getting some stuff through but I'm still having couriers cancel on me so please bear with me over the Christmas period. As long as the Post Office i open I'll be down every second day with mail, so parcels WILL be going out!
14th December AD2010
Locrian LPs are now sold out. Think all the labels are now out of em, I know Aurora Borealis still have copies for sale.
13th December AD2010
Seems the postal service in Scotland has gone to pot in the past week and the Royal Mail aren't guaranteeing anything that's going out from now on will get to where it's going in time for Christmas. This will probably not be the case but just in case you're getting your gran a Vomir LP for Christmas, she might be disappointed. If you're waiting on something from me that was ordered in the past couple of weeks hold tight as it's probably just awaiting delivery. Any heavy parcels I had going out to distros and for trades etc have been held up as the couriers have cancelled on me twice now due to the snow!
8th December AD2010
FINALLY got the whole distro updated. Four weeks worth of distro all up now, bunch of great stuff. Please check it out, could get a bunch of christmas presents there :-)
30th November AD2010
Very sorry for no updates, I sent my computer in to get a hinge fixed and they ended up keeping it for a MONTH, meaning I couldn't do anything for all this time! Got a shitload of distro to go up but unfortunately no time at the moment. Will go up shortly!

Anyway, back to business! Two new releases out! Amazing new record from Finland's psych-noise genius Haare and a new double CD in the At War reissue series of early MB material. I'm working to get a bunch of new stuff out early next year, concentrating on more LP releases. More to come!
4th November AD2010
Loads of new gear in the distro this week. No thanks to the Art School being fucking useless the Bonesaw gig is NOT going ahead any more. The last At War With False Noise gig will be Vomir/Voltiguers/Inseminoid/Fordell Research Unit at O'Henry's on Monday the 22nd of November.
22nd October AD2010
Cheers everyone who came to the Wino gig last week, all forty of you. Screw the rest of you losers.

Loads of new distro stock in this week from Earache. I basically just bought in a bunch of my favourite albums that I felt needed to be on here, I'd say no metal collection is complete without most of these albums and of course highly recommned them all.
12th October AD2010
Lots of new distro vinyl in today from Vendetta and 20 Buck Spin. New WOLVSERPENT album, HIGHLY recommend this one!!

Remember, WINO in Edinburgh on Saturday!!! Get there early, wee venue!


1st October AD2010
Big bunch of new stuff in from Peaceville, quite a few absolute masterpieces in there! Get 'em quick. New (and final) Xasthur album in too, think I'm the only store in the UK carrying this one.
29th September AD2010
Black Sun have a new album out so to celebrate the Paralyser LP is now available for the bargain price of £5! Yes, a FIVER! Get both the LP and 7" together for just £10 postage paid (add £3 for Europe, £5 USA)
28th September AD2010
Big distro update, lots of great new stuff added as well as a few things I found in a clear-out that I'd previsouly thought were sold out! Got a TON of new releases coming soon, Two new Culver tapes and that'll be all of em done (and you can see what the picture is!), the GRUEL album on CD is all ready to go and looks great, new Maurizio Bianchi double and Haare CD. I'm really chuffed with all these releases and hope you all will be too!

At War With False Noise is putting the following gig on next month. I can't say how honoured I am to be putting on Wino, an absolute all-time hero of mine since I was a teenager and I cannot wait for this! The venue is very small so this is going to be a great event, but as a result you're gonna have to make sure to be there early and guarentee admission. I think capacity is about 60-70 people and interest so far has been high!


18th September AD2010
New 7" from Hey Collosus/Field Boss out now! Big distro update too, with loads of new grind, thrash etc from SMG and some new vinyl. AGATHOCLES!!
16th August AD2010
Ramesses inserts coming to me tomorrow! Will ship out soon as after! Many thanks for all the preorders, got very few die hards left.

Lots of really great new distro stuff in this week, including great classic noise from RRR and a couple of quite frankly brilliant vinyl reissues of classic doom from Buried By Time and Dust. I'm the only person in the UK carrying these titles so get on it, they'll cost you an absolute fortune anywhere else and will not be about for long!!

4th August AD2010
Ramesses records have hit! This is on a preorder basis, I've got the records and most of the packaging, just waiting on the inserts from the plant (who forgot to put em in!). Should have them in the next week or so. I'm really chuffed with how these turned out and this is definitely the most elaborate package I've done yet. It's been a real labour of love getting these together and looking/sounding as they should and I relaly think the quallity of the records justifies the price tag.
PS audiophiles: if you want black vinyl instead of clear on the special edition please let me know, it's no bother to change it.
Labels: I'm not trading with these at the moment as I'm sure you can understand they cost a fortune to manufacture. Possibly later down the road I'll be in a position to do some trades. They are available wholesale, please get in touch if interested,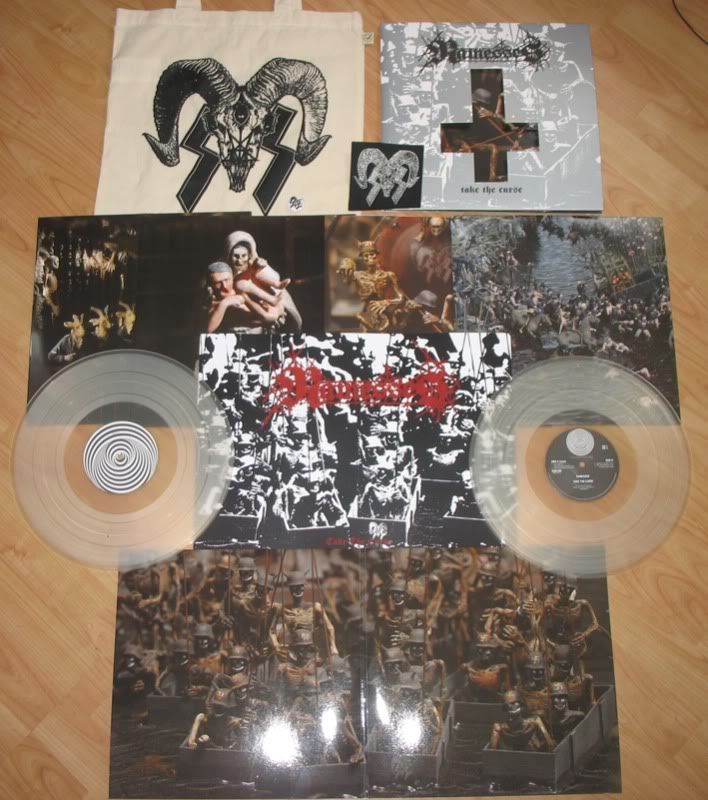 30th July AD2010
Absolutely loads of new stuff in this week, including the new Bastard Noise! For me, these guys are just getting better and better. I've recently got back into their stuff in a big way and this is probably the best release of the year for me. BUY IT! Also got their split album with the excellent Malachi. Also got in a bunch of new stuff from Cipher and some great black metal from Nordsturm from Germany.

23rd July AD2010
Loads of new distro stuff in! Great items from Hell's Headbangers, including some really classic material from Dream Death and the "lost" album by Massacre. I'll say now the first Massacre album is one of my absolute favourite records of all-time, I'd urge anyone who's into death metal to get this!!

Also got new stuff in from KON (new Fleshpress EPs) as well as the debut EP by Edinburgh-based black/death metallers Haar.

Glasgow Implodes looks to be happening at Stereo this year on Saturday 25th of September. Keep that date in your diaries, got some amazing names lined up to play this year, will be the biggest and best by some way yet!
13th July AD2010
I took this from the Hammer Smashed Sound website, hoep they don't mind me posting it up here, but I think some very good points are made! In a time when records aren't selling very much I think it's important to think before you download something. You know what? Most of us aren't asking very much for CDs, every penny you spend here goes straight back into the next release, so please don't nick stuff off of download sites. You're not sticking it to the man, you're fucking it up for everyone.

Well, here we go again. Many readers from back in the HSJ days remember when I wrote more opinion pieces here, but as time has gone on, it's been more about keeping up with news from a million different bands and labels. And just like the reason I don't do reviews (my opinion being no more meaningful than you the reader's) , I really don't like to step out and complain about things in music when there are so many good things happening. But sometimes things affect us all, and where we're headed. First up... today, the man behind LoDubs Records decided to post this on his Facebook page... With all honesty, we here at LoDubs release 12"s and full lengths as we believe it is the only way to properly document a particular moment of creativity, and preserve it for the future. As we are not based in any of the media anointed hotbeds (LA, London, ETC) we realize that regardless of how culturally important a record we release..., It will always be drowned out by the jet wash of releases coming from bigger labels and locales. We do this because it must be done, and in turn, it is a constant struggle. Furthermore, the trend we are now noticing is that each time a release comes out, that the physical release sales decline, and it does far better on illegal download sites that post it up than those 100 legitimate vendors of downloads such as Boomkat, Bleep, etc. It has gotten to the point where we are actually beginning to question whether this can even be done anymore without it leading to our personal ruin. We do what we can to ask these people to remove these links. Most of the time these individuals act as though they are doing us a favour, and much of the time are quite insulting both to us and to our artists in their conversation, reviews, and general insinuation. This utter disregard and hurtful behaviour has spilled out and over onto the shoutbox at Last FM. We have, in as clear and eloquent of a way possible, expressed to those on their who where responsible for these download blogs how their actions prevent future creativity, and contribute to monoculture. They have done nothing but attack us in kind. We encourage you to read the thread at the link below, and please express you opinion there, should you feel like it. We wrote such thorough arguments on their as a hope that just like the records, over time the right people would see the reasoning, and see how bad this is on a label like ours. http://www.last.fm/music/Clubroot Okay, so it's something I've heard a lot of lately. I love Clubroot (LoDubs recording act) and have bought both of his CDs so far. Regardless of whether you like that kind of music is irrelevant. It's going on everywhere across the board. Now the thing that really bothers me are the people in that thread talking shit back to this guy for his stance. These people believe it is their right to this music... that it is public property. Again, old readers already know where I stand on this. One of the most amazing pieces of music I've ever experienced was Irezumi's "Endurance" CD from 2008. Unfortunately, the man behind the project was so disheartened by the Russian pirates giving his music away that he gave up making music under the Irezumi moniker. Keep in mind, we're not talking Metallica/Napster level shit here. We're talking a beautiful digipak limited to 1000 copies. This CD got great press everywhere, but the pirates got out of the gate fast, and they couldn't even sell a grand in Europe, where ambient stuff is huge. Again, even I understand that Manu from Irezumi made a rash decision. It's the fact that it even got to that point that is so sad. Understand that right now, we are all privy to more free music than ever before. You don't even need old cassettes like we did back in the day. What I really don't understand from a listener's point of view is this... how much is enough of a "preview"? You can easily go to a million places (MySpace, Youtube, etc.) and hear half of a record. If you like that half, why wouldn't you pay for the rest? Now, again... I'm not talking about the bigger labels. That is not a world I live in or understand. Most people believe that they fucked everyone over in the 90's and are now getting what they deserve. Again, I don't know. BUT, I do have a young daughter, and if she wants a CD from the hot young pop star, we go and we buy it. Just how I am I guess. Again, I really don't have too many solutions at this point, so unfortunately I feel that I'm pissing in the wind. My only solution to all these bands and labels is to put a number on your shit. We live amongst a society of hardcore collectors who are more apt to snatch up your shit first if it's a limited, numbered collectible. Sounds slimy and shitty but what else can you do? Tell em it's a limited edition CD or something. And on that note I'm going to take on a few sacred cows that will probably have me fucking burnt at the stake. First up... download blogs who "spread the word". Stop it. Fucking stop it. Is it any wonder that when I recently posted info about the new Orthrelm CD, Weasel Walter posted a comment asking me to remove the album? There was no download link! But now I'm bundled in with the rest of the bloggers ripping off bands. Also... do you know that the Sludgeswamp started right about the same time as me? I watched as their readership went through the roof, while mine went up oh so slowly. I wasn't in a competition to have a ton of readers. It just illustrated to me exactly what was happening in music. Hey Sludgeswamp, I know you get the word out from small bands who ask for the coverage, and that's fine. But how about keep it to that? You love 16, High On Fire, Nadja... stop giving their shit away. You too AttilatheHun. New bands need a break? Fine... but leave it at that. The other sacred cow? Vinyl, and record collectors. And I know I will take heat for this, and I don't mind. Let me just say this. You absolutely have the right to spend your hard-earned dough the way you want to. But just think about this. Many labels are using it as an exercise to get more money out of you per-release. They have taken your love of feeling "underground" and turned it against you. They wouldn't dare ask you for $20 for a CD, but if it's a double LP, then $20, $25, hell even $50 for the Lotus Eaters or KTL. Again it is your choice, but just think of it like this... you could've bought more tapes or CDs, and thereby supported a few more bands with your dollars. Spread that shit around. Again, that is just a suggestion. I see people spending less on music overall, but more on just a few records. Like I said, you guys work very hard for your dollars. I get that. But next time you want that Nuclear War Now die-hard, just think of all the other bands you could be supporting, and what it would mean to them. Again, people have a lot less spending money nowadays but are paying waay more per release. BUT, I understand that labels almost HAVE to press vinyl LPs nowadays because people aren't buying CDs. The thing is, while vinyl keeps getting bigger, it will NEVER be a big enough format to support all the bands out there. Kids with Ipods and Droid phones and XBoxes don't collect vinyl most of the time. Goddamn, I hope this shit doesn't sound preachy, because I don't know any more than the next guy. Maybe we can just consider it the beginning of an ongoing dialogue here about ideas moving forward. And this post is just my opinions and thoughts... not necessarily the other dudes here at HSS. Cheers...

http://hammersmashedsound.blogspot.com/
10th July AD2010
Word in that the Ramesses LPs will be with me end of next week. I'll hopefully have these up for sale very soon! As mentioned before the first 100 will be very special packages and will come on a first-come first-served basis so please check back. I haven't figured out exact cost and want to ensure everything is fine with them before I take any money.
8th July AD2010
Last batch of Culver tapes sold out! The last two in the series will be released in a couple of weeks. First couple of batches took months to sell out, these chaps went in about a fortnight. I don't understand you people!
6th July AD2010
Two new releases out now: first album proper from At War favourites Alkerdeel and split CD between Canadian doomers Ghast and Unearthly Trance side project Abandoner.

Loads of new distro titles in, new Haare tape, CSMD 7" and a bunch of great early industrial/noise material from Monochrome Vision. Highly recommend these titles!
29th June AD2010
Vomir "Proanomie" CD sold out again. Second press gone, bloody hell! The LPs are scarce on the ground too so get in if you want one! Blue Sabbath Black Fiji LPs are gone from me now too, try the band if yer after one.
28th June AD2010
Big distro update, loads of supoib dark industrial/noise stuff in from Malignant at cheaper prices than anywhere else.

Cheers to everyone who came to the gig on Friday night, great night and decent turnout, especially given football/other gigs going on the same night. No thanks to trying to poach the bloody support acts away. WIDE.
21st June AD2010
Lots of great new distro items in!

GIG! This should be a great night, loads of bands for a fiver. There's (un?)fortunately another gig in Glasgow at Studio Warehouse that night ran by my pals Cry Parrot but it's running til three in the morning so should be easy to go to both!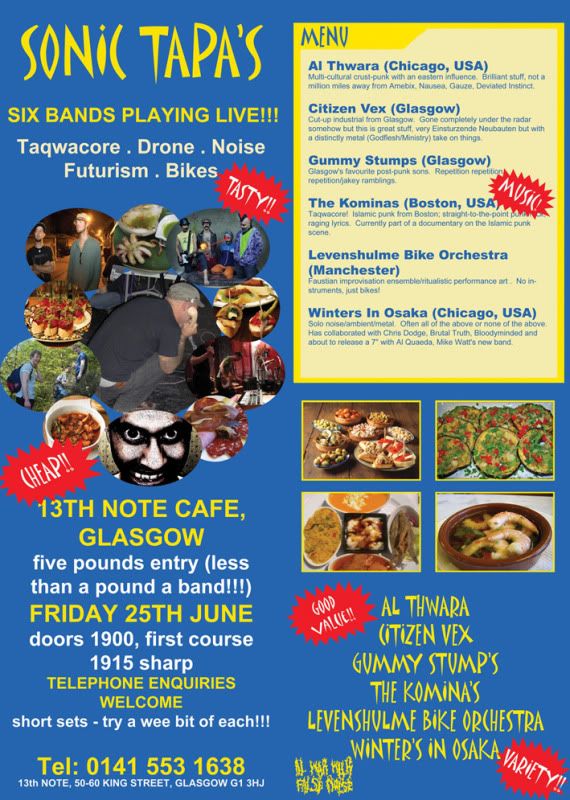 3rd June AD2010
Four new Culver cassettes out now. Only a couple more to go! The iea was to put one of these out every month for a year but they didn't sell to well and I couldn't afford to do them all so regularly. Anyway, here's a bunch for now, the last two will follow shortly. In the words of the great Rolf Harris: can you tell what it is yet?

New distro stuff in, great 7"s from the always-solid RSR. New Alkerdeel and Ghast/Abandoner CDs should be out in the next couple of weeks.
18th May AD2010
Big bunch of new releases out now and more to come! All preorders of Vomir and Aunt Mary shipped and should be with everyone by now.

More new stuff to come in the next couple of weeks; the new Alkerdeel CD, Ghast/Abandoner split CD and four new Culver tapes.

Ramesses double LP is at the plant right now and should be with me in time for summer. This may take longer than usual because of the mad nature of the packagig but I ensure you it'll be great!
27th April AD2010
SORRY for delay in Vomir and Aunt Mary. Various fuck ups with printers, have just done these myself. Will ship out this week, many apologies for the delays, usual bullshit when you do preorders. There'll be a huge release day soon, currently got about 6 releases sitting here while I wait on various tardy people to send me parts! After all that we can get moving on a bunch of LPs!
7th April AD2010
Huge distro update, loads of new Aurora Borealis titles, some black metal etc. Sylvester Anfang record in, highly recommend this one. Not got many so get all this stuff quick!

I found a bunch of copies of the first Alkerdeel release "Luizig" when having a clear-out the other week! Given that I'll have the first "proper" Alkerdeel album ready to go on sale within the month it seems pertinent to allow these for sale again. Got limited numbers so get in while they last, put them up really cheap as well.
23rd March AD2010
Cheers for all the orders on the Vomir and Aunt Mary recordsm going well!

My pal is getting together a TV show, "The Metronome".....a musical showcase of non-square sounds! Check out the Myspace page. Would be really cool if there was a show going where you could see non-mainstream bands doing interesting things. Please show support; add on Myspace, tell yer friends, get in touch if you're a band!

http://www.myspace.com/themetronome
22nd March AD2010
Very small distro update.
Pre-order available on Vomir LPs and Aunt Mary 7"s. I'm usually not into doing preorders as I fear delays in pressing etc can potentially cause long delays and leave paying customers waiting for something that doesn't exist yet. Fortunately I've got all the records sitting here, just waiting on the sleeves to be printed then we're ready to rock! Pre-order dosh will allow things to keep flowing along and get the Ramesses and Lost Breed LPs sorted sooner rather than later! Wholesale enquiries get in touch too, I expect these records to be quite popular and sell reasonably quickly.
19th March AD2010
Added a couple of distro restocks, RAMLEH double CDs and Nackt Insecten LPs. Also got the new tape by Funeral Mongoloids, be quick, Filth And Violence stuff ALWAYS goes really quickly!
8th March AD2010
Locrian LP now out! There are 500 of these and it's a split label release, so be quick, I don't think I'm gonna have them for too long. Really chuffed with this record, definitely the best Locrian so far by some way (and that's saying something!)

Distro update with some good stuff from 20 Buck Spin.
23th February AD2010
Small distro update! Should have the Locrian LPs released any day now!
8th February AD2010
Biggest distro update in ages, loads of new stuff in! I'm keeping the sale going a wee bit longer (another week) then prices will go back to normal so get 'em all while you can!


Just got back from Saint Vitus. Best band ever.
12th January AD2010
CONTACTING ME: contact for the label is via bringmecoffeeortea@hotmail.co.uk

PAYPAL PAYMENTS are to alastairmabon@aol.com

When you make an order PLEASE PLEASE PLEASE write your order in the Paypal comments section. This is really important! With a lot of orders it's increasinly becoming really annoying trying to match up orders with emails/PMs/facebook messages. An email to Hotmail to check everthing's in stock, then a Paypal payment to AOL. It's reasonably simple innit :-) I work two jobs in addition to doing this and spend pretty much every night of my life in front of a computer filling out orders and have spent the whole of my only day off trying to chase up orders and stuff...would really make it easier on me! If anyone has been waiting longer than a couple of weeks for anything please get in touch as I'm worried in case anything's got mixed up. Cheers for yer help!
12th January AD2010
Distro updated, few new items in!
6th January AD2010
WINO DAZE.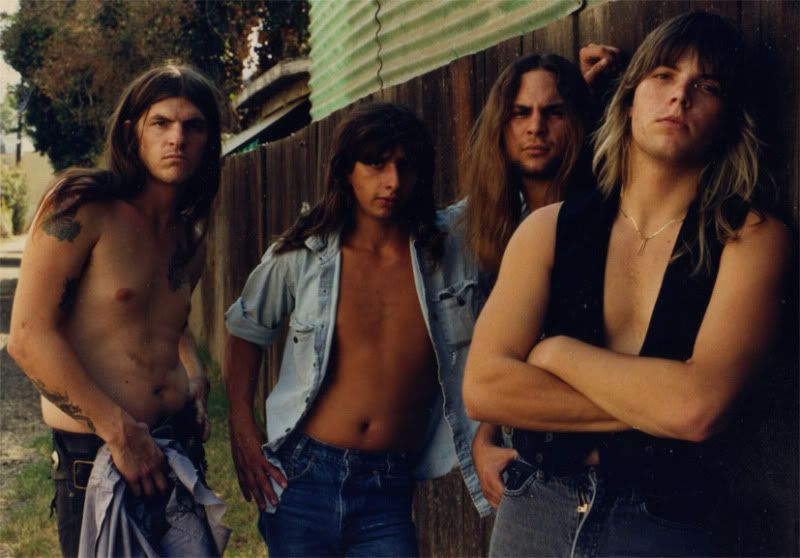 6th January AD2010
New one coming soon!




Locrian have completed their new collaborative studio album, entitled Territories. The album was recorded in January 2009 at Phantom Manor Studios in Chicago, IL and features numerous collaborators including Andrew Scherer (Velnias), Mark Solotroff (Bloodyminded), Bruce Lamont (Yakuza), and Blake Judd (Nachtmystium). The album will also be a collaboration between four labels from three countries: At War With False Noise (UK), Basses Frequences (France), Bloodlust! (USA), and Small Doses (USA). Territories is Locrian's second studio album and is slated for a March 1st release.

The full tracklisting is as follows:

1. Inverted Ruins
2. Between Barrows
3. Procession of Ancestral Brutalism
4. Ring Road
5. Antediluvian Territory
6. The Columnless Arcade


LOCRIAN - TERRITORIES
Labels: At War With False Noise/Basses Frequences/Bloodlust!/Small Doses
Release Date: March 1, 2010

André Foisy and Terence Hannum have spent the last several years honing the Locrian sound. They've taken elements from noise, power electronics, drone, and black metal to come up with a truly unique sound reflecting the sprawling urban decay surrounding them in Chicago. After nearly two dozen releases, they've found themselves in the world of Territories. For this release, Locrian has pulled out all the stops and fleshed out the band with the help of Mark Solotroff (Bloodyminded, Anatomy of Habit) on vocals and synthesizers, Blake Judd (Nachtmystium) on guitar, Bruce Lamont (Yakuza) on saxophone and vocals, and Andrew Scherer (Velnias) on drums. The results of this massive collaborative effort are apparent from the moment the album starts. The textures run darker and deeper; the vocals--sometimes three layers deep--seem to be conjured from the decrepit muck of a failed civilization; the feedback takes on a more pronounced presence; and the big band allows for full-on black metal assaults that burst out of the tortured drones Locrian have come to be known for. Truly a case of the whole being greater than the sum of the parts, Territories may well be the most fully realized form of Locrian's dystopic vision.
4th January AD2010
Thanks to everyone who supported At War in 2009. It's been an interesting year, got a lot of good stuff out, seen some great bands and met and got involved with a bunch of cool people. After the unmitigated disaster that was 2008, this past year has been a pretty good one and everything has continued to go onward and upward, and those who have tried to oppose have generally either fallen by the wayside or have sensibly kept their gobs shut. So yeah, thanks to everyone who's bought stuff, for the bands for making the music, and for the labels and distros who all work together to make underground music what it is. TA!!!!
3rd January AD2010
MASSIVE DISTRO SALE FOR JANUARY! Lots of CDs and LPs at a bargain basement price for this month, as well as prices being dropped for EVERY tape and CDr. Most tapes are now £1.50 and CDrs £2 each. Most At War releases have had a price drop too, you can pick up a few items for less than a fiver! Got a lot of good stuff coming out in 2010 and need to clear some room so please splurge yer Christmas dosh!
31th December AD2009
Lots of new stuff in distro, some in really limited numbers so get in quickly. I've got a handful of Haters LPs left; I've got a busy life and not much room in my wee flat to keep all this shite and I'm fed up people asking me to keep stuff aside then no paying for it so please don't ask me to keep stuff for any longer than a couple of days cos it's getting beyond a joke! TAG/L'Acephale 7"s are gone, a few have been kept aside for those who asked but I'm not holding them much longer for reasons highlighted above! Next up for 2010: Aunt Mary 7" then Our Love Will Destroy The World LP.
18th December AD2009
Have had an immense response to the Wraiths CD, fastest seller of the year! Get in on these while you can! Many thanks to everyone who ordered, been making daily trips to the Post Office with hundreds of packages so please bear with me whilst I get them all out. Sloth/Weluvpot is now sold out and I'm running low on Shift and Haters LPs. The Austrasian Goat/L'Acephale 7"s are going really fast so get on them quickly if you want one!!
I've been losing a lot more parcels than usual recently, especially to Italy. I'd highly recommend INSURING your parcels because I cannot be accountable for the shite mail service!
10th December AD2009
New stuff out now; Austrasian Goat/L'Acephale 7"s and Wraiths CDs! The packaging on the Wraiths is above and beyond anything I've done or will do again, the sheer man hours that went into this bloody release is ridiculous and currently ongoing! SUPPORT!

1st December AD2009
Got The Austrasian Goat/L'Acephale 7"s in yesterday, as well as the master for the Ramesses record. Both are bloody brilliant!! 7" will be out next week when I get the covers in, along with the Wraiths CD. There's a feature on Wraiths in the latest issue of Zero Tolerance magazine, check it out.
Some new distro items in.
Very sad to find out of the death of Paul Naschy. Made so many great films and to me the best werewolf ever. RIP.

28th November AD2009
Aunt Mary 7" at the plant, will only be 250 copies so won't last forever, get in on it fast! It'll be early January when I have them in (this'll be a joint release with my buddy George At Turgid Animal so be sure to throw him some business too! Before the end of the year is out I the Wraiths CD will be with you (currently burning myself with sealing wax getting these prepared!) and the new Austrasian Goat 7". These always go very quickly from me so snap 'em up while you can. I've got the masters for the next in the MB reissues seires and you never know, might fit that in before te end of the year too!

19th November AD2009
Sorry for lack of updates recently. Unlikely to be any more releases before the end of the year, got a huge amount of really cool releases out soon and need to save up for them. Here's what's coming up soon:


RAMESSES - Take The Curse double LP
SKULLFLOWER - Double LP
LOST BREED - Wino Daze LP
WRAITHS - The Grey Emperor CD
AUNT MARY - 7"
VARIOUS ARTISTS - Viva Negativa! Tribute To The New Blockaders
IAIN CAMPBELL - The Best ABBA Since ABBA CD
SEPPUKU/NECROCUM - Split 7"

So yeah, you can see 2010 is going to be a great year for At War from the very start! What you can do: buy some fucking records! I see a lot of my stuff up on blog sites and it fucking sucks....so many places say that everyone who downloads from these places buys the actual record later on. Bullshit! The scene only exists because of the people who support it and it's no fun to put everything you have into putting out records only to have people nick it off you as a series of 1s and 0s.

Bunch of new stuff in the distro, check it out.
30th September AD2009
Have done a bit of an amateurish patch-up of the distro section. Now everything is grouped by format, making it easier to search out the stuff ya like. Of course, having a SEARCH function would be much easier but that's beyond my limited capabilities and the web chap's not sorted owt like that out yet so yer gonna have to just look through the list. It's just like when mailorder used to be a fella sending you a big list on a bit of paper in the mail: old school!

Also, want to phase out as many CDrs and tapes as I can so I'm doing a deal: three for the price of two on any CDr or tape! Pick three, get the cheapest one free! Deal? Deal!
17th September AD2009
http://www.saveotagolane.co.uk/

This is a great wee lane with an amazing second hand bookshop, record shop with some great vinyl and a class tea shop that has gigs and stuff at night. It's one of my favourite places in the West End of Glasgow, and it's places like this that make this part of the city such a cool place to live in. Fuck THE MAN and sign the petition!

You don't want these trees
You only want towns and cities
You don't want me
Cos I oppose them
You want me to leave
All I want to do is breathe
You want to devastate
Homes that aren't yours

I don't want your progress
It tries to kill me
17th September AD2009
A couple of new items in the distro I missed the other day!
15th September AD2009
SORRY for the massive wait for these new releases and update on the site. I've realised that I take too much on so to avoid this happening again At War releases are going to be a little sparser for the next wee while. Time and cash constraints are becoming a major factor too and I don't want to be the type who sends every order out a month late. Also it seems everyone wants to put vinyl out but nobody bloody buys it! So yeah, stop downloading! Loada shite.

So yes...new stuff. Highly-anticipated VOM CD, been a lot of interest in this one so grab it while you can! First time on proper CD for Noma and Rejectamenta, very happy to make this one happen. Making up the triumvate of great bands from Glasgow, the new Cheer tape is also ready and is a belter, though he never puts a foot wrong. Muscially I mean, he does have a couple of pretty dodgy shirts. Also out now are two new Culver tapes (bit behind on these, hopefully will be able to fire out a few more soon) and a new 7", split between one of my favourite bands, Sloth, and Weluvpot. Got regular black and fancy-dan camo coloured vinyl on that one.

Got a ton of new distro items too, have a look!
12th September AD2009
6th August AD2009
Gnaw Their Tongues LPs are now gone. You can still get 'em from Aquarius and 20 Buck Spin soon, as well as Monorail Records in Glasgow as usual. Gone everywhere else, sorry. To compensate I've got a few more GTT shirts in, please ask for sizes before you order, and if I have it in WRITE YOUR SIZE IN THE COMMENTS SECTION!!!! New Vom and Noma/Rejectamenta CDs very very soon!
4th August AD2009
Launch night for the Vom debut album "Primitive Arts". Well good!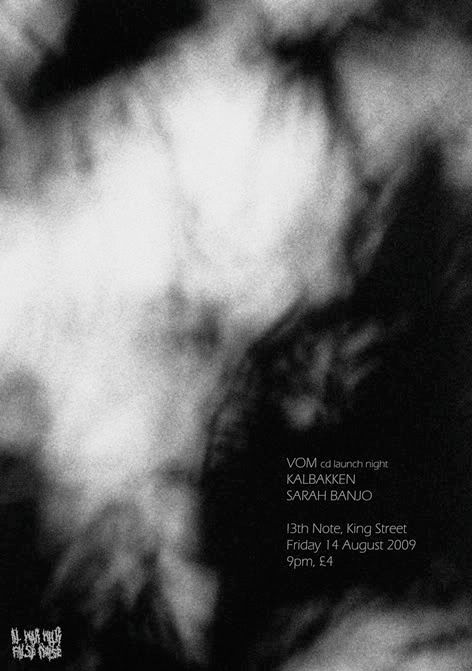 12th July AD2009
Launch night for the Rejectamenta/Noma CD! This'll be a good weekend all round really and it's free!!

11th July AD2009
Okay, website bothers have been sorted, I know how to work the FTP thingy, orders are up to date and everything is dandy. Got a shitload of new stuff up now as well as a distro update. I have a bunch more of new distro stuff which will be going up quite soon.

New stuff: 7"s from Black Sun/They Are Cowards, Austrasian Goat/Chambre Froide and Mutant Ape and a new LP from Haters. One of the best release days in At War history really, some great stuff here and really varied....what it's all about really!
Will do a bigger update next week when I have a wee bit more time, got a bunch of gig news and some new releases scheduled to announce!
8th July AD2009
Fact: Status Quo used to be fucking cool. Check out Ma Kelly's Greasy Spoon then Blue For You. If you don't dig 'em there's summat wrong wi ya.

8th June AD2009
Apologies for taking a while to send out some orders; I'm currently working 7 days a week and it's hard for me to get to the Post Office. Several things WILL help your order go through, and if you don't do any of these then things WILL be delayed as they create a gigantic pain in my arse!

Send payment in POUNDS. Not dollars. I've asked this several times and people stll ignore it!!! POUNDS!!!
My Paypal address is alastairmabon@aol.com
If a record gets bashed up by your postman, it's not my fault. It sucks, but if you don't pay insurance on something and I've packaged it well then I can't send out another copy of the LP. I've done this in the past but it's costing me too much dosh and enough is enough really.

16th May AD2009
Right, Gnaw Their Tongues LPs and new Culver tapes are now out for general release!! Not gonna be around forever so be quick on these. A few distros will be getting these in but not too many; please email in advance for a shirt/LP combo as I don't have too many of these and expect them to sell very quickly indeed.

Small distro update, a few nice new items added. The Bong/Gnod 7" comes particularly highly recommened, and comes with a nice bonus of a whole album's worth of extra material on a CDr!!

And remember, kids: don't believe everything you hear. There are some utterly mental people out there who'll make up all sorts of insane nonsense to satisfy their gigantic egos. Peace!
30th April AD2009
Argh, many computer problems have been hampering updates. Never fear, have done a mammoth distro update! Lots of great stuff in from Hospital, and a bunch of back issues of the amazing Oaken Throne, as well as last ever copies of Wraiths' Oriflamme LP.
31st March AD2009
Many many many thanks to all who came to Glasgow Implodes on Saturday! Best one yet I'm sure everyone will agree, and the Note was utterly packed full all day which was really cool. Special thanks go to Nick for helping out on the door/bringing projectors and stuff, Lin for going completely out of his way to film the whole thing, Stuart for the nice dinner, Andreas for being a general legend and liking Tony Martin-era Sabbath as much as me, Cheer, Sinky, Lee, Julian for helping out on the door, James for his amazing baking skills, all the many folks who travelled far and wide just for the gig and Paul and Ian at the Note for doing a great job of the sound for the whole day and never losing the plot like I nearly did on a few occasions! Can't wait for next year already!

New Culver tape out now! Running a bit low on the other two so get on it! Got almost no Vomir CDs left and very few Alkerdeel CDs and Austrasian Goat/Afflictis Lentae splits.

Looks like the Haters and Gnaw Their Tongues LPs will both be with me in the next couple of weeks. Will also have a new Mutant Ape 7" out then too. Excellent!
20th March AD2009
Two new releases out today: CULVER/SEPPUKU split CD and MAURIZIO BIANCHI - Technology 2xCD! Very very happy with both of these, they looks great and I'm 100% chuffed with the music too.

The Wraiths CD is in but will take another few weeks as the construction of the packaging will actually take up most of my life for the next month or so. Both the Haters and Gnaw Their Tongues LPs are at press; you'll be able to buy a special package from me where you can get a GTT tshirt along with the LP. Got the Mutant Ape 7"s in, just working on the packaging for a "special" version of that too...more to come!

Also stuck a few more items in the distro....bunch of really heavy doomy releases from Choking Hazard, Zarach'Baal'Tharagh LPs, the long-awaited new 7" from Ganzmord, and a bunch of new great releases from our friends at Small Doses!

Can I also remind everyone that Glasgow Implodes 4 is now just ONE WEEK AWAY. We'll be filing this one for a possible DVD release so if you want yer gurning mug on film make it down to the 13th Note in Glasgow next Saturday for an 11 hour lesson in hurting your ears.
9th March AD2009
Wee distro update, couple of restocks from Aurora Borealis and found a couple of Moss tapes. Incapacitants boxsets are all gone! I've now got 8 copies of the Vomir double CD left, you have been warned! I don't keep extras, and I get emails all the time asking for old Vomir stuff so get on it now! You have been warned!

I'm going to do a sale on CDrs and tapes soon as I have too many cluttering up the place.
8th March AD2009
Big lot of new CDs at the plant right now are expected to drop in the next two weeks. Culver/Seppuku CDs, Maurizio Bianchi 2xCDs, Wraiths CDs and Haters LPs. Took way too much on putting all these out at once!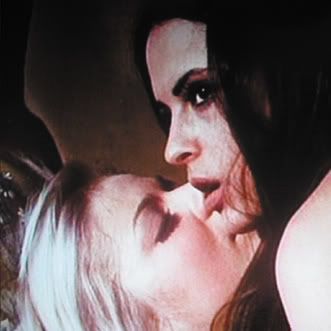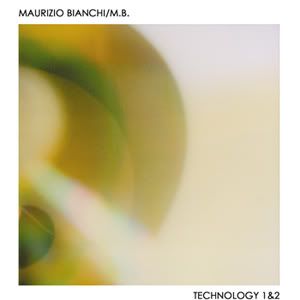 3rd March AD2009
Apologies, I got very behind with sending out orders last week and a bunch of parcels were left for a while. Was at the post office today though and cleared them all out, so everything up until today is now on its way! Again, many apologies for being a bit late on stuff, just been mega-busy lately with label stuff, job searching blah blah blah...

Three new releases up now! It's been too long since the last time I released any Culver (two years would you believe!) so I'm putting out two tapes at once. Only 50 of each so don't dawdle on these! Also available is the first in a series of split 7"s with French black metal/doom machine The Austrasian Goat; this one being with fellow frenchies Afflictis Lentae. This is a great start to the series and well chuffed with how it turned out! If you buy all four the covers'll fit together to form one big 14"x14" square.

Buch of new stuff in the distro, a few releases from Kult Of Nihilow (new Haare tape - these might be sold out already?!) as well as the first LP from Glasgow's Nackt Insecten! Really chuffed Ruaraidh's put out an LP, especially since it's so good. Check it out!!!

Glasgow Implodes 4 poster done now! If anyone would like a copy of this to put up anywhere or that let me know and I'd be happy to forward on!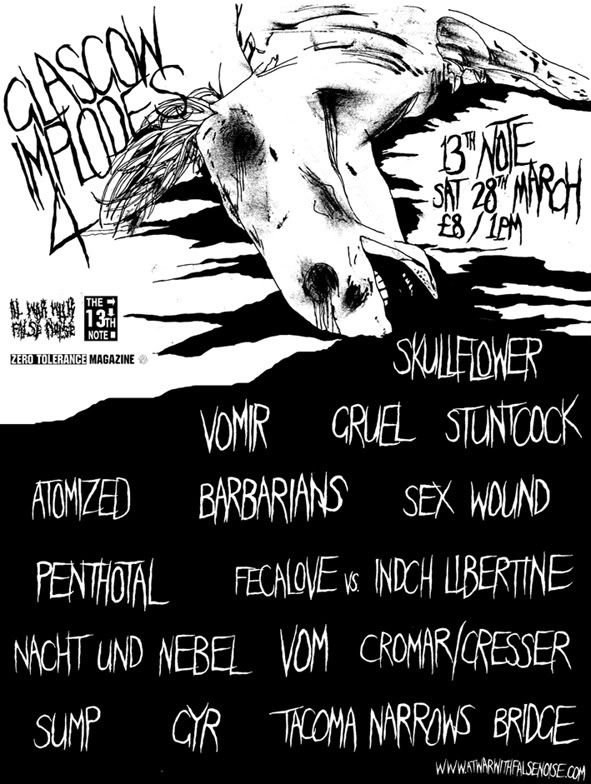 18th February AD2009
Holy moley, probably the biggest distro update I've ever done! Over 60 new titles up there, great new CDs and LPs from Hell's Headbangers, 20 Buck Spin and limited copies of some WHITEHOUSE CDs. Also bunch of CDs from Total Rust, as well as CDrs from Silken Tofu, Casual Seizures and Symbolic Prod. I'm away for a wee rest!
17th February AD2009
All should've been much sooner but a mixture of my own and other people's ineptitude has meant not! Anyway, got a bunch of new releases up right now: Lubyanka double CDr, Locrian CD, Habsyll CD and White Heteros 12". Phew!
Got a huge distro update to do with a bunch of great metal from Hell's Headbangers, will do it tomorrow as I'm knackered right now. If you fancy any of that hold off ordering until then.
As an aside, I saw Testament, Megadeth and Judas Priest last night. Holy fruck, one of the best gigs I've EVER BEEN TO. If you think that statement was funny, fuck off and never buy anything off me again, At War does not welcome your sort.
6th February AD2009
Quick distro update, got a bunch more stuff to add in later on next week.
Not putting this on myself but check it out...it's free!
1st February AD2009
Check out the distro section, got in a big package from Cold Spring the other day as well as some beautifully packaged CDs and limited CDrs from Muza in Newcastle. These are great particularly, the packaging is really something else. Check out the Jazzfinger CD, brilliant!
The Habsyll CDs are in, digipaks look great. Holding off on releasing them for a wee bit as I have a couple of other releases coming out soon that I want to put out as a big lot.
The Haters LP should be going to press soon. Confusingly, this is NOT the "noise" Haters, but a viscious hardcore band comprising former members of Geordie hardcore legends VOORHEES. They were pretty much the best UK hardcore band ever in my humble opinion and this record is brilliant! Will be a corelease with Heidenwut, with art done by Richard of The New Blockaders. Czech it out below: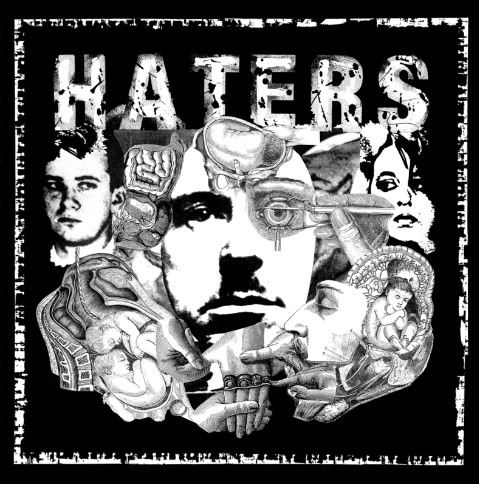 24th January AD2009
Vomir/Concrete Threat is sold out. I have not very many Vomir CD+CDr sets left too - around 25 - so don't sleep on these; not one copy has gone to a distro so once they're gone from here yer not getting one! The new Vomir LP is ready to go again, second time lucky, eh?
In other good news, I'm putting together a new Culver tape as a stop-gap between the Culver/Seppuku CD and the Culver LP, "Coiled Through The Wood". Also happy to announce that I'll be reissuing the "Spladgered Mangulation" tape by "acoustic noisecore" band Gerontophiliac. This was recorded in 1990 and is fuggin' BRILLIANT! It's the brainchild of Gary Kelly, a guy I have tremendous respect for and who has a musical knowledge and record collection that surpasses any other mere mortal I've ever met, and I'm completely chuffed to be doing this with him!
23rd January AD2009
Big distro update, loads of new stuff added in the "new arrivals" section. And in other news:

Get it right up yees, ya bunch of dirty cheating bastards!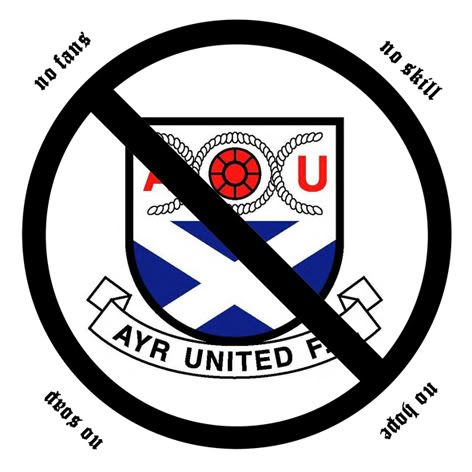 15th January AD2009
Added a bunch of new distro items! Thanks to a helpful suggestion I've decided to add a "new arrivals" section to the distro; I also aim to sort every item by format soon too. Bunch of new stuff in, including copies of the Paso Inferior reissue CD by Corrupted...not aware of anyone else in the country (or Europe?!) who stocks these so get on 'em quick, they went really fast last time I had them in!
14th January AD2009
Persistence In Mourning LPs now up! I'm really chuffed with how these came out and the music is a real progression for At War! Get 'em while you can, I think they'll go quick!
Got an early mix of the new Gnaw Their Tongues LP which I'll be releasing later this year, and it sounds great! Hoping to do something special with that. Also working on a new Mutant Ape live 7" which I plan to get out at the same time as the Aunt Mary 7". Should also be getting in a big batch of copies of the Corrupted "Paso Inferior" reissue CD this weekend, as well as a bunch of US tour shirts; I think this is the only way you'll be able to get these if you didn't attend the shows. Phew!
8th January AD2009
Huge response to last update, many thanks. All sent off after nearly an hour in the Post Office this morning! Just added to distro an amazing book, "Please Don't Feed The Bears", which combines the worlds of vegan cookery and underground metal. Highly, HIGHLY recommended! Jamie Oliver, get a new job.
7th January AD2009
Forgot to say in the last update, but thanks very much to all who supported At War With False Noise in 2008. It was a bit of a shitty year personally for me and the continued support of all who buy the records, come to the gigs, and support the underground music scene made it all worthwhile! Hopefully 2009 will go a little more smoothly, and I'll manage to get through the year whithout anyone ripping me off for records. Whilst on this subject, I hope 2009 will be the year that Fullforce Records' head honcho Alan Bennett has an unfortunate incident with his kneecaps and a big hammer.
4th January AD2009
Sorry for the lack of updates, things have been really busy here but got a BIG update as a result!
THREE new releases available now: new Vomir CD (including a special double-disc edition!), the new album from brutal US PE unit Rape-X, and a split tape from two horrible lofi UK doom merchants, Seppuku and Ultrashitinferno.
I've had a massive stock-check and everything in the distro section is now up-to-date. There are a lot of new inclusions as I haven't done a proper update for a while, and I found a few items I thought had sold out in various places when I was tidying up so they're in there too. I also found a few copies of long-sold out At War titles, including a few copies of all the 7"s (these ALL sold out incredibly quickly - a couple of weeks - so get on it NOW if you want 'em, I'm sure the Gnaw Their Tongues and Seppuku/Sloth records are sold out EVERYWHERE worldwide!). Also found a couple of copies of the Winters In Osaka CDr, Noma 2xCDr and the erm...controversial first Tetsuo record, "David Keenan Is My Dick". None of these will be getting a repress so again, get on it now. I've put a bunch of prices down too, as I really need to get some dosh together for the next batch of releases, and practically I'm running out of space here!
Bunch of new releases will be out soon. I have the Persistence In Mourning LPs; the inserts take a bit of time to make up though. The White Heterosexuals 12" is STILL not with me. Circumstances beyond my control unfortunately which I don't want to get into, very annoying but nothing can be done right now. I can only hope they eventually find their way here. The Habsyll CD should be with me very soon also, in addition to the new LOCRIAN album on CD, which I'll be putting out as a split release with the excellent US label Small Doses. Please check out the SD site and get some stuff off Joe, he puts out some brilliant releases and his packaging is always totally top notch.
After those, it'll be Haters LP (brutal hardcore from ex-Voorhees members), Seppuku/Culver split CD and Maurizio Bianchi - "Technology 1 & 2" double CD, the first in a series of old MB recordings on CD for the first time.
27th November AD2008
Got in both the Vomir and Rape-X CDs today, both turned out great! Will go up in a couple of weeks.

Glasgow Implodes has been booked and will take place on Saturday the 28th of March at the 13th Note. A few of the confirmed bands include: Vomir, Skullflower, Barbarians, Atomized (Lea Cummings/Kylie Minoise vs Russell McEwan/Black Sun), Stuntcock, Tacoma Narrow's Bridge. Aim to get a bunch more great bands up to play this year too, and as ever, no repeats from last year! This is the week after the Instal festival (as was the very first Glasgow Implodes five years ago now!).
19th November AD2008
Thanks for all orders on Vomir/CT tapes and sale stuff. Added a few new distro items. One excellent record in particular: Tapping The Vein by SPINE WRENCH. This band rose from the ashes of crust pioneers DEVIATED INSTINCT in the early 90s and played grinding, heavy crust-infused industrial metal, not a million miles away with peers such as Godflesh and Head Of David. At War With False Noise will be releasing a discography CD in 2009 (which will include this record of course) but if you can't wait, then check this 7" out and see what you're in for!
14th November AD2008
***********SALE**************
I've lowered prices on all At War catalogue items. Recession? Pffft! Please stock up on this stuff, I need to get some funds together to keep up what is an ambitious - bordering on suicidal - release schedule and all sales help massively!!
14th November AD2008
New release out now! Vomir/Concrete Threat split cassette. More great HNW from Vomir and Concrete Threat is a proud addition to the At War family!
Check out Zero Tolerance magazine (out tomorrow) as it has a feature on At War contained within its mystical pages! Cheers to Calum and Dan for sorting that one out.
Good news: Glasgow Implodes tentatively scheduled to happen in March of next year, and VOMIR is gonna come to the UK to play it! Really really excited about this. Hopefully can get another few surprises on the lineup and make it even better than last year.
8th November AD2008
Thanks to all who came to the DJ Cut Hands gig last night! Great to see a decent crowd for a change :-) Where are you people when everything else is happening?! Cheers to William, Adam, and especially John for coming in to do a great set at the last minute!
BIG distro update now! Vomir/Concrete Threat tapes will go on sale next weekend or possibly even during the week, just waiting to make sure artists' copies have landed safely. Sent a bunch of stuff away to the plant this week, so should have a bumper release day mid-December, just in time for Christmas! I'm going to have a "special edition" of the new Vomir album which will come with an extra album on CDr (only available from here) of exclusive material, with nice packaging. I'm NOT doing preorders as I find them to be more hassle than their worth and can't hold things for people so please don't ask! They'll be available when they're available. I'm working on starting a mailing list as a lot of people have been asking me why I don't have one. Just takes time, eh....need to spend a day collating contacts and stuff.
Haven't had a picture for a while, so here's one that I found yesterday: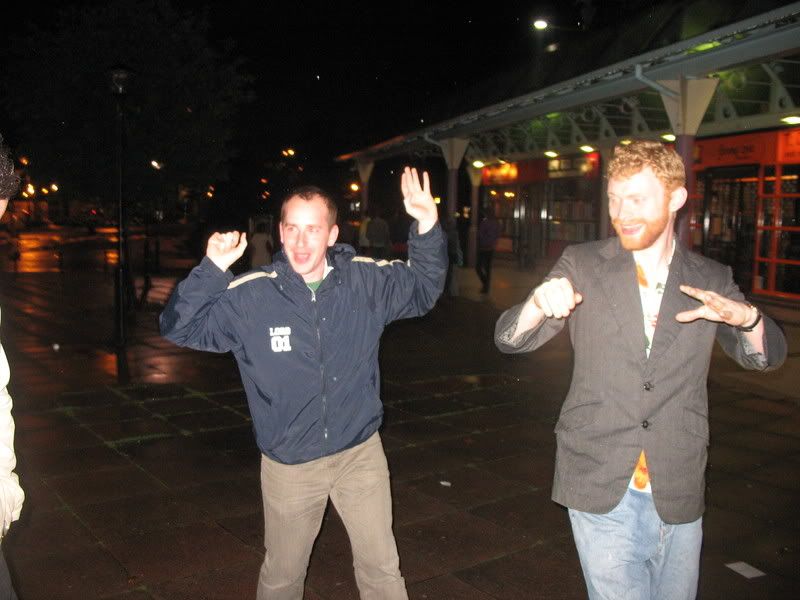 24th October AD2008
In other other news, proud to announce that Black Sun will be playig at this years ROADBURN festival! Nice one lads, fucking great festival and playing with SAINT VITUS. Jesus! Cannot wait to make the trip to Duh Netherlansh.
24th October AD2008
Gnaw Their Tongues 7"s are flying out the window....only been out a week and I've not got many left! Good news for US customers is that Small Doses will have copies. Buy some other stuff when you're there cos Joe runs one of the best labels around! Aquarius are also (hopefully) going to take them, ditto with Crucial Blast. Available from me guarenteed in the mean time! Down to the very last of the Gnaw shirts too, but only in small sizes so puny wee gits and girls please form an orderly queue.
AT WAR gig on Sunday: KEVING SHIELDS (not THAT Kevin Shields), Married In Berdichev, Caldera Lakes and Blue Sabbath Black Fiji. Really looking forward to this, saw BSBF a couple of weeks ago and it was one of the best live sets I've seen in bloody ages, they're fucking brilliant! Got the last Caldera Lakes CDr and it's brilliant too, should be a great night, even if it is a Sunday. SUNDAY 26th OCTOBER, 13TH NOTE GLASGOW, 2100 kick-off.
Had a MASSIVE update of distro stuff. New records in from CHARLES MANSON, ZENI GEVA, bunch fo stuff from ARCHIVE, new GNAW THEIR TONGUES CD and finally those MOSS tapes!
Please come along if you can...last gig I put on was abysmally attended; it's pretty disheartening when a city that's meant to be so vibrant and culturally aware as Glasgow can't pull 13 folk to some experimental music on a Saturday night. Less and less promoters are putting on these sorts of gigs...speak up now or they'll be gone forever!
In other news, sending a bunch of new releases off to press tomorrow: VOMIR - Proanomie CD, RAPE-X - False CD and PERSISTENCE IN MOURNING - The Undead Shall Rise LP. Doing all these in a oner could prove the end of me haha.
16th October AD2008
Right, Gnaw Their Tongues 7"s and Mike Page CDs ready to order now! The White Heteros 12"s will come later, be honest I need some dosh right now to send a batch of new releases to the plant and I could do with the cash! No distros in the US stock these at the moment, if you run one and would like to stock them, get in touch...otherwise it'll have to be through me!

The excellent Heathen Harvest online zine just did an interview with me, which can be found here:
http://www.heathenharvest.com/article.php?story=20081011185558861&query=.
Many thanks to Simon and Sage for sorting it out.
5th October AD2008
Remember remember the 10th and 11th of October! Cos Sindre Bjerga and HoH will be playing Glasgow both these days!
Friday they're playing a set in my house along with Cheer and Rejectamenta. This is of course free, if you want any booze bring it yerself! Contact me for details via enail or by phone: 07515400294.
Saturday will see them at the 13th Note for a gig with Noma and Lanterns. I will have copies of the Gnaw Thier Tongues 7"s and Mike Page CDs with me on the night. Will be a blast!
28th September AD2008
Got the Gnaw Their Tongues 7"s in: look good, sound good. Yes! They'll go up on sale very soon, waiting on the White Heteros 12s to come in so they can all go up in a oner.

Rant time: I get a lot of emails from folks asking me stuff like where I go to get records pressed, where I buy paper for CDrs, where I host the website...basically everything that if you armed yourself with a bit of initiative and used the power of Google you could do yourself. Anyway, I don't mind at all responding to people and helping out - after all, we're all here to help each other, right? - but it's pissing me off that a huge majority of folk intrusively asking me to run their lives for them can't have the common courtesy to fucking say THANK YOU. Maybe I'm too British and I take manners too seriously, maybe they're a bunch of arrogant unwashed European cunts who could do with learning how to interact with fellow human beings....I don't know!

On a similar note...TRADES. Trades are fucking cool, and one of the reasons I do this. So don't take the piss and waste my time by asking for a bunch of LPs and shirts or something in exchange for some tapes you dubbed. It's not gonna happen. I don't spend a majority of my wage every month to piss it away sending some git in Venezuela a bunch of pro stuff and get a jobby inside a broken jewel case back.

Right, time to watch Rock'N'Roll Nightmare.
20th September AD2008
By the way, excellent new Glasgow-based distro proves that at least one person in this city likes cool stuff! Check it out here: http://www.myspace.com/negative_care_outcome
20th September AD2008
Got Mike Page CDs in, came out superb...up for sale soon!
New SEPPUKU tshirts in. Black on yellow shirts, they look great! Susy Kendall I love you.
Huge distro update, working on more copies of the Corrupted CD as they all went in a week...got a bunch more of the last GEROGERIGEGEGE album. One of my favourite all-time bands and this is difficult to get outside Japan! I'm the only distro stocking this anywhere as far as I know. These all went quick last time so get yer skates on!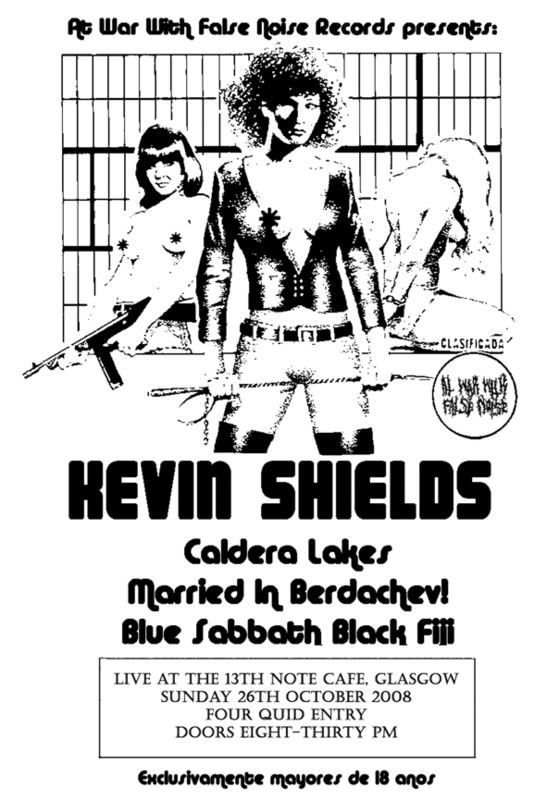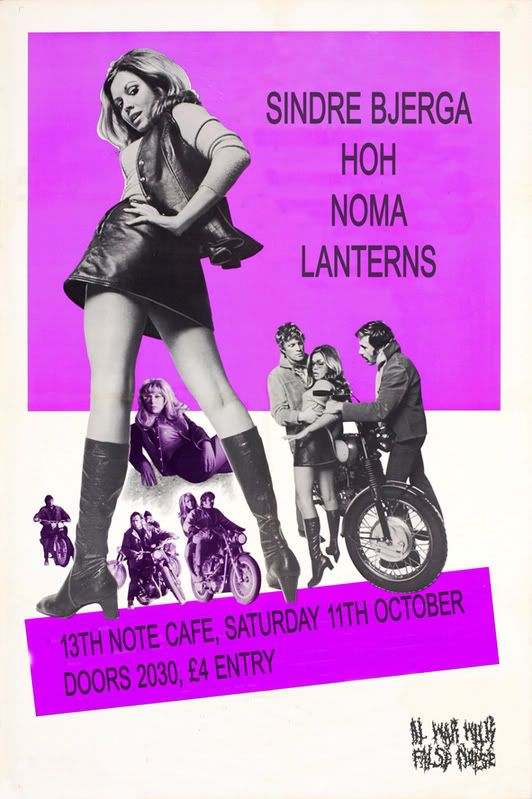 19th September AD2008
Anyone heard the new METALLICA album? It's fucking brilliant! Seriously, best thing they've done in 20 years. Ignore all the frankly embarassing stuff you saw on Some Kind Of Monster and the whingers who say it's shite but haven't heard it...they're playing fast again! Takes me back to my youth!!! At War Towers have been resounding with pure thrashing rage these past few days...nowt but EXODUS, TESTAMENT, MEGADETH, VIO-LENCE, DEATH ANGEL, SLAYER, ANTHRAX, BLIND ILLUSION, SACRED REICH, FORBIDDEN blah blah blah..... Where's my hi-tops?
13th September AD2008
Sloth/Seppuku gone.
APPEAL: we played a gig in Edinburgh a few weeks ago at the Forest Cafe. My dictaphone went missing that night and I suspect it was either left there or somebody maybe picked it up by mistake. It's not worth fuck all but in true lo-fi style it contains a large amount of the sessions we recorded for the next Funeral Mongoloids album (Gelsomina/Bizarre Uproar/Mutant Ape/Seppuku). If anyone may have picked it up by accident PLEASE let me know as it would be really gutting to lose these recordings. I will pay a hefty reward to get it back. That said, the place was full of smelly hippies and I did play a diabolical set that night, so chances are someone found the dictaphone and burned it.
7th September AD2008
Bunch of new stuff in the distro, only got a couple of Corrupted CDs left. Got the Black Sun shirts in and all preorder shirts will go out tomorrow morning! Very few Gnaw Their Tongues and Alkerdeel grey shirts left, and I'm not doing any more for the time being!
Sloth/Seppuku 7"s are down to the last couple too, Sloth's are gone also and once these are gone they're gone and they're eBay fodder chaps!
29th August AD2008
For those who preordered Black Sun LPs/shirts....basically the guy forgot to print a backprint on them and I have a huge pile of shirts that aren't as I advertised. I've decided to send all preorder LPs out right now and forward the shirts on seperately once they've been fixed (I have to mail them all back to the guy). Really sorry about the inconvenience caused, I try to run At War as professionally as possible and the ball has been dropped here. If anyone has any issues with this let me know and I'll do my best to help. Herein lies the problem with preorders and I'd suggest to anyone running a label....dont do them! I've learned my lesson. Shirts will go back up for sale seperately when they come in.

LPs are up for sale and shipping now! Black Sun will be playing New York on Hollowe'en this year with Nadja and James Plotkin, I'll post up a poster soon.
Gig news: bunch of gigs coming up, including Sindre Bjerga playing in my living room, DJ Cut Hands (AKA William Bennett) at the Note and Kevin Shields. More details/posters as and when.

Gnaw Their Tongues 7"s are being pressed as we speak and will be on their way to me any day now, ditto for the Mike Page CDs. White Heteros 12"s are also winging their way to me next week. Once it's been mastered the Culver/Seppuku split CD will be going to the plant along with RAPE-X's "False" CD album. It goes without saying that all these records are fucking great!! After that the next foray into vinyl will be a split 7"; AmRep-style from wax debutantes TRACTOR and kraut/stoner/??? legends Hey Colossus!, closely followed by the long-awaited debut full-length from Persistence In Mourning, who's just done a split with WORSHIP.

Distro update too: bunch of Corrupted stuff (Paso Inferior on both CD and LP...be quick with these!), load of great vinyl and some new CDs (eg. new T.O.M.B. album!).
18th August AD2008
I'm off to Sweden for the week in about ten minutes, so any orders placed between now and Saturday will have to wait til I'm back. Don't worry if you don't get answers to emails etc, I probably won't have much computer access.
12th August AD2008
Bunch of new shit out today. I have 100 Sloth/Seppuku 7"s available, Dom from Sloth has the rest. If you live in the USA and don't want to get raped by the crap exchange rate/postage I suggest buying one from him, it'll save you a wee bit of cash. I don't expect these to be around long. Also just done a run of 100 CDrs by Russian nutters VDVZH (which my Russian-speaking pal tells me is something to do with fucking a girl up the arse); this is a class disc and very happy to be involved in helping these guys get coverage beyond their native country.
I've put up a PRE-ORDER on the Black Sun LP. This'll be released at a show we're doing at the end of the month in the 13th Note in Glasgow and this price will aply until then. Please bear in mind that postage costs are very high right now and the post-paid price reflects that; I'm trying to keep things as cheap as possible. Prices of At War CDs have gone down across the board too, as well as a bunch of stuff in distro.
11th August AD2008
Had a great time at Distraction. MASSIVE THANKS to Daz for organising it, what a great guy! Cheers to Newcastle crowd and apologies to anyone's pint I spilled. If it helps I came out of it worse and currently am having difficulty sitting down due to bruises/gashes. Here's a tender moment between myself and Noisebastard:

3rd August AD2008
Big distro update including a bunch of live DVDrs from Freak Animal; great sets from Incapacitants and Grunt! New CDs from Gelsomina, Bizarre Uproar as well as a bunch of new black metal from Grief Foundation. I'm planning on adding reviews and pictures to all distro items soon, just don't have enough time to get things sorted right now. Still nothing in from the Sloth/Seppuku 7"s, hopefully have them next week for Distraction Fest in Newcastle, will be bringing a selection of distro shit down with me if I can carry it on the train.
Lubyanka CDr is GONE, same for Messiah Complex tape.
19th July AD2008
Black Sun - Paralyser LP coming soon
Got word from Dom today that the Sloth/Seppuku 7"s are with him so should have them soon also.

18th July AD2008
Apologies for the lengthy delay. Stuff on, gigs, organisation, blah blah blah...
Anyway, great news: the SHIFT LP, "Creation & Space" is finally out! I'm really pleased with how this came out and it's gonna be a landmark release. Also out now is the new Seppuku 3" CDr. Things are selling out a lot quicker than they used to and these are both reasonably limited so act quick!
We're still having bother with the Vomir LPs. Nothing I want to disclose at the moment but it's looking rather grim. Hopefully more news soon, console yourself with some brutal heavy-duty PE in the meantime!

10th July AD2008
Gig very soon in Glasgow! This will be a belter and a must for any harsh head! These bands don't tour much and this will be a very are chance for anyone in the UK to get to see them. Only doing a couple of UK dates so if you live in Scotland come along. Also playing but not on the poster is Glasgow's master of electronic manipulation, REJECTAMENTA.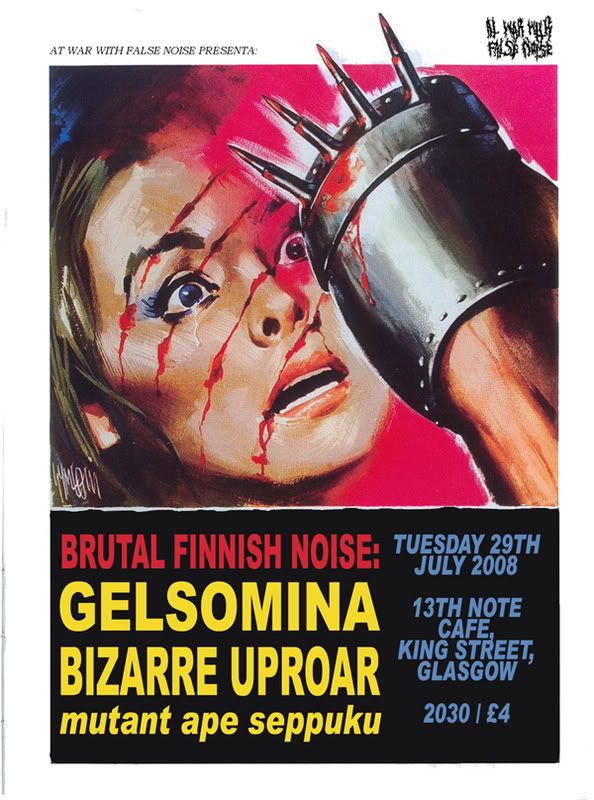 23rd June AD2008
MASSIVE distro update!!! Loads of new titles added, been sitting on these for a while and haven't had time to put them up. No "reviews" cos I just don't have the time or inclination; if you want to know what they sound like gimme an email or just check Google like the rest of us!! I've also lowered prices across the board, I know of nobody in the UK doing this stuff cheaper at the moment!
Having some difficulties with the VOMIR LPs. More info as it comes.
I'll be taking part in a couple of joint releases in the near future: one will be with Tumult Records from the USA, Psychedoomelic of Austria and a couple more and will be the debut CD by French uber-doom/droners HABSYLL. The other will be a joint release with several labels; it will be a series of split 7"s with the funeral doom band THE AUSTRASIAN GOAT. Not sure exactly how this is going to come together but we've got some art on the go that fits together like a "jigsaw" when all 4 7"s are put together. Will maybe do this as a subscription-style deal where you can get all 4.
Other stuff in the pipeline for the near future (outside releases already mentioned): Vyebidevochkuvzhopu CDr (crazy noisecore/blurr/grind from Russia), Doneimagine CDr (probably the most interesting and consistantly mind-blowing "noise" performer in the Glasgow scene right now!), Seppuku/Ultra Shit Inferno split cassette, Seppuku/Harm split CDr (?). Also very pleased to announce that I'll be putting out a CD by MIKE PAGE. You may know Mike from his work as FIRE IN THE HEAD, SKY BURIAL, or live with SLOGUN. This is a long noise piece and is fucking brutal! I await the final mix of it as we speak and I'm sure it'll be a belter.
Cheers to everyone who came along to the Seppuku shows this weekend. Thoroughly enjoyed the Edinburgh gig especially, even though I managed to concuss myself and the fact that gig-goers in Edinburgh would require a nuclear warhead to go off in their arses to be actually incented to express themselves in any way. Biggest crowd ever for an At War gig I think on Friday too! Ta to the Bonesaw lads, Black Sun, Wraiths, Eunoia, Jane and Julian for helping out and Michael, Andrew and Alice for being hardcore as fuck and making the godforsaken trip east. And of course NAKED SHIT. RIP!

14th June AD2008
Been having some spam problems lately....for some reason I've been getting 100 spams a day and a lot of mail about enquiries from new folk has been going into my spam; as a result I'm missing some queries on availability of shirts etc, I've been through and replied to every mail I've had in the past couple of weeks now, so if you haven't had a reply please accept my apologies and send another, or if you want send to my other email address: alastairmabon@aol.com and I'll get back to you ASAP.
Got the SHIFT LPs in today, they look great! Ready to ship out soon, just need to make sure artist's copies are all sent and everything packaged up. New SEPPUKU 3" is also ready to go at the same time.
8th June AD2008
All CDrs that I made "to order" will now be considered out of print. As I said before, it was getting too much hassle to keep making up a few of these at a time, and they weren't selling enough to justify the time/annoyance of doing them. Still available from several distros so just Google the title.
Large size Gnaw shirts gone! Alkerdeel shirts are going very fast so don't slouch on these either!
I'll have a new SEPPUKU CDr next week and hope to have the SHIFT and VOMIR LPs in at this time too. Right, time to get sat in front of the telly with a bag of crisps to watch everyone except the home nations play football. Class! :-D

26th May AD2008
One new release out, after a couple of planned CDrs I'm gonna cut right back on them and concentrate on bigger-scale releases. I'm also going to halt production on the "unlimited" CDrs on the site, cos I just don't have time to burn discs/print sleeves etc for them any more. Not being able to find a sleeve or running out of ink in my printer is leading to mistakes getting made and orders taking longer than they should to go out, so I'm making them out of print. I'll keep them available for a week or so more in case anyone was intending on buying any. Also available right now are ALKERDEEL tshirts. Thought I'd get these done cos the art on the discs is too good not to use!

19th May AD2008
Very quick update, haven't been able to get anythig done this weekend unfortunately. Couple of At War and Seppuku gigs coming up:

Fri 20th June: NAKED SHIT, BONESAW, SEPPUKU, VOM @ 13th Note, Glasgow
Sun 22nd June: NAKED SHIT, WRAITHS, SEPPUKU @ The Hive, Edinburgh
Tue 29th July: GELSOMINA, BIZARRE UPROAR, MUTANT APE @ 13th Note, Glasgow
Sun 10th August: SEPPUKU @ DISTRACTION FEST, The Cluny, Newcastle


16th May AD2008
RIP. The greatest.

11th May AD2008
Busy weekend, both Inseminoid and Panther Modern discs are now gone too! There are a few distributors who have these though, so don't fear too much.

10th May AD2008
Veee Deee 2xCDr is now SOLD OUT. I'm sure this will see the light of day at some time in some form or another cos it's too good to stay this obscure for long.
The VOMIR LP is ready to go, we've done the artwork, sent off payment, now I just need to find the master disc and we're laughing. :-D
SHIFT - VERY SOON.


5th May AD2008
Mutant Ape/Seppuku split 7" is now gone! Thanks for all the orders on this one, sold out pretty quickly! More split releases with Turgid Animal forthcoming.
Still no luck in finding my lost distro stuff. I'm only gonna be taking minimal distro with me to gigs now as a result of this, can't afford to lose a large proportion of my stuff again. If whoever has this is reading this, yer a cock. Die! Working to try and replace items that went missing and restock the distro as best I can. Please email in advance for distro orders cos there are odd items that might be listed that still aren't in stock. Cheers.
17th April AD2008
Right, I think I've caught up on all orders now. I apologse profusely for any delays/fuck ups. It's been a really busy time the past couple of weeks in a lot of different ways and I was struggling to get everything done to the high standards I would expect from a distro, so sorry if I'm been a dick about getting orders right and whatnot. If it's been a while since you ordered and haven't recieved anything please email me at bringmecoffeeortea@hotmail.com soon as with what you ordered, when you ordered it etc. Information is helpful!!

As mentioned previously, I lost a box of merch at Glasgow Implodes. None of the bands picked it up and the venue never saw it. SOMEONE out there knows where it is. Hopefully it's just a mistake but I don't need to say that nicking a box of merch at a gig like this is seriously fucking shit and if that is what's happened and I find out who it was, I'll cut off yer cock and mail it to Volcanic Tongue.

Gnaw shirts are back in AGAIN. Did a big order so they'll be in for a while. No need to check for sizes, I have loads!

Also, payment details are on the site!! Why does everyone email me asking for a total and how to pay? Should I make the text bigger? In red letters? I'd like an integrated shopping cart actually, would be much better but the guy who does the website is fairly painfully slow at getting anything done and I wouldn't expect any changes in the next millenium.
12th April AD2008
Right, bunch of stuff to update on this week. Gnaw shirts are once again flying off the metaphorical shelves. I have run out of mediums again...if you sent money without checking via email for size availability first you may have to wait a couple of weeks til I get a new order in. Apologies for this, but there's a lesson in there: check first!! Can I also ask if in every order you make PLEASE write the order in the comments section. You have no idea how much easier this makes my life; every time I get an order in that says "Here's the cash as discussed on email!" my heart sinks. I discuss about 50 orders a week on email and cross-referencing everything is a total bitch, and I really don't want to get orders mixed up.

Aquarius Records have a bunch of At War stuff in stock right now, go to their site for some great reviews and for (possibly) cheaper ordeing if yer in the US. Certainly for small orders I'd guess they'll be cheaper than me due to postage rates.

I've not got many copies of the Mutant Ape/Seppuku split 7" left so get cracking on that one!

Played with Whitehouse last night in Edinburgh...interesting gig. Probably did one of the best/noisiest sets we've done but went down like a bucket of lukewarm shite. Heard a few folks grumbling about the "overly confrontational" nature of the performance. Amazing! Next gig we're gonna play topless and touch each others' nipples. PROPER NOISE.

Finally: AN APPEAL. I lost an entire box of merch at Glasgow Implodes last week. It's not turned up in any of the other bands' stuff and I definitely don't have it. If anybody saw a box full of CDs (had a load of Skullflower/Monarch/ Culver etc in it) could you please let me know ASAP. It's worth a lot of dosh and well...you know. Any distro orders for the time being PLEASE check with me first as obviously I might not have what's advertised around right now. Knew last weekend went too well.
6th April AD2008
Wow! Glasgow Implodes 3 was the best yet, by a long shot!! Cheers to everyone who played, to everyone who helped out at the merch stall and door, to Alistair Crosbie for spending about a week's wages on records, the staff at the Note for being generally cool all day, and most of all to Paul for doing a 12 shift at the sound desk. Legend!

Got another batch of Gnaw Their Tongues shirts in, all sizes once again available! After having a wee break from doing new stuff I'm working on another batch of releases soon!

31st March AD2008
Shirts are all gone....I'm getting new ones I'm told in time for Glasgow Implodes on Saturday so don't worry. There aren't gonna be any more GTT CDrs I'm afraid, although we're gonna be doing something else together soon in greater quantites I hope! Deadwood CDrs are now all gone too.

Remember GLASGOW IMPLODES is less than a week away!!! It'll be amazing, so if you're from around the area (or even if yer not!) come along!! Saturday, 1pm - late, 13th Note Cafe Glasgow.

23rd March AD2008
Wow! Gnaw Their Tongues CDrs and shirts sold incredibly quickly: CDrs are SOLD OUT and only a few shirts in MEDIUM AND SMALL left. Thanks very much to everyone who ordered! Copies will be available from Mories (www.myspace.com/gnawtheirtongues) and Aquarius Records (www.aquariusrecords.org) soon. Unsure if there'll be another batch of these, will have to discuss it with Mories. Alkerdeel's also flying oot the door...my entire weekend has been spent parcelling and currently have around 100 parcels sitting here waiting for what I'm sure will be a hilarius trip to the post office on Tuesday.

22nd March AD2008
After pestering the post office this morning, I discovered my parcels HAD arrived and they were just a bunch of total mongs. As a result, I have the Gnaw Their Tongues shirts in! Pics in the "Releases" section. Anyone who already ordered a CDr and paid postage, simply pay seven quid additional to me if you want a shirt and put a wee note in your Paypal payment section, no need to pay further postage.

Just a wee reminder....the third (almost) annual GLASGOW IMPLODES all-dayer is on in a fortnight (Saturday 5th April) at the 13th Note in Glasgow! This is always a great event and this years lineup is the best yet I reckon. Please come along if you can, we need all the support we can get and live music's one of the best things about this kind of stuff!! Myself and Lee Stokoe will have as much distro as we can carry too. Oh, and everyone in will get a free CDr! See yous there!
21st March AD2008
Right, two new releases just up on the site: Alkerdeel's first CD, "Luizig" and the new limited CDr from black metal noise nihilist Gnaw Their Tongues. As I previously stated, there will be Gnaw Their Tongues tshirts coming but there seems to be a problem with my newly-acquired PO Box and none of my mail has come through for the past week or so. Trying to get this sorted as soon as possible, very sorry for any annoyance caused...I know a lot of you are desperate for these!!

I've simplified the pricing and made everything in POUNDS STERLING. There was no point having stuff in dollars, it was just confusing for anyone from Europe and you americans can deal with sending Paypal funds in something other than dollars, right? I've got US distribution with Aquarius Records, Crucial Blast and Ear/Rational, so if you want to save money these guys will usually get most of what I put out.

Got a huge release schedule planned, the SHIFT LP should be out very very soon, then I'm gonna take a wee break for a bit to get a lot of other things sorted. There are going to be a lot of vinyl/CD releases in the coming months though and not so many CDrs. PING!
2nd March AD2008
Just done a massive distro update. All kinds of stuff in there, mostly CDs. The formatting seems a bit fucked up but my meagre programming skills can't fix it, so webmaster Leckie is gonna check out what the hell I've done wrong now. Alkerdeel and Gnaw Their Tongues: expect these to hit in around two weeks, along with the Gnaw tshirts. On the subject of shirts, only MEDIUM AT War shirts remain! I'll get another batch of these done at some point as they're always really popular.

28th February AD2008
Right, biggest release update ever today! FIVE NEW RELEASES!!! Got the Marzuraan CD in (this is a belter!), the Mutant Ape/Seppuku split 7", split tape from Messiah Complex and Death Factory, and CDrs from Inseminoid and Panther Modern. I was gonna wait a bit and stick the Alkerdeel CDs (they're here!) and Gnaw Their Tongues CDrs (they're ready!) but a) I need to send artists' copies to Alkerdeel and b) I'm doing a batch of Gnaw Their Tongues tshirts to go with the release. These will be ready in about 2 weeks time I would imagine. I'm not doing preorders or anything on the shirts. It's too much hassle and difficult to track, so just check the site and you'll be sorted.
Please bear with me if I don't answer emails etc immediately, and please state all orders clearly in your Paypal comment section. I get lots of orders and it's really difficult to track when I get a random payment from someone who sent me an email enquiry a week ago. I work a demanding full-time job and don't have regular computer access, and this stuff takes up every minute of my spare time so please be patient and cool and I'll return the favour. I'm good to trade on all these releases, but as I've stated before: fair trade! That means enough of the shitty 5 minute tapes of *insert made up noise band here*. I don't spend all my spare time/cash to hand over somethig I've worked ages on and put a lot of LOVE into to recieve a shite tape packaged in a condom in return. Over und oot!
By the way, I have a TON (maybe 30+) new releases for distro that I haven't had time to put up yet. These will go up at the weekend hopefully.

7th February AD2008
Anybody buy Live After Death on DVD this week? I spent my day off work watching it today, then realised I should have been spending it making up orders for you fine folk. So that's what I just did, while blasting out a wee bit of Rime Of The Ancient Mariner. Get in!
Anyway, been very busy and a ton of new shite is ready to hit incredibly soon. I have a pile of CDrs by Panther Modern, Inseminoid and Gnaw Their Tongues right in front of me, and Messiah Complex/Death Factory cassettes. In the interests of fairness, artists deserve their copies before you cunts so wait another couple of weeks. It'll also save postage on all two of you loyal customers who buy everything. :-D
The Seppuku/Mutant Ape split 7"s are done and in the hands of Mr George Proctor of Turgid Animal. He's coming up to Glasgow next week and I'll get them then! Alkerdeel CDs are at the plant and Marzuraan discs are done and being shipped to this country as we speak. Many thanks to WT for all his help on this!!
What else.....I passed my driving test today. Fucking bingo!! Also have a gignatic load of distro stuff that I've not updated yet. To be honest I've just not had a chance to listen to it, so will update when I get five minutes to myself. All fer now!

27th January AD2008
Right, everyone who preordered the Vomir set will be getting them very shortly!! Of the 40 orders I took for it, I've sent out 30 so far, in order of when I received money....so if you paid me before the beginning of January you should get it very soon!! Thanks very much to everyone who ordered this, any feedback on it would be much appreciated as a gargantuan effort went in to putting it together and I hope everyone enjoys it!!!

Got some pics of two new releases that will be coming out very soon, the Shift LP and the Alkerdeel CD. Alkerdeel will be going to press next week so should be out in around a month, whilst the Shift LP has been mastered and (pending approval from Mr Shift) will go to press later this month/beginning next month too. The Marzuraan disc is also done now and looks class, hopefully should get 'em in soon!




The Panther Modern CDrs are finished, will be sending out artist's copies and these'll go on sale once they've got them. Look fucking top!!

Here's the lineup for Glasgow Implodes. I have fuck all time right now to write descriptions but will fill in details at some point soon, but here's the bands: BONG
WRAITHS
BLACK SUN
DOMOVOI
SEPPUKU (set with Lee Stokoe AKA CULVER)
UNICORN LOVE
RAIN CLOUD
JAZZFINGER
THE PRESTIDIGITATORS
SCROTAL TUNIC
CHEEKY PENIS (Brendan O'Hare)
Do-neImagi-ne/I-ambNecessno+0

APRIL 5TH, 13TH NOTE CAFE GLASGOW


26th January AD2008
At War will be doing an LP with Glasgow's finest BLACK SUN. This will be a 12" vinyl of mixes of their track Paralyser (Hammer The Nails), a totally punishingly harsh Godflesh-esque lesson in pummeling brutality! Very pleased to be doing Black Sun's first ever vinyl release after several great albums. Watch the skies.

16th January AD2008
Well it's been a fucking miserable start to the year but to cheer me up buy some of the new shite currently available from At War With False Noise! Now up for sale is the raw french black metal sound of Zarach'Baal'Tharagh (full CD!) and a double 3" CDr from Jap-dwelling noise rock psychers Veee Deee.

Also updated the distro with a bunch of new stuff, mostly non-noise, including a huge batch of doom from Shifty records, some really rare stuff from the best Jap noise band ever, The Gerogerigegege, and METAL from The Obsessed and an IRON MAIDEN tribute album.

In a news update, the covers for the Shift LP and Alkerdeel CD are being done at the moment, art for the Messiah Complex/Death factory tape and Panther Modern CDrs are done, the Seppuku/Mutant Ape split 7" has gone to press and I'm just about done the packaging, and the Vomir boxsets are ready to go, with shirts at the manufacturers right now!! Unless you've gotten in touch with me and arranged something you're too late with the Vomir shirts, so tough shit!! There's been plenty of notice and I can't keep people waiting forever. I should have about 10 sets (minus the shirts) left later on for anyone who missed out and just wants the music.

Finally, Glasgow Implodes 3 is booked and will be at the 13th Note on Saturday April 5th. I'll give the full lineup when it's confirmed but this year's fest promises to be bigger and better than the past two years put together!! Around a week before (Thursday the 27th) At War will be putting on SHIFT by means of celebrating the release of his new LP "Creation and Space", also at the Note.
1st January AD2008
Terrible news for the start of the year I'm afraid; Stanis of our own Winters In Osaka passed away today. My thoughts go to Stanis's friends and family.

16th December AD2007
The Zarach'Baal'Tharagh CDs came in this week, they look spectacular! I've decided to leave putting this one out til the new year, since 1) I haven't sent artist's copies out yet, 2) I don't want to keep releasing one disc at a time and making everyone pay through the nose on postage and 3) I've released a shit load of stuff in the past month or so, it's christmas and nobody will have two pennies to rub together at the moment. The Veee Deee double CDr is ready to go, just ironing out a few problems with artwork. Veee Deee = excellent band, lovely guys, the fussiest people I've ever met. :-P
9th December AD2007
Available for preorder now is the Vomir box set. For further details please check the "releases" page. I'm sorry but I am not offering trades on this one.

Zarach'Baal'Tharagh inserts came in this week and they look great. Total early 90s black metal worship! Discs are due next week and they'll go up for sale then. Any distros wanting to stock any of this stuff please get in touch with me, good wholesale rates offered/trades accepted.
8th December AD2007
HAIL NOISEBASTARD!!!!!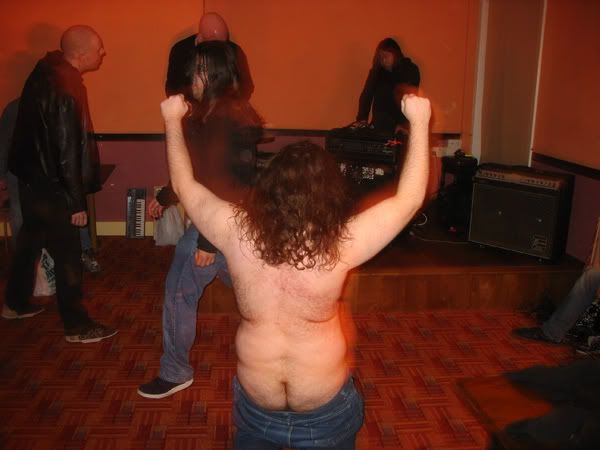 30th November AD2007
The Sloth CD is now available!! Proper pictures will go up soon when I get my camera back! Massive distro update also, with a bunch of stuff from Man Is The Bastard, Outlaw Order (ex-Eyehategod) and thrash legends HIRAX in stock, along with some noise/PE classics from Sutcliffe Jugend, Masonna and Consumer Electronics!!

29th November AD2007
Thanks to everyone who came to the Glasgow gig on Monday and Newcastle on Tuesday. Both fucking great gigs and was chuffed to play both! Hails to the Blyth lads, Mike Smith, Michael Gillham, Noisebastard, Dean Glaister, Lee, Rob and Pete, Deek and Stevie, George and Nicola and James and Mark of the amazing BLOODYMINDED!!

11th November AD2007
Sloth CD will be with me by the end of November/beginning of December. Ditto for Zarach'Baal'Tharagh discs.
GIG at the end of this month!! Seppuku will be playing as a five piece for this (myself, Matt on drums, along with Kerr (ex Black Sun) and John (Noma) on guitar and Adam (Rejectamenta) on bass. We'll also be playing Newcastle the next night at the Chillingham Arms with the same folks minus Messiah Complex, will most likely be a two piece (me and Matt) unless anyone else fancies joining us on the trip/joining in in Newcastle.

27th October AD2007
Big distro update...few more things added! I'm STILL waiting on stuff from Deep Six Records (and have been for several weeks now) without having heard a reply to my emails. Not feeling too optimistic about this one, hopefully it's just a blip and they'll sort it out soon.

On an unrelated point, can everyone who trades CDrs with me have the courtesy to actually COPY the CDrs please??! In the last batch of trades I had I got THREE returns from people because their discs had no fucking music burned onto them. I know accidents happen but three in the space of two weeks shows me a lot of people don't take their music seriously and have no pride in what they're putting out. Let's be honest, running a tiny CDr label is hardly rocket science, sticking blank discs into cases is unprofessional and embarassing. Plus the fact that the person buying it gets fuck all and I have traded away one of my releases for a coaster. Sort it bawbags!
26th October AD2007
New release from the excellent Dead Wood out right now! Only putting out 50 of these and I sold about 10 at the last gig so...you do the maths!

In other news, the Shift record is ready to be mastered and the artwork underway, the Sloth disc should be ready very soon, the Marzuraan disc is going to production and I've finished art for the Zarach'Baal'Tharagh CD demo collection. When everything comes out is a cash flow issue innit!

I'm also very glad to announce the reissue of Belgian black doom mob ALKERDEEL's album "Luizig". It was originally released on Funeral Folk in a small edition of 66 copies and At War will be doing a proper press of 500 CDs in special packaging. Check them out here: www.myspace.com/alkerdeel666.
11th October AD2007
30th September AD2007
At War With False Noise will be putting on the following acts at Where The Monkey Sleeps in Glasgow on Saturday 13th October:
Sindre Bjerga
Anders Gjerde
Sten Ove Toft
Noma
Cheer

It'll be free entry, more details to follow. WTMS is a sandwich shop in West Regent Street; it's pretty easy to find but check the website for more info: www.monkeysleeps.com

Many many thanks to Katherine and Leckie for allowing this to happen!!!
29th September AD2007
Two new releases out now! Don't worry about the catalogue numbers being a bit weirdo beardo, ATWAR018 is the Sloth CD which is at the pressing plant right now and ATWAR019 is the Dead Wood CDr which just took a while to get packaged but will be ready very soon. Both these new releases are class, and Snotnosed in particular has been a long-awaited release for a while for lots of folk. Many thanks to Michael and Adam for being behind both these discs.
In other news, the SHIFT LP will be called "Creation + Space" and is just about ready and is getting mixed and mastered now. Also many happy returns to Martin AKA Shift as he's an even older old bastard than usual today :-P

PS - "Midnight Mushrumps" and "Red Queen To Gryphon Three" by Gryphon have just been reissued: take this opportunity and buy both these faultless prog masterpieces! Seriously! What? You only listen to noise? The Wire magazine says they're a bit ridiculous? YOU OWN TONY CONRAD ALBUMS BUT YOU DON'T KNOW WHY.
16th September AD2007
Right, back from holiday and it's fucking chanking and raining! Nice one. Anyway, I've updated the distro section with most of the stuff I currently have. I've taken away pictures cos they were getting in the way and it's just too much hassle to photograph every single thing I have for sale now. If yer desperate to have a look at what you're buying send me a wee email and I'll sort you out.
Snotnosed and WIO discs are ready to sell but I'll wait until next week when I can send the artists' copies out til they go up. I'm sure all four of you who usually buy stuff are wetting yer scants in excitment. Looking back at previous updates there are a few things that were meant to be happening that look like they're not any more, simply cos folk keep asking to do stuff then not bothering to send anything out. Your loss chaps, cannae be bothered waiting any longer. So here's a list of stuff coming that will be hopefully happening in the future:
CDrs from Kenji Saratori, Zarach'Baal'Tharagh, Dead Wood, Veee Deee, S.E.X./Nihilist Commando, Persistence In Mourning and Sepukku; CDs from Sloth, Marzuraan, Sepukku and a couple of other folks; LPs from Shift, Harm and Culver.
14th September AD2007
Tetsuo is now SEPPUKU. Too many other Tetsuos doing the rounds. Coming soon will be a comp of a bunch of live material recorded while still Tetsuo, as well as split seven inches with Rejectamenta and Mutant Ape. We also recorded a live set a wee while back where Tetsuo did a total doom performance, and we're looking for someone to possibly do a split 10" with. We've also recorded enough material for a first "proper" album that doesn't sound like it was recorded by a broken dictaphone in an Irn Bru can. 40-odd tracks of complete stupidity, goes from crushing doom to blastbeat-driven grind, and features a lounge take on Raining Blood by Slayer. Dr Adam Cresser has made this sound utterly brilliant and I'm hoping to do a proper CD release in the future.
1st September AD2007
It's been ages since the last update. Many apologies! There are two new releases (Snotnosed CDr and Winters In Osaka 3" CDr) but I'm off on holiday for two weeks so I'll hold off release until then so nobody's waiting. Hope everyone will be chuffed with these, both really cool records.
Also on the agenda: Sloth CDs are paid for, just need to do a wee bit of fiddling with the artwork. Should be ready to go off to print once I'm back from holiday
Thanks everyone who turned up to the gigs last couple of nights in Aberdeen and Glasgow. Had a blast and the other bands were all amazing. Last night especially everyone completely blew me away, pretty much as good as it gets I think. Major thanks to the two Stus for putting on Aberdeen, don't let the bad attendance put you off!
Last of all....Steven Naismith signed for Rangers with one minute of the transfer window to spare last night. It's almost inconcievable how low these scumbags are willing to go. Totally dissapointing situation, the bigotted arseholes once again sap young talent from a wee club after putting them through weeks (months!) of fucking about and misinformation. Total scumbags. Support yer local team! OLD FIRM GET TO FUCK.
15th July AD2007
OI OI! Saw Anal Cunt at the weekend, they were terrible! Which is kinda what I wanted. Marzuraan were fucking amazing but about three people seemed to appreciate them. It must be said though that a majority of the crowd were wearing Libido Airbag tshirts, wrong for: 1) they are the worst band I've EVER heard and 2) the frontprint was a picture of a gigantic cock with a face or something. There's no accounting for taste.
Anyway, I digress. Got a shipment of shirts in this week so all sizes are once again available. Also just out is the new REJECTAMENTA CDr. This is an amazing record and I highly suggest a purchase. Fancy dan/not so fancy dan versions available.
14th July AD2007
Please note changes to the "shop" section. I've done away with the shopping cart cos I'm an idiot and can't update it properly. Secondly, prices do now NOT INCLUDE POSTAGE AND PACKING. The way it worked was pretty much giving those kind folks who bought a lot of items a bit of a bum deal so this structure should be a lot fairer for everyone. Any thoughts on this please let me know.
8th July AD2007
Sloth artwork almost finished, awaiting band approval then can go to pressing plant. Snotnosed is ready for the go also, awaiting the "remastered" version and we're ready to rock. Rejectamenta disc is finished, will be released properly along with Snotnosed. A new batch of the famous "anti-Sunn" At War shirts will be coming in so fatties and elves will be soon catered for once again.
1st July AD2007
PS -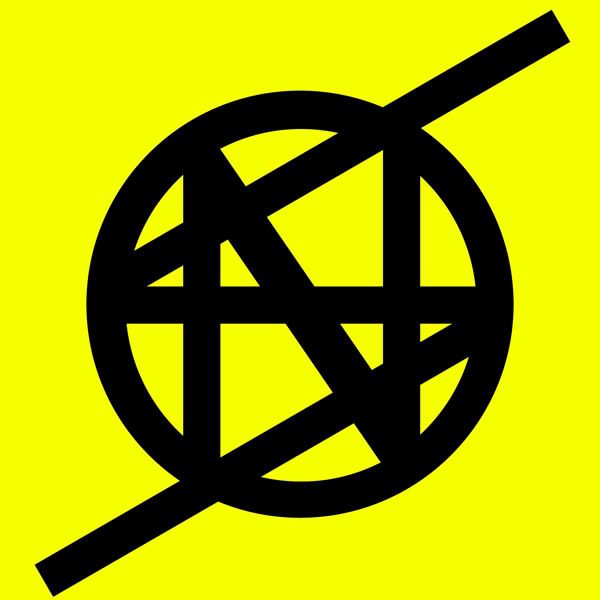 1st July AD2007
Sorry, there have been a lot of problems with the distro page. Hopefully these will be sorted soon as. Again many apologies to everyone who has tried to order and it's not worked. In other news, Sloth covers are ready so the CD should be ready to go as soon as I have approval from the band of the art. Couple more excellent developments on the releases front in that US noise monsters Winters In Osaka and Death Factory will be doing a split cassette and in the early stages of arranging something with french black metal genius Zarach'Baal'Tharagh. Also, the Rejectamenta discs are nearly ready to go! There will be two editions of this, the reason being that they come in metal cases that I could only afford to buy a small amount of, so you can get an expensive copy in ace packaging, or a much cheaper copy in card packaging. Which in fairness will probably be just like most of the shite noise releases that are doing the rounds right now. Ouch!
10th June AD2007
Distro page is up and running! Please note that I've only got a couple of copies of some of this stuff. Should be expanding this as money and time allow so expect more soon. I own everything in the distro collection myself and I'm not interested in selling any old shite on. If it wasn't going to be good enough to release on At War I wouldn't be interested in selling it. Please note also that a lot of the stuff here might be cheaper to buy direct from the bands/labels (esp american stuff) so check their own sites too, they'll all be in the "Links" section.
20th May AD2007
The best of them all...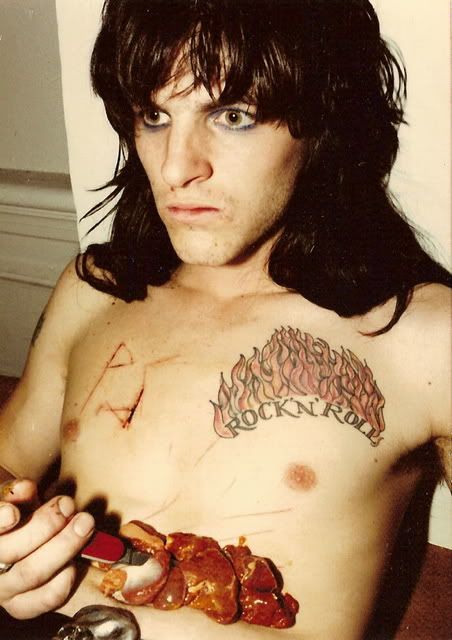 12th May AD2007
After weeks of hard work there are a glut of new releases available right now! Well chuffed especially with the two home-grown acts here, shows there's more to Scotland than highly questionable dietary habits, ginger hair and fighting, and more to the scottish underground scene than 9 quid CDrs from Volcanic Tongue. Distros get in touch, support the supportive! Coming next from At War will be CDrs from Rejectamenta and the legendary Snotnosed, as well as "proper" CDs very soon from Sloth and Marzuraan, as well as a new Shift LP. Yaas!
27th Apr AD2007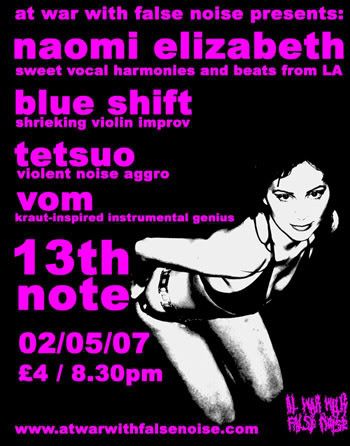 26th Apr AD2007
Sorry for such a long wait for an update. Severe illness, ridiculous working hours, not having a computer, and spending every spare minute cutting up wee bits of paper and burning CDs have meant no time to get anything else done! Luckilly I've managed to get three ne releases ready and these will go on sale tomorrow, once I've taken some photos and that.
9th Mar AD2007
Big update, three new releases available! The Culver record is entirely sold out, is still available from Crucial Blast and Utech records in the states, as well as Monorail Records and Grief Foundation in the UK.
7th Mar AD2007
At War With False Noise will be putting on improv noise fools Barbarians at The Captain's Rest in Glasgow on Saturday 24th March! Definitely not one to be missed, live performances are legendary! Will be playing with Tetsuo (doing a two-piece "acoustic" black metal set (?!) and Edinburgh drone/vocal loop genius Wounded Knee, as well as hopefully erstwhile Tetsuo member Rejectamenta if I can get through to him on his phone. SUPPORT!
1st Mar AD2007
Beip and Vomir CDs are done, once the artists have recieved their copies I'll put em up for sale; will probably go up next week.
28th Feb AD2007
I have the masters and art for the new NOMA record. It'll be a double album called Lacrimation/Nidus; one CD will be a long, peaceful drone, while the other will feature a collection of shorter, more harsh compositions. The two faces of Noma! Really excited to be releasing this not just because Noma is a good friend, but because he's one of the most interesting and unique artists in the UK underground today and he is severely undervalued by a record buying public that alludes to be immersed in what's at the cutting edge but instead spends their pocket money on the new Wolf Eyes record.
26th Feb AD2007
Glasgow Implodes II was a massive success! Ultimate thanks to all the bands who came up to play and to everyone who made the effort to come along, especially those who I knew came all the way up from England or Aberdeen. Everyone's sets this year were amazing, would be unfair to pick out any highlights to be honest. Photos and video coming soon. Extra special thanks to Diablolical Stuart for lending a hand all day, and to Brendan O'Hare for being possibly the most ace chap to exist on the planet today.
23rd Feb AD2007
Got the Sloth master in today and it's a belter! Will take a few weeks to get the art finalised and all the press figured out but hopefully this'll hit around easter time. Expect something very different from the past few Sloth releases, that's all I'm saying!
10th Feb AD2007
Sorry, website was down for a while due to some technical issues. I've backdated the news accordingly.
8th Feb AD2007
New Tetsuo disc ready to go soon. It'll be a split EP with Japanese Blondie tribute act Brondie and will come in a wee DVD case. I'm holding off releasing this until the Beip CD is ready so folks who want both don't have the hassle of placing orders withing a week of each other.
5th Feb AD2007
1st Feb AD2007
Final Glasgow Implodes lineup confirmed. Poster up in the next few days. If anyone's travelling for this give me an email and I can sort somewhere to stay for the night. B&Bs up here are expensive and you mind end up somewhere with a 95% "getting stabbed" risk; not that Glasgow's anything but Europe's cultural epicentre like.
30th Jan AD2007
Got a ton of stuff coming out soon. Here's the rundown of stuff confirmed in the coming weeks/months and other stuff I hope will happen: Noma 2xCDr, Sloth full-length CD, RYN mini CDr, Marzuraan live disc, Messiah Complex CDr, Tetsuo "anti-record", Rejectamenta CDr, Vomir CDr (got the master for this in today, punishing militant french harsh noise!, Shift pro-pressed CD. Got some other stuff too that will hopefully happen at some point! PS - Culver is nearly sold out, shifted about 70 copies in two weeks of this. Only about five left I think so act fast!
13th Jan AD2007
Ohio sludge/doom/noise/whatever legends SLOTH have agreed to put out a full-length on At War! Totally excited about this as Sloth are one of my favourite bands ever. In the past ten years they've done an absolute ton of splits with a diverse range of bands like Noothgrush, Gob, Angry Hate, Upsidedown Cross, Floor, Corrupted and Fistula. This'll be a proper pressed CD and I hope to have good distribution for it, so stockists get in touch please. Watch this space!
11th Jan AD2007
GLASGOW IMPLODES II. This is happening at the 13th Note, Glasgow! After what has actually been months of annoying shit trying to get this organised, a full lineup has been confirmed. More details will come later but it'll be happening on Sunday 25th February from about 2 til late, and will feature the following folks (in no particular order): Ocelocelot, Rough Sex Quartet, Luke Younger, Mutant Ape, Tetsuo, Usurper, Hockyfrilla, Muscletusk. Linwood Flats, Stuckometer,Smear Campaign, Youki Kudoh, Shift, Guanoman. Entry will be about 7 quid. No cash is made from this fest and all profits are given to the bands playing! This was a great event last time and it promises to be even more ramshackle, daft, and downright class thistime around. Support!
10st Jan AD2007
Future releases update: coming soon new pish from the following folks: Noma 2xCDr, Mutant Ape/Tetsuo split 7", Dirty Husband CDr, Marzuraan "The First Five Years" CD (YES!), RYN 3" CD. Happy new year and thanks to all who continue to support At War in these times of redundant musical environment, cliquey bullshit, and lame attitudes. DIY OR DIE.
21st Dec AD2006
New Culver and Bjerga/Iversen CDs out now. Been getting a lot of requests for these so get 'em while they're going, if they go quickly I'll do another run. Please don't ask me to reserve stuff if you have no intention of ever getting round to it, this is a small operation and it wastes my time and cash to be beholding to folk who are gonna end up spending their pocket money on Isis records.
15th Dec AD2006
Finish noisecore unit BEIP have agreed for At War With False Noise to reissue the fucking ace CD "I Like Penis". For those of you who aren't aware this is a 56 track/9 minute noise/blur masterpiece of shrieking female vox and clammering discordant instrumentation, and was never given the proper opportunity for distro last time around. Fuck AxCx, Finland is the place for noisecore these days.
12th Dec AD2006
New releases imminent from Culver and Bjerga Iversen. These are both taking ages to put together but will be well worth the effort. These'll go quick: be fast or be false.
10th Dec AD2006
GIG! Tetsuo playing with Black Sun/Kylie Minoise/Messiah Complex at the 13th Note, Glasgow, doors 8.30pm, five quid entry. Rare live appearance, bring rotten vegetables/eggs as required. Tetsuo will be playing as a four piece and make no apologies for their behaviour in advance.
8th Dec AD2006
Website overhauled. Now easier to buy shit you fucking hipsters.